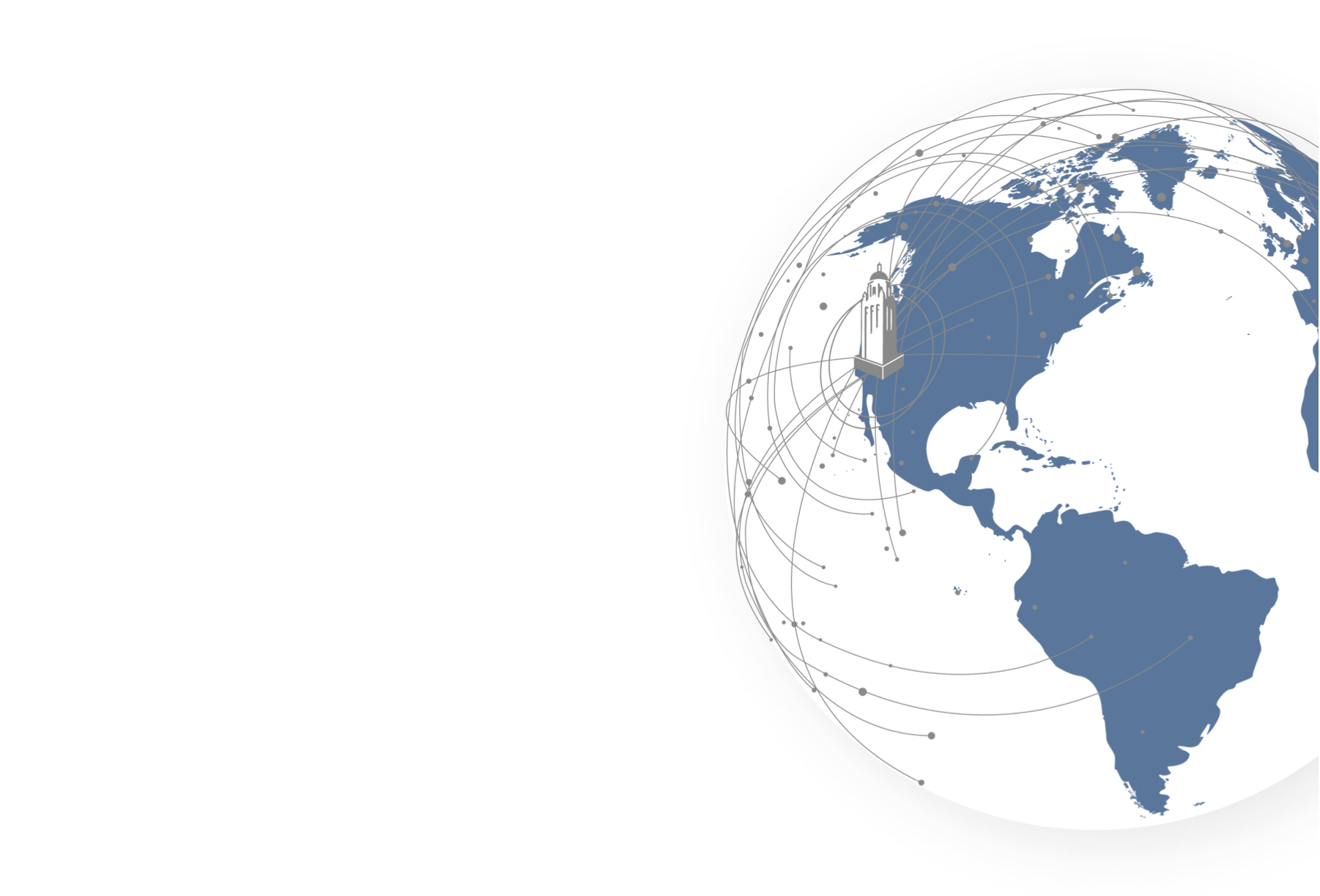 Ideas Defining A Free Society
Hoover Institution
Annual Report | 2020
Hoover Institution
Annual Report 2020
"This Institution supports the Constitution of the United States, its Bill of Rights and its method of representative government. Both our social and economic systems are based on private enterprise from which springs initiative and ingenuity. . . . Ours is a system where the Federal Government should undertake no governmental, social or economic action, except where local government, or the people, cannot undertake it for themselves. . . . The overall mission of this Institution is, from its records, to recall the voice of experience against the making of war, and by the study of these records and their publication, to recall man's endeavors to make and preserve peace, and to sustain for America the safeguards of the American way of life. This Institution is not, and must not be, a mere library. But with these purposes as its goal, the Institution itself must constantly and dynamically point the road to peace, to personal freedom, and to the safeguards of the American system."
Letter From The Director & The Chairman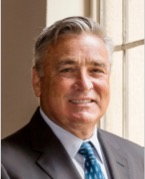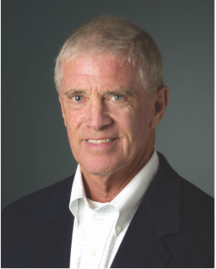 It would be an understatement to refer to the beginning of the Hoover Institution's second century as transformational. Not only has the Institution adapted its human resources and workspace to the virtual world via Zoom and other cutting-edge applications, but it also has rapidly emerged as among the most influential voices in the national policy conversation as it relates to the public health, economic, security, diplomatic, legal, and educational challenges that have arisen in the wake of the COVID-19 pandemic.
Hoover Institution fellows have voiced their policy opinions and proposals across the media landscape in essays, op-eds, podcast interviews, and national television appearances. They have also testified before key congressional committees and served in senior roles in the Trump administration, often directly advising the president on ideas defining a free society, including the safe reopening of the economy and schools, the just application of the rule of law, and measures to counter the aggressive activities undertaken by the People's Republic of China.
In the past five years, and in these challenging times, Hoover Institution fellows and staff were able to accomplish so much under the guidance and steadfast leadership of Thomas W. Gilligan. As of September 1, 2020, Tom is stepping down as director to become a senior fellow.
The Hoover Institution and Stanford University underwent an extensive selection process to find Tom's successor. After a yearlong executive search, a ten-person committee, chaired by George P. Shultz Senior Fellow in Economics John B. Taylor, nominated one of Hoover's own: Thomas and Barbara Stephenson Senior Fellow on Public Policy and former secretary of state Condoleezza Rice.
Transformative times call for transformative leadership, and we can't think of anyone better suited for this role than the distinguished Secretary Rice. She brings to the position decades of policy experience at the highest levels of government, a passion for education, and deep ties to the Stanford community, where she spent almost her entire academic career and previously served as provost, the university's second in command.
Her commitment to the Institution's core mission of safeguarding peace, prosperity, and freedom, combined with a vision to leverage the fellowship's intellectual capital and provide data-driven solutions for today's pressing issues, will evince Hoover's influence as it enters a new phase as America's preeminent center for policy research and innovation.
Sincerely,
thomas w. gilligan
Tad and Dianne Taube Director
thomas f. stephenson
Chairman, Board of Overseers
CONDOLEEZZA RICE ASSUMES LEADERSHIP OF THE HOOVER INSTITUTION
On September 1, 2020, Condoleezza Rice, world-renowned educator, author, and diplomat, assumed the role of the Tad and Dianne Taube Director of the Hoover Institution, one of the nation's top policy research centers. Secretary Rice brings decades of experience at the highest levels of government and academia to her new role as director, firmly believing that her life and career path have led her to this moment and to this task. To her, there is no better time and no better place to address the growing challenges to America's values, freedoms, and prosperity.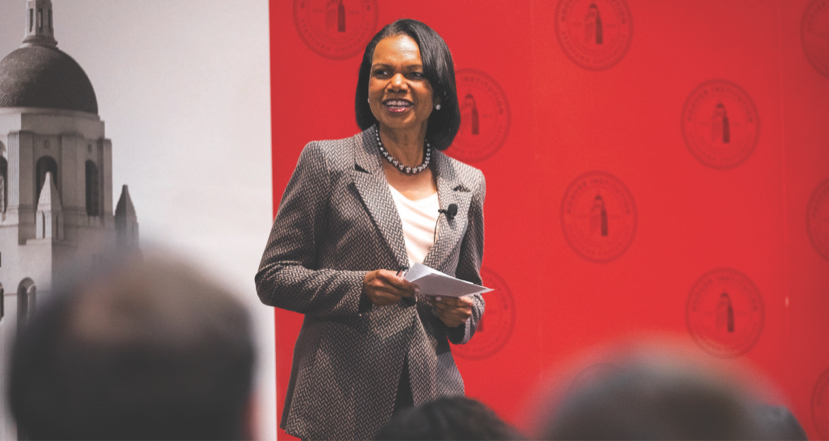 As she sees it, Hoover's priorities as it enters its second century will be reflected by the most pressing needs faced by policy makers at all levels of government, from state and local leaders to national and international leaders. These are some of the issues of highest importance:
Challenges in advanced capitalist societies and how we get to the root of what is ailing the greatest economic system that humankind has ever created
America's role in the world and our responsibility in standing up for democracy and against the threat of authoritarianism
The revitalization of history so that students, citizens, and leaders can think about its lessons and apply them to the obstacles we face today and into the future
State and local governance and recognizing the importance of not always directing all of our attention at the federal level
Public opinion and the significant role that it plays in swaying policy
Technology and governance and understanding the effects of technology and innovation while being able to more effectively mitigate the bad and amplify the good
Examining and understanding China, its intentions, and how we must confront the challenges it poses now and in the decades to come
"The challenges our country faces require us to be provocative and wide-ranging in our thinking," Rice says. "The Hoover fellowship is exceptional in its ability to provide policy solutions based on empirical research, clear thinking, and cutting-edge analysis. I think we can really make a difference in this particular point in time."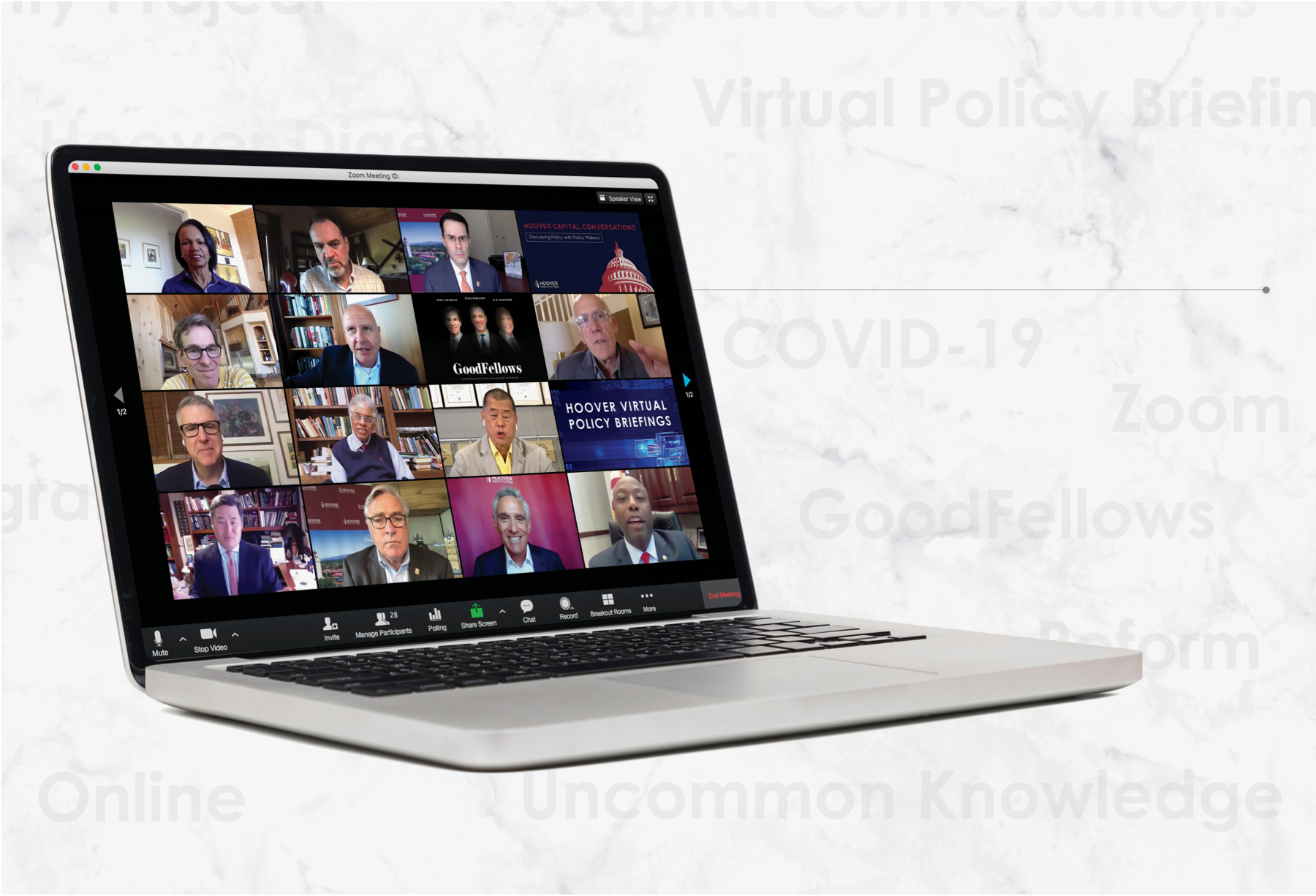 While COVID-19 has restricted Hoover's on-campus presence at Stanford University, the fellowship has been more active than ever during this critical juncture in our nation's history. The Hoover Institution has adapted deftly to the unusual circumstances brought about by the pandemic. Since mid-March, Hoover fellows have produced leading research about the policy implications of the disease and have penned widely read articles in such publications as the Wall Street Journal, the New York Times, the National Review, The Hill, and Project Syndicate.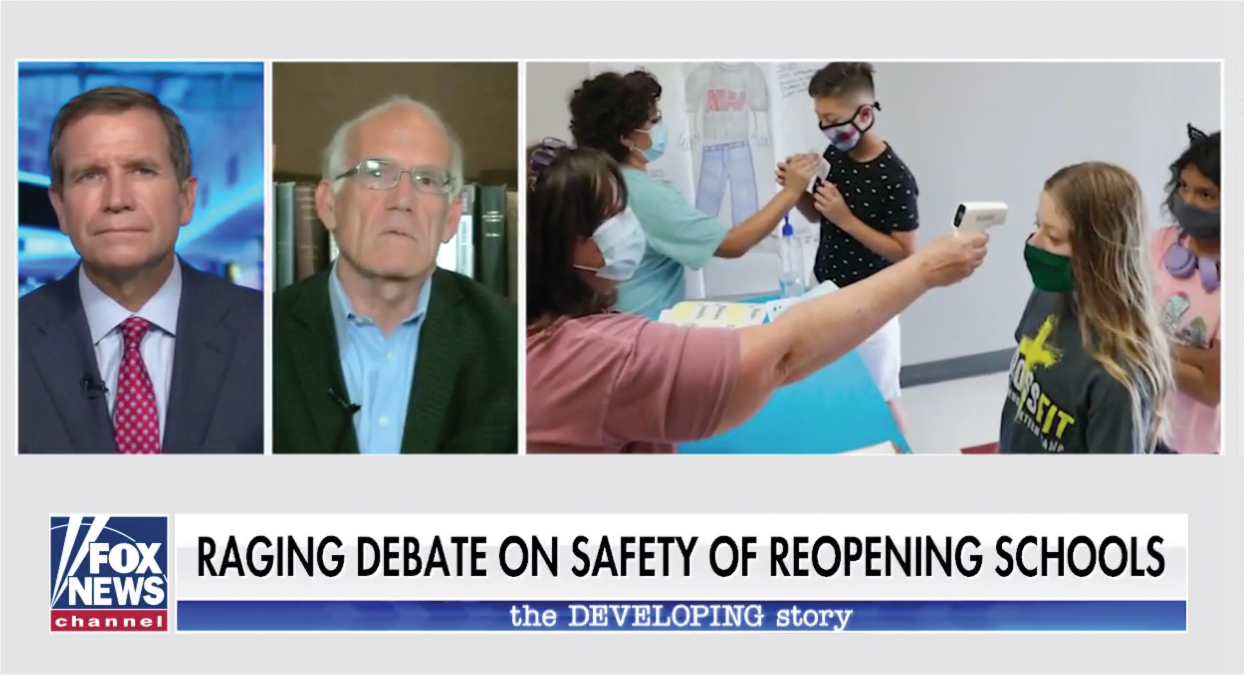 ---
Hoover's Reach During COVID-19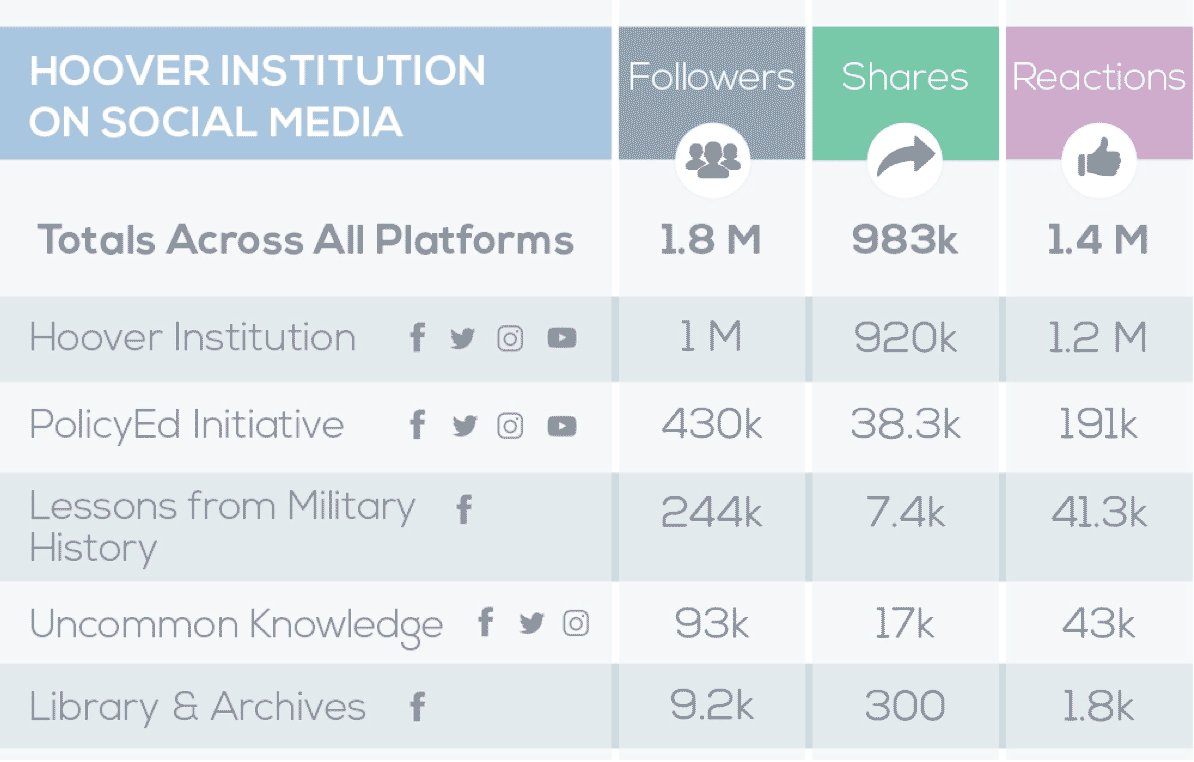 Virtual Policy Briefings

Soon after fellows left campus, Hoover launched its Virtual Policy Briefings series, hosted by then director Thomas W. Gilligan. The program consists of nearly forty episodes, including analyses by fellows on various COVID-19-related policy matters, as well as other timely issues, such as the politics of climate change, education reform, and America's foreign engagement. The Virtual Policy Briefings have averaged 1,240 live attendees and 25,000 views per episode. More important, with these sessions Hoover scholarship has expanded its reach among policy makers on Capitol Hill, executive branch officials, journalists, students, and Silicon Valley executives.
View the series
Engagement with Government
Throughout the period of nationwide COVID-19 lockdowns, Hoover fellows have remained deeply engaged with officials in the White House and on Capitol Hill in formal advisory roles and consulting. In August, Robert Wesson Senior Fellow Scott W. Atlas, MD, was appointed by President Trump as special adviser and member of the White House coronavirus task force. Distinguished Visiting Fellow Kevin Hassett, who served as chair of the Council on Economic Advisers, returned to the White House to help deal with the economic impact of the pandemic. Other fellows have also communicated with members of the Trump administration, members of the National Economic Council, US senators and representatives, and Capitol Hill staff.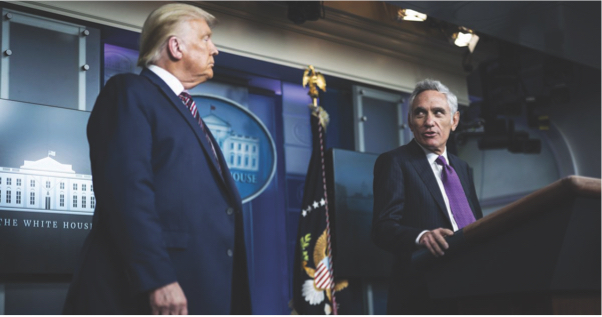 The Hoover Institution Presents . . . GoodFellows
In April, Hoover debuted GoodFellows, a weekly broadcast featuring Rose-Marie and Jack Anderson Senior Fellow John Cochrane, Milbank Family Senior Fellow Niall Ferguson, and Fouad and Michelle Ajami Senior Fellow H. R. McMaster, in which the three scholars offer insights into the social, economic, and geostrategic challenges that lie ahead for America. Regularly hosted by Virginia Hobbs Carpenter Fellow in Journalism Bill Whalen, episodes have included Harvard professor of economics Roland Fryer on the use of force by police departments against Black Americans; and Stanford professor of political science Francis Fukuyama on how the global outbreak of COVID-19 impacts political systems throughout the world. More than twenty episodes have been produced, with an average weekly audience of approximately 150,000 viewers.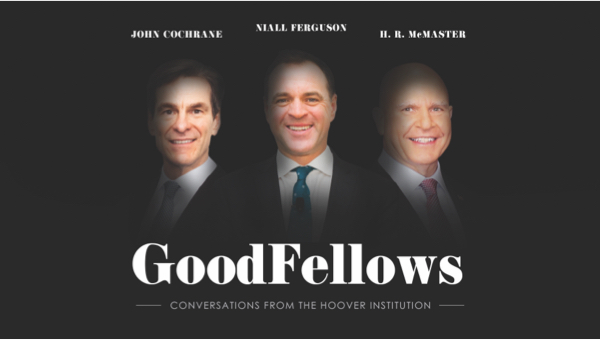 Watch Episodes
Hoover Fellows Put Ideas into Action in New Capital Conversations Series

Hoover's new series Capital Conversations brings together fellows and policy makers for informed discussions about putting innovative ideas into action. Episodes have featured Senior Fellow H. R. McMaster and Keith Krach, under secretary of state for economic growth, energy, and the environment, on how the United States and its allies can secure their economies and compete effectively against China's aggression; Payson J. Treat Distinguished Research Fellow in Contemporary Asia Michael Auslin and Senator Marsha Blackburn (R-TN) on clashes between the United States and China around the world; and David and Diane Steffy Fellow in American Public Policy Studies Lanhee Chen with Governor Larry Hogan (R-MD) on how the constitutional principle of federalism applies to political power over the reopening of schools during the COVID-19 pandemic.
View The Series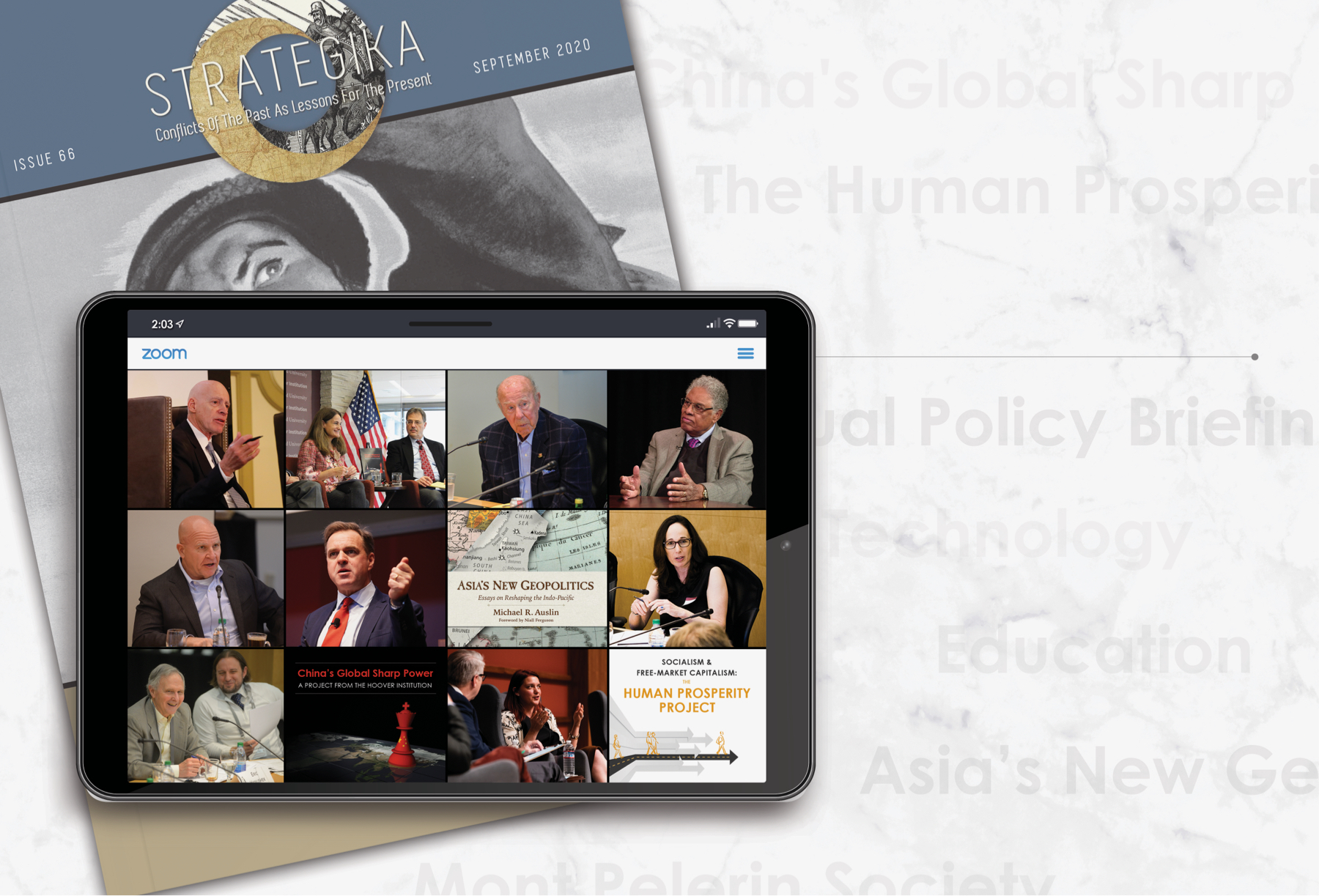 In these challenging times for America, the Hoover Institution's research has consistently stressed the philosophical foundations for ideas defining a free society. New initiatives have focused on capitalism's merits amid socialism's rising popularity in the West and the security threats presented by the People's Republic of China, which is rapidly attempting to define a new world order as the fallout from the global COVID-19 pandemic continues.
---
Fellows & Initiatives
Responding to the China Challenge
On September 1, 2020, Elizabeth Economy, one of America's renowned scholars on modern China and a distinguished visiting fellow since 2018, joined the Hoover Institution as a senior fellow. Economy comes to Hoover from the Council on Foreign Relations in New York, where she was the C. V. Starr Senior Fellow and director of Asia Studies. Economy's research looks primarily at China's domestic and foreign policies. She is the author of major books, such as The River Runs Black: The Environmental Challenge to China's Future and The Third Revolution: Xi Jinping and the New Chinese State. In 2018, Economy was named one of the "10 Names That Matter on China Policy" by Politico Magazine.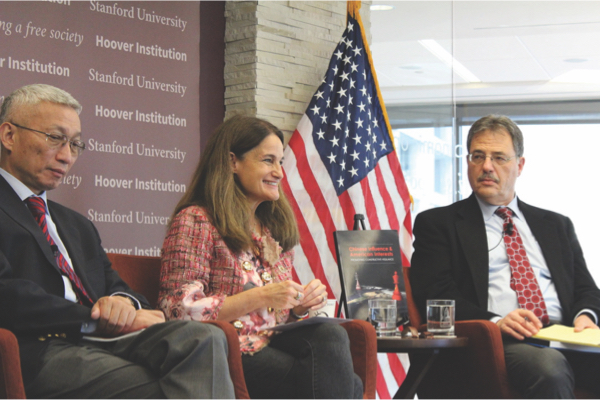 Efforts to Shape the Future of Education
In 2019, Hoover created the Hoover Education Success Initiative (HESI), which provides research and policy recommendations on issues related to education reform, including school choice, compensation for educators, and the role of early education. Its chair is Paul and Jean Hanna Senior Fellow in Education Eric Hanushek, a thought leader in the economic analysis of educational issues. Its members include Senior Fellow Chester E. Finn, Jr., former US assistant secretary of education; Senior Fellow Paul Peterson, editor in chief of Education Next; and Distinguished Research Fellow Margaret (Macke) Raymond, director of Stanford University's Center for Research on Education Outcomes. Research Fellow Christopher N. Ruszkowski, former secretary of education for New Mexico, serves as executive director and leads the group's daily operations.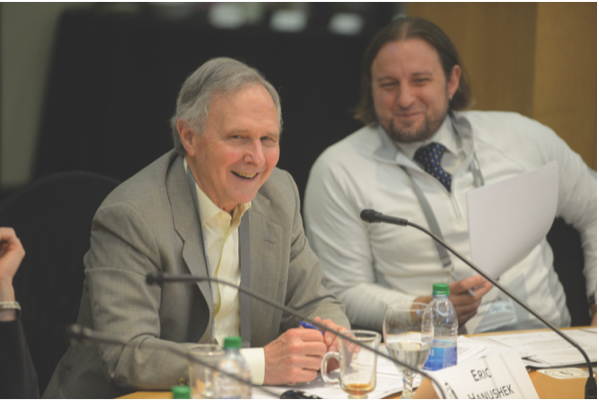 Learn More
Hoover's Project on China's Global Sharp Power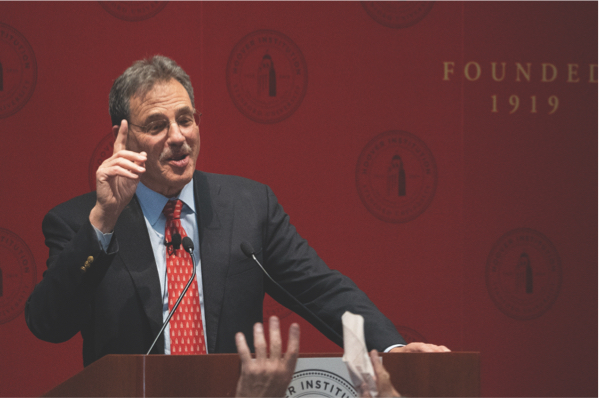 The Hoover Institution recently launched the Project on China's Global Sharp Power. Chaired by Senior Fellow Larry Diamond and managed by Research Fellow Glenn Tiffert, the initiative provides deep analysis of how the Chinese government penetrates, coerces, and manipulates institutions throughout American society and other world democracies for its strategic benefit. This program builds on the Hoover Institution's highly successful 2019 report China's Influence and American Interests and tracks Beijing's multiple influence operations. These include creating a global narrative that aims to popularize the Communist Party's values and policies; censoring news and academic research critical of China; stealing intellectual property; and advancing an ambition of technological dominance over the West.
learn more
Socialism and Free-Market Capitalism: The Human Prosperity Project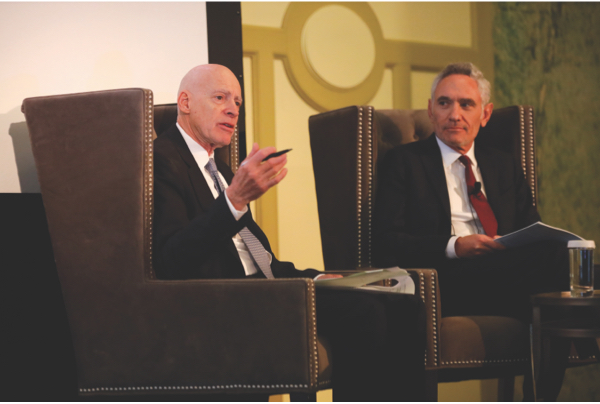 In February 2020, Hoover launched the Human Prosperity Project, an initiative to educate Americans about the world's dominant, conflicting, and most fiercely debated economic systems. Chaired by Senior Fellow Scott W. Atlas and Morris Arnold and Nona Jean Cox Senior Fellow Edward P. Lazear, the project features essays, panel discussions, and digital media hosted on Hoover's educational platform, PolicyEd. The essays by Hoover fellows cover the debate from various perspectives including the moral underpinnings of socialist and capitalist philosophy from the writings of John Locke and Karl Marx; levels of economic growth, labor force participation, and equality; single-payer versus market-oriented health care insurance; and how each economic system corresponds to the US Constitution and the rule of law.
Learn More
---
CONVERSATIONS IN POLICY
Tech Track II: Advocating America's Technological Edge
The Hoover Institution launched a new seminar series that focuses on forging closer cooperation between government and Silicon Valley in order to overcome US national security challenges. Cochaired by Senior Fellow H. R. McMaster, Visiting Fellow Raj Shah, and Davies Family Senior Fellow Amy Zegart, Tech Track II hosted its second symposium in July 2020. Defense officials, members of the intelligence community, academics, and private-sector technology executives explored how technological innovation can support both economic prosperity and national security. They also examined how free and open studies can best leverage their strengths and compete against authoritarian regimes such as the People's Republic of China, which steals intellectual property of US firms and mandates forced technology transfers.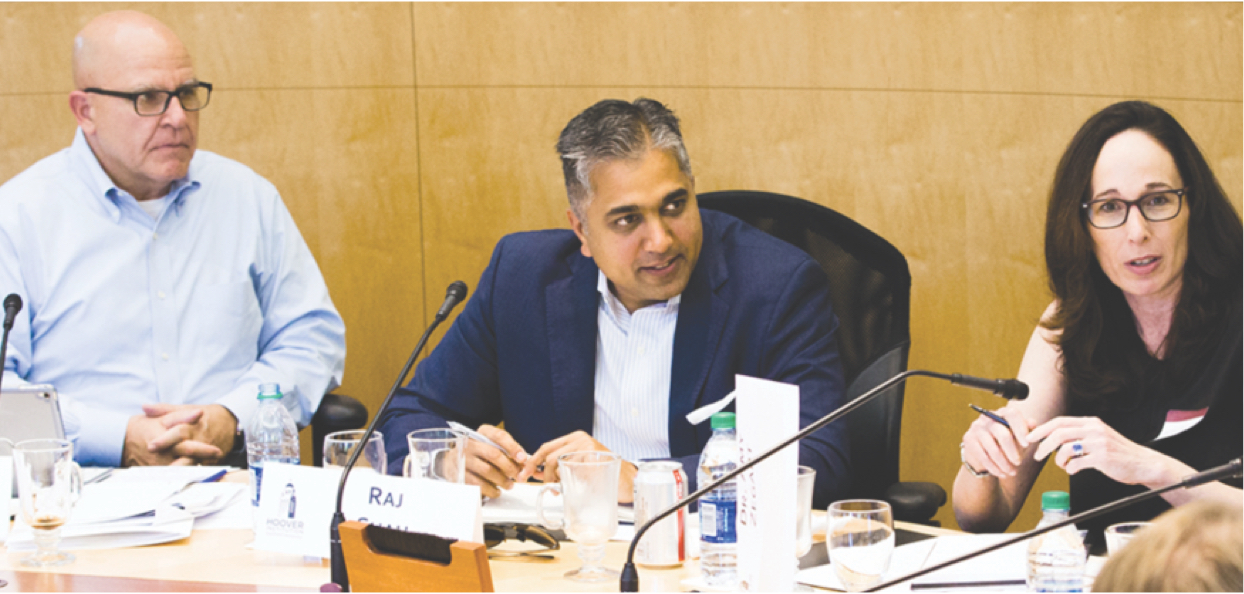 Recent Books By Hoover Fellows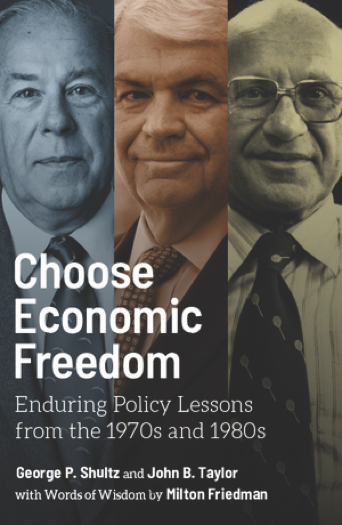 Learn More & Buy
George P. Shultz and John B. Taylor Demonstrate the Historical Success of Free-Market Economic Policies
George P. Shultz, Thomas W. and Susan B. Ford Distinguished Fellow, and John B. Taylor, George P. Shultz Senior Fellow in Economics, recall their firsthand experiences at the highest levels of policy making in the White House in their new book, Choose Economic Freedom: Enduring Policy Lessons from the 1970s and 1980s. The book also includes words of wisdom from the late senior research fellow and Nobel laureate economist Milton Friedman. Shultz and Taylor show how the interventionist economic policies of the 1970s suppressed but did not eliminate inflation and made matters worse for the economy through regular shortages of basic goods. The authors hold that the predictability of fiscal and monetary policy in the 1980s created the conditions for the economy to recover and thrive. Policy makers operated within this framework of principles until the early 2000s, resulting in a period of unprecedented economic growth and stability. (Hoover Institution Press, 2020)
Learn More & Buy
---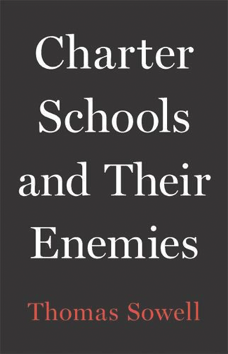 Learn More & Buy
Thomas Sowell Argues That Charter Schools Have Closed the Educational Test Score Gap
In his new book, Charter Schools and Their Enemies, Thomas Sowell argues that traditional public schools, backed by powerful teachers' unions and their enabler politicians, behave as education monopolies and have skewed the learning gap between White and minority students. In his research, focused on New York City schools, Sowell concludes that no such gap exists where charter schools have been successful. Though charter schools are publicly funded, administrators and teachers are driven by incentives and accountability. By contrast, traditional public schools remain open regardless of educational outcomes. Sowell argues that the educational achievements of New York charter school students undermine educational dogmas about cultural bias in testing and negative outcomes based on students' socioeconomic status. (Basic Books, 2020)
Learn More & Buy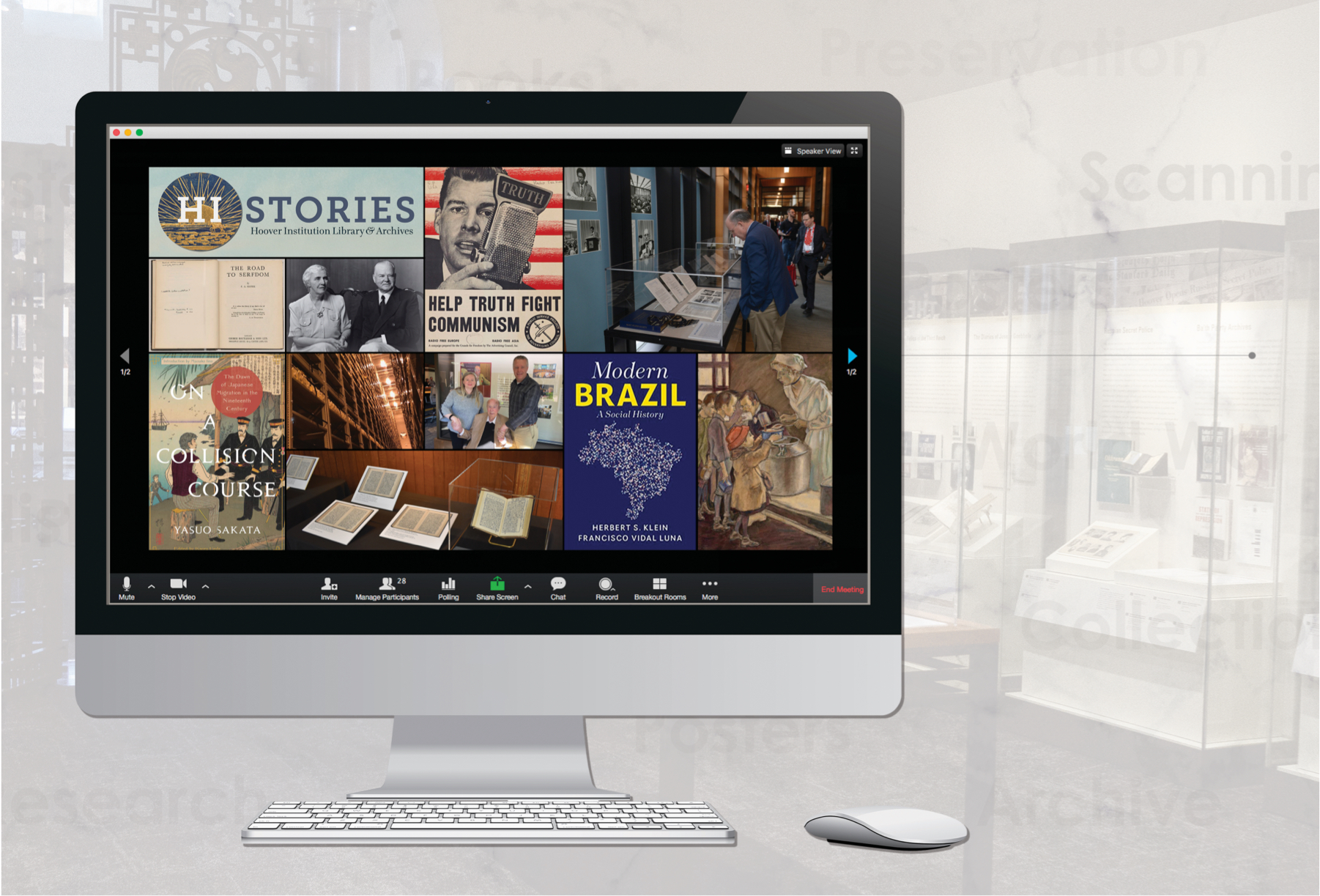 The mission of the Library & Archives in acquiring, preserving, and providing access to the world's richest repository of material related to war, revolution, peace, and individual freedom is as crucial now as it was one hundred years ago at our founding. In line with President Herbert Hoover's mission to "recall man's endeavors to make and preserve peace, and to sustain for America the safeguards of the American way of life," Library & Archives has increased its efforts to digitize and expand access to its collections to more profoundly engage its international community of scholars as it begins its second century.
---
DIGITIZING HOOVER'S COLLECTIONS
Hoover Library & Archives Launches HI Stories, Dynamic Online Exhibitions and Storytelling Features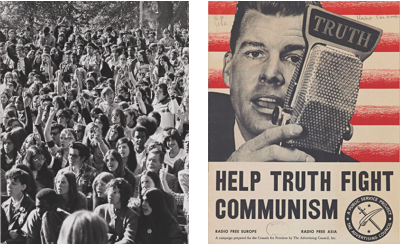 The closure of the Hoover Tower and exhibition galleries amid the COVID-19 pandemic has underscored the Library & Archives' efforts to expand outreach to online audiences. In May 2020, Hoover archivists began creating and publishing HI Stories, a series of dynamic storytelling features that showcases treasures from Hoover's more than six thousand collections and one million library volumes and uncover their importance to the record of modern history. The inaugural HI Stories commemorated Hoover's one-hundredth anniversary, featuring the life and work of Herbert and Lou Henry Hoover and the Institution's history. Other stories highlighted fascinating collections concerning the global struggle for freedom against authoritarianism, as well as peace movements and diplomatic achievements of the twentieth century.
Explore The Exhibitions
Serving the Scholarly Community During COVID-19
The Library & Archives staff has transitioned to a hybrid work model, conducting many activities offsite while onsite staff members support essential research functions. Since shelter-in-place orders went into effect in mid-March 2020, Library & Archives has received more than eight hundred digitization requests. The existing demand for access is evidence that as Library & Archives digitizes more historical material and makes it available online, it will reach a wide population of users. In accordance with health and safety policies established by Stanford University, the Library & Archives reading room was reopened on June 29, by appointment and with COVID-19 safety protocols in place.
Digital First Initiative
The Library & Archives has continued to accelerate its Digital First Initiative, which aims to create a future in which Hoover's collections are available anywhere, anytime, and on any device. While Library & Archives has been converting material to digital format for years, it is now designing and deploying systems and processes that will enable staff to make significant content available at scale, creating an environment that links primary source materials with the power of technology. The aggregation of metadata through optical recognition software, artificial intelligence, and information management tools will enable researchers to make connections between primary sources and perform big-data analysis.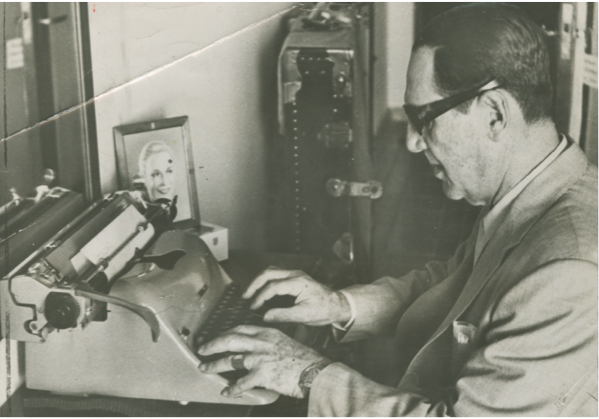 ---
NEW COLLECTIONS FROM LIBRARY & ARCHIVES
Curators have continued their collecting work remotely and have persisted in acquiring new collections. Here, Hoover curators and archivists describe rare and unique acquisitions that have been acquired or made available for scholars in 2019–20:
Library & Archives Opens Diaries of Chiang Ching-kuo, Former President of Taiwan and Son of Chiang Kai-Shek
"The personal diaries of Chiang Ching-kuo shine light on a critically important period in modern Chinese history and offer a rare glimpse into the inner world of a man who, as leader of Taiwan from 1978 to 1988, oversaw the island's transition to democracy and navigated it through an exceptionally challenging period of the Cold War. Under his leadership, Taiwan emerged as one of the more politically and economically vibrant entities in the region. Chiang's diaries also offer an invaluable resource to historical and political scholars of the region and complement the collection of diaries of his father, Chiang Kai-shek, which have been researchers' most requested collection at the Hoover Institution since they were opened in 2006."
—Research Fellow Hsiao-ting Lin, curator, Modern China Collection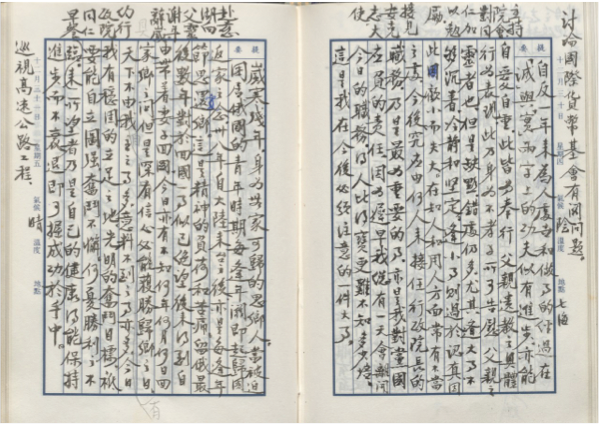 Kwantung Army Pictorial Collection
"The Hoover Archives acquired the Kwantung Army Pictorial Collection in late 2019. The Kwantung Army developed out of a security force to guard the Kwantung Leased Territory and the South Manchurian Railway Zone in Japan after the Russo-Japanese War and became the largest and most prestigious unit in the Imperial Japanese Army. It was primarily responsible for establishing a puppet government in Manchukuo and fighting the Second Sino-Japanese War (1937–45). The army surrendered to the Soviets in 1945, and many soldiers were interned at forced labor camps as POWs in Siberia. Unlike official and censored photographs, this pictorial collection gives researchers a rare glimpse of the Kwantung Army witnessed from the inside."
—Kaoru Ueda, curator of the Japanese Diaspora Initiative
Alla Yaroshinskaya Papers
"Alla Yaroshinskaya served as a member of the Supreme Soviet from 1989 to 1991, deputy to the minister of press and information until 1993, and then adviser to President Boris Yeltsin and member of his Presidential Council. In the 1980s, Yaroshinskaya was a prominent campaigner for perestroika and has since authored or coauthored more than twenty books on freedom of speech, human rights, nuclear ecology, and nuclear security in the former USSR. As a member of the Ecology and Glasnost Committee of the Supreme Soviet, she urged full disclosure of the extent of the Chernobyl nuclear accident and the contamination it spread over wide areas of territory. The papers include correspondence with constituents that provides a valuable window into the workings of the Soviet system in the two years prior to its collapse, and papers that detail how the Politburo addressed the fallout from the Chernobyl disaster."
—Research Fellow Anatol Shmelev, Robert Conquest Curator for Russia and Eurasia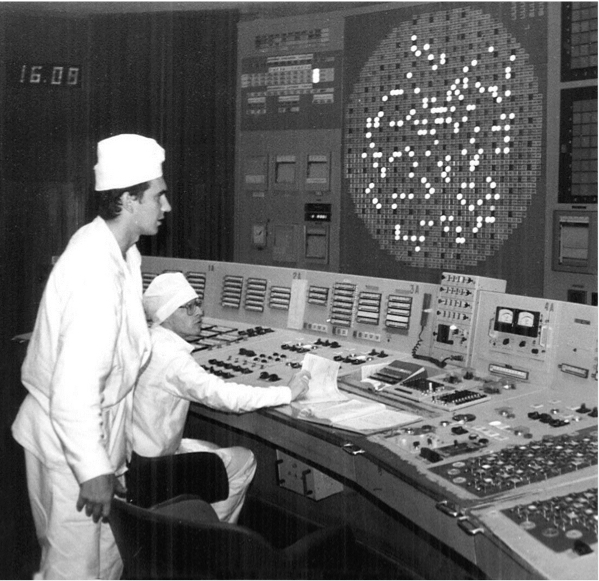 Hoover Acquires Additional
Friedrich von Hayek Papers
"The Hoover Library & Archives has acquired additional papers of the Austrian economist Friedrich von Hayek regarding his research for an unfinished biography of his distinguished cousin the Austrian-British philosopher Ludwig Wittgenstein. Comprised of approximately two hundred documents, the collection includes letters Hayek sent to various associates of Wittgenstein and copies of the draft biography. Hayek's correspondence reveals insights from eminent philosophers and others who knew Wittgenstein. Although the biography was never published, Hayek eventually penned an article for the August 1977 edition of Encounter magazine, 'Remembering My Cousin Ludwig Wittgenstein (1889–1951).'"
—Research Fellow Eric Wakin, director of the Hoover Library & Archives and Hoover Institution deputy director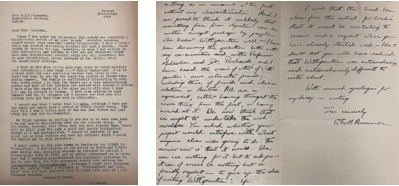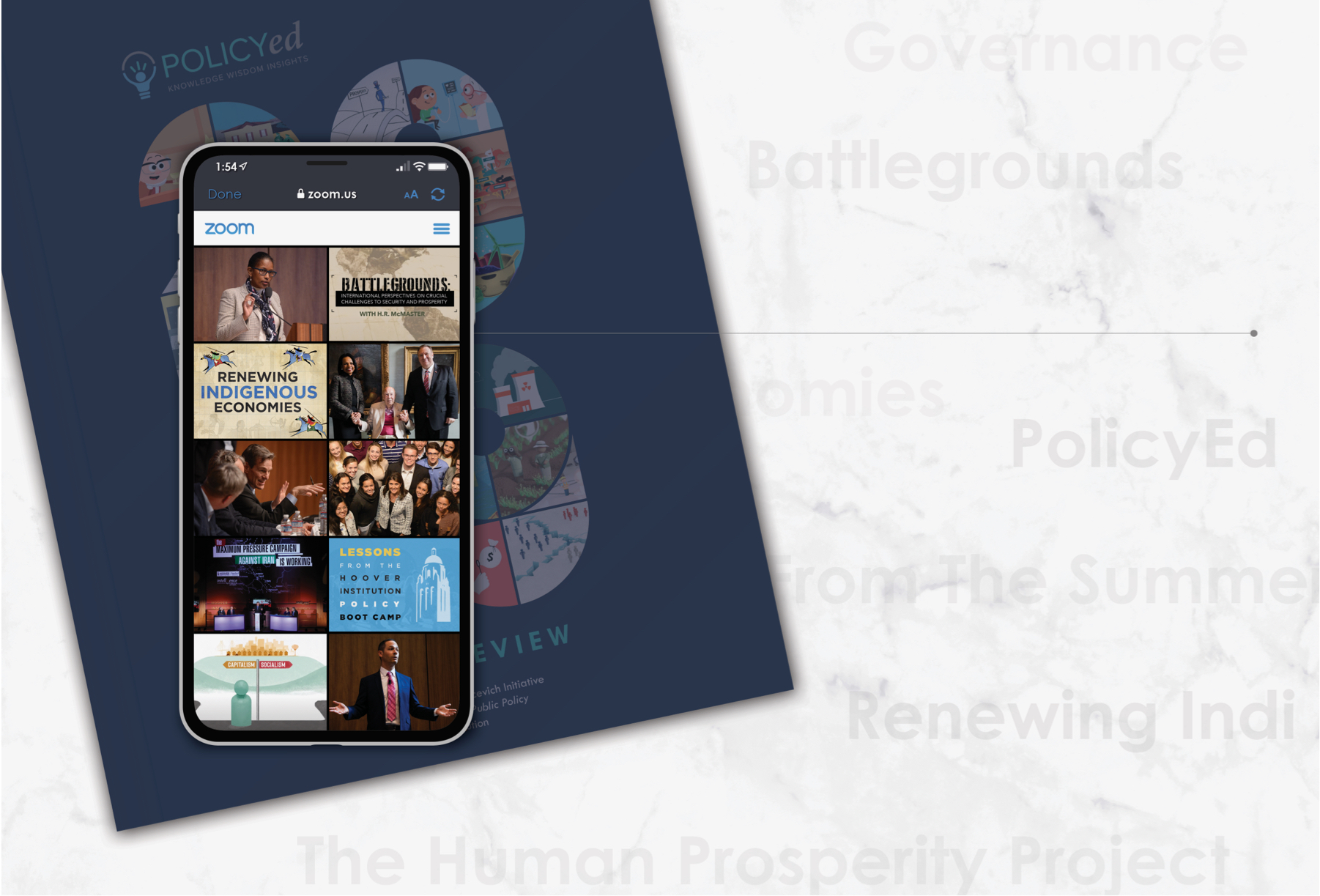 At the advent of a new decade, the Hoover Institution is taking a leading role in national policy conversations, providing innovative and carefully considered prescriptions to America's domestic and national security challenges. If 2020 has proved anything, it's that Hoover's unrelenting advancement of ideas defining a free society is more important now than ever. From its homes at Stanford and the Johnson Center in Washington, DC, the Hoover Institution is well positioned to leverage its intellectual capital and resources to help educate an American citizenry about public policy research and advise lawmakers on how to best transform informed ideas into action.
---
ADVANCING KNOWLEDGE & CITIZENSHIP
Secretary of State Mike Pompeo Gives Major Policy Address about Iran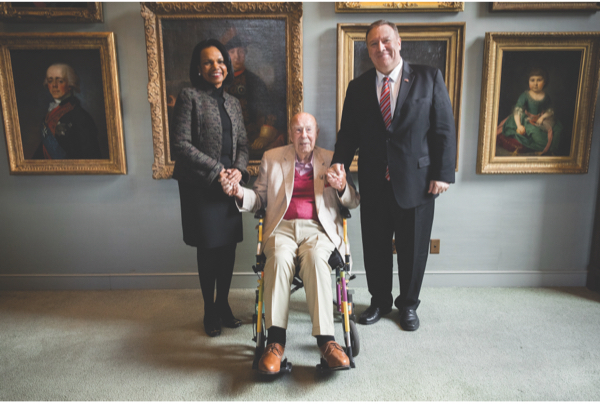 The year 2020 began with the United States embroiled in conflict in the Middle East. On January 3, in response to an assault on the US Embassy in Baghdad and the murder of a military contractor, the Trump administration ordered a drone strike that killed Qassim Soleimani, commander of the Quds Force and arguably the second most powerful person in Iran. In an address to Stanford students and faculty and Hoover fellows on January 13, Secretary of State Mike Pompeo explained that the strike at Baghdad Airport constituted the reestablishment of deterrence in US foreign policy and that the military operation should be viewed in strategic terms. Following his remarks, Pompeo was joined in conversation with former secretary of state Condoleezza Rice and took questions from the mostly student audience in Blount Hall.
Watch The Remarks & Conversation
The Mont Pelerin Society General Meeting Returns to Hoover after Forty Years
The Hoover Institution hosted members and guests of the Mont Pelerin Society (MPS) for a three-day conference, January 15–17, 2020. Programs focused on the vital importance of "preservation and improvement of the free society," an aim established at the first meeting of the MPS, in 1947. The proceedings were organized by senior fellow and MPS president John B. Taylor. Hoover previously hosted the general meeting of the MPS in 1980, with the theme "Constraints on Government" and featuring Hoover luminaries Milton Friedman, Thomas Moore, Alvin Rabushka, and Thomas Sowell. The records of the MPS, as well as the papers of Friedman and MPS founder Friedrich von Hayek, are among the Hoover Institution Library & Archives collections.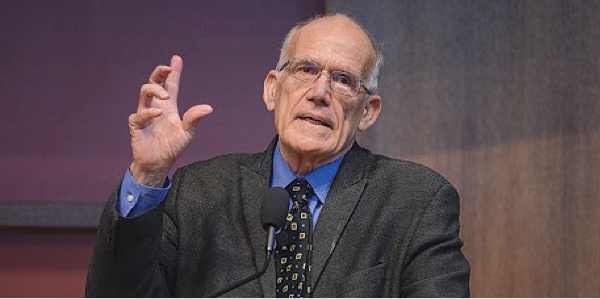 Hoover Fellows Participate in Intelligence Squared US Debates on Iran
Iran was the topic of an Oxford-style debate on March 4, 2020, in Hoover's Hauck Auditorium for the nationally broadcast series Intelligence Squared US, which brings together the country's top thinkers for civil discourse on major issues facing America. The motion under debate was, "The maximum-pressure campaign against Iran is working." Arguing for the motion were Martin and Illie Anderson Senior Fellow Victor Davis Hanson and Senior Fellow H. R. McMaster. Arguing against it were Research Fellow Abbas Milani and Martha Crenshaw, senior fellow at Stanford's Freeman Spogli Institute. Prior to the debate, host and moderator John Donvan was joined on stage by Hoover director Tom Gilligan and Robert Rosenkranz, Intelligence Squared founder and a member of Hoover's Board of Overseers.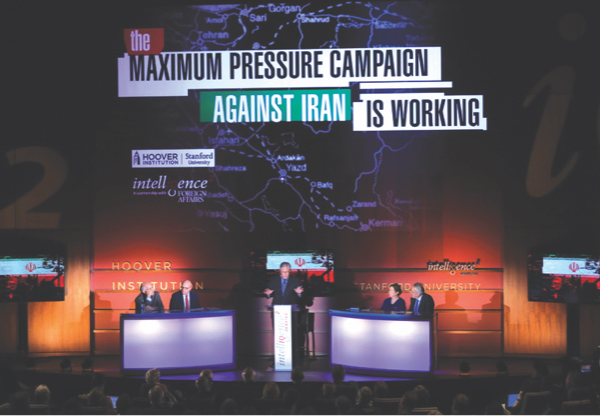 Watch The Debate
Niall Ferguson's Networld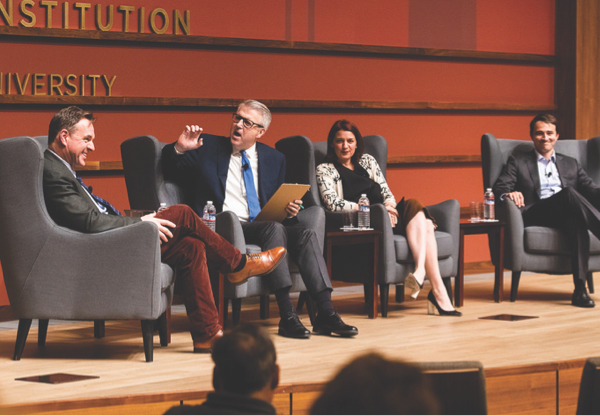 March also marked the debut of Senior Fellow Niall Ferguson's Networld, a three-part PBS documentary series based on his best-selling book The Square and the Tower. Written and hosted by Ferguson, the documentary explores the history of social networks—beginning in the Protestant Reformation and continuing to today's intersections of social media and technology—and the spread of cultural movements and ideas. In the first episode, Ferguson explains how the widespread use of the printing press in the sixteenth and seventeenth centuries led to consequences similar to those we face today, including the polarization of politics and the dissemination of "fake news." In later episodes, Ferguson shows how social media has exacerbated deep divisions in American culture and has been weaponized to subvert democracy.
Learn More
---
EDUCATING AMERICANS IN PUBLIC POLICY
The Mary Jo and Dick Kovacevich Initiative at the Hoover Institution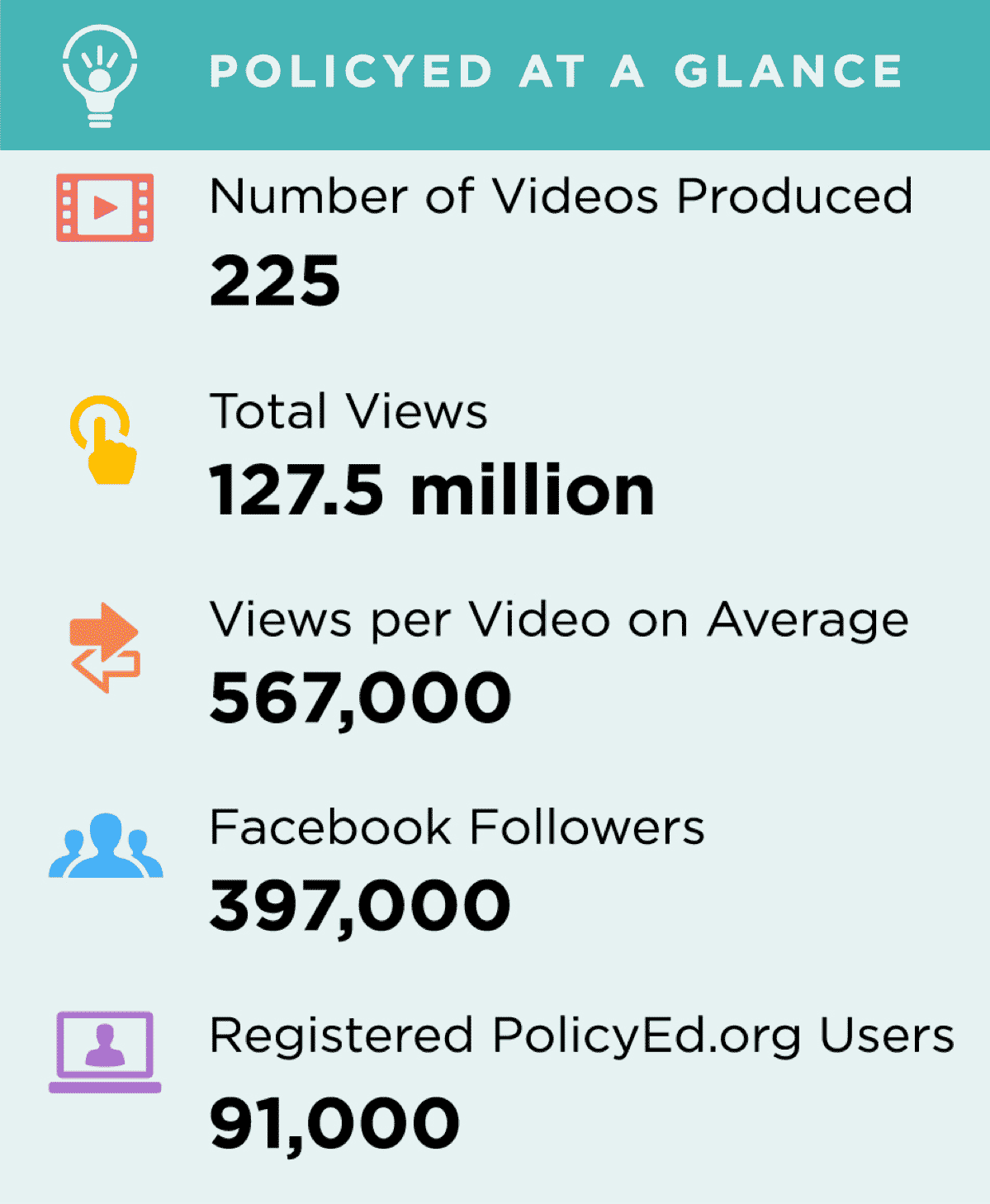 Since 2016, Hoover's Educating Americans in Public Policy (EAPP) initiative has leveraged cutting-edge research generated by more than sixty participating Hoover Institution fellows and has shared these insights with millions of young Americans via powerful communication tools of the modern digital age. In 2020, EAPP's video component, PolicyEd, is having a remarkable impact on the nation's youth in articulating the principles that define a free society. PolicyEd has produced more than fifty absorbing animations and documentary shorts, which have earned more than twenty-five million views. Three-quarters of those who engage with this content on social media are between the ages of eighteen and forty-four.
Learn More
Renewing Indigenous Economies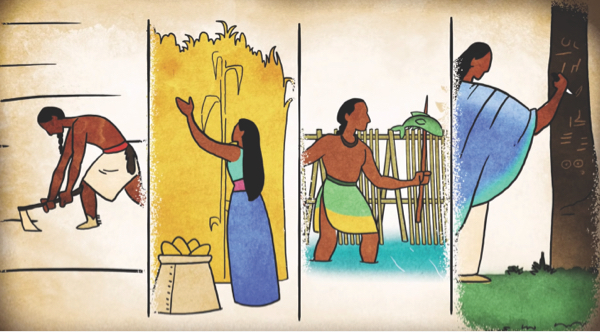 In April 2020, PolicyEd launched Renewing Indigenous Economies, a new video series originated from research conducted by John and Jean De Nault Senior Fellow Terry Anderson. The series tells the story of the economic prosperity that characterized indigenous societies before Europeans arrived on American soil and how, after centuries of persecution by the federal government, these societies became among the poorest in the United States. The animated shorts and personal accounts from tribal members demonstrate how Native Americans can become empowered to achieve the freedom, prosperity, and sovereignty they once enjoyed.
The Human Prosperity Project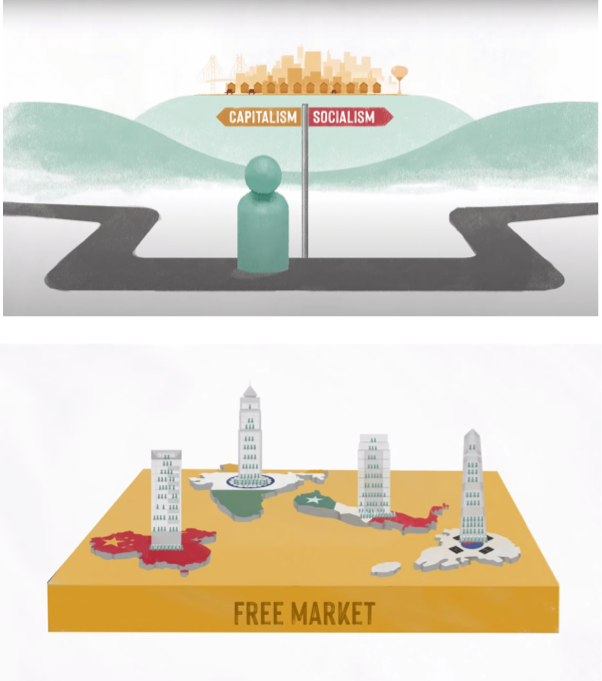 PolicyEd has incorporated research from fellows participating in Socialism and Free-Market Capitalism: The Human Prosperity Project for a series of entertaining animated shorts. Episodes include "Why Communism Failed and Liberal Democracy Prospered"; "An Untold Miracle," which describes how free-market reforms lifted billions of people out of poverty all over the world; "Laboring in Vain: How Regulation Affects Unemployment"; and "False Promises: What Single-Payer Fails to Deliver." The videos in this series have each been watched more than one million times.
Policy Stories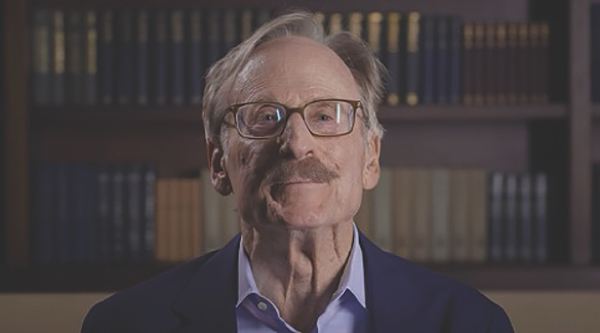 In 2019, PolicyEd launched Policy Stories, a new series of minidocumentaries featuring Hoover Institution scholars discussing real-life implications of public policies throughout the world. These segments offer insights into why these policies are relevant and important for discussion. Episodes have featured Wohlford Family Senior Fellow Michael Boskin on the true cost of large-scale transportation projects such as California's high-speed rail initiative, Senior Fellow Terry Moe on public school reform in New Orleans in the wake of Hurricane Katrina, and Leonard and Shirley Ely Senior Fellow John Cogan on what social security reform in the 1970s can teach us about long-term fiscal sustainability.
---
STUDENT PROGRAMS
The Hoover Institution firmly believes in equipping younger generations with the intellectual tools to become thought leaders and to advance the cause of freedom in their communities based on well-reasoned and data-driven policies. Today, Hoover fellows are uniquely positioned on the Stanford University campus and digitally across the world to connect with students and inform them about the policy-making process.

Hoover Virtual Policy Boot Camp
This year's annual summer policy boot camp took place online, August 17–18, 2020. Hoover Institution fellows made themselves available via video conference, giving lectures and answering questions from the student participants. Sessions included Senior Fellow Scott W. Atlas on the policy implications of COVID-19; Senior Fellow Elizabeth Economy on the domestic political situation in China and the aspirations of the Chinese Communist Party; Senior Fellow H. R. McMaster providing an overview of US national security strategy; Senior Fellow Joshua D. Rauh on government spending and tax policy in response to the COVID-19 pandemic; Senior Fellow John B. Taylor on US monetary policy and the macroeconomy; and Visiting Fellow John Yoo on the legal response to the coronavirus crisis.
Pizza and Policy with Ambassador
Nikki Haley
On October 31, 2019, former UN ambassador Nikki Haley participated in the Hoover Institution's quarterly Pizza and Policy lecture series, which connects Stanford University students with policy makers and Hoover fellows. Haley discussed With All Due Respect, her new memoir about representing the United States at the United Nations, and took questions from the student audience, addressing issues of human rights, climate change policy, the trade war with China, and engagement in the Middle East.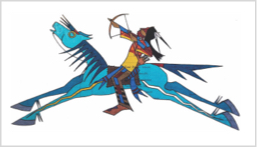 The Inaugural Policy Boot Camp on Renewing Indigenous Economies
The Hoover Institution also hosted a virtual policy boot camp August 10–13, 2020, for aspiring entrepreneurs and future tribal leaders from various American Indian nations as part of the Renewing Indigenous Economies project, spearheaded by Senior Fellow Terry Anderson. The highly selective program featured undergraduate and graduate students originating from tribes spanning North and South America and representing broad academic studies and interests. Lectures about the economic, political, and legal characteristics of Indian reservations and tribal relationships with local, state, and national governments were followed by breakout discussions in which the students could talk about how to apply these concepts to life in their respective nations.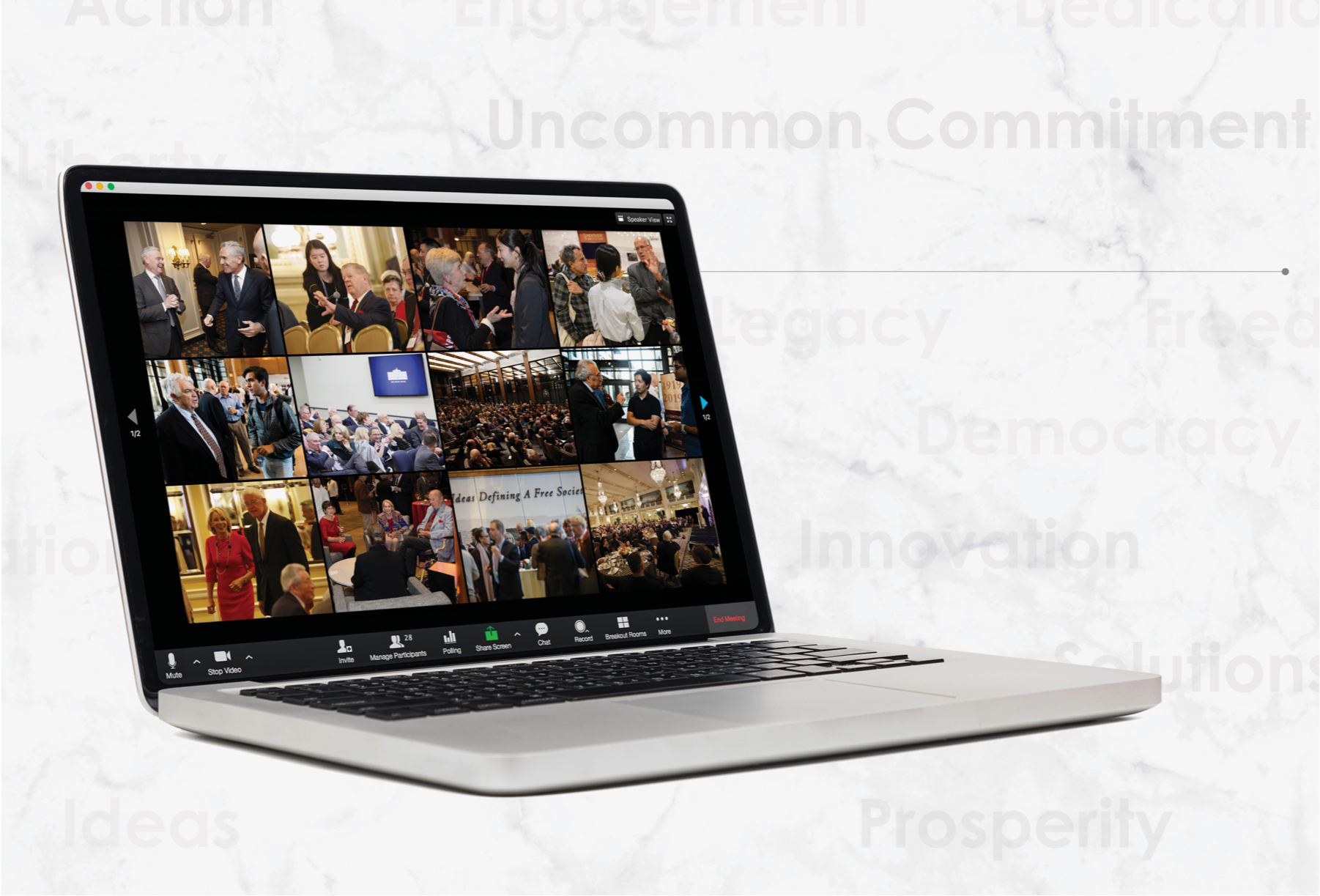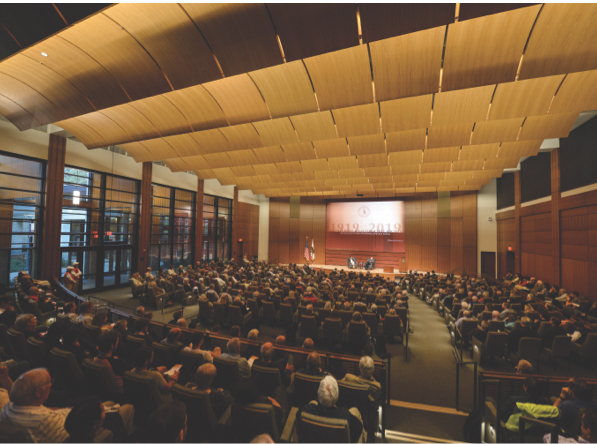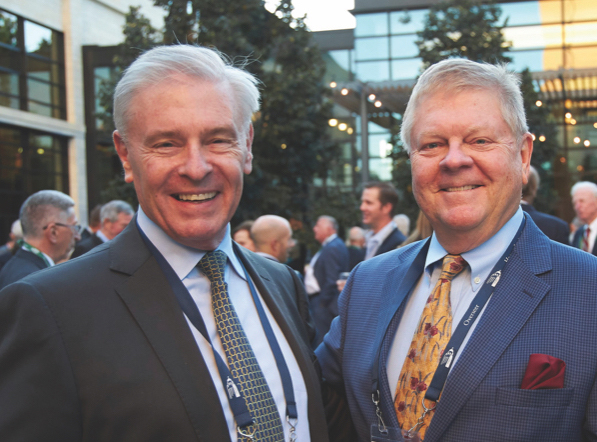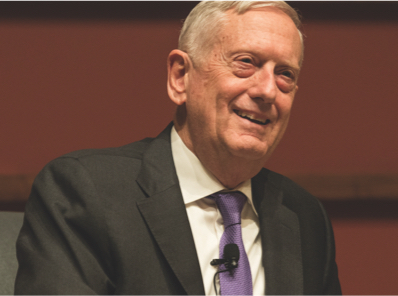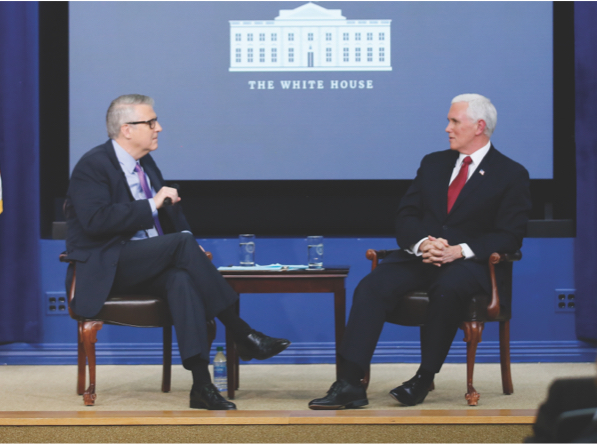 From Herbert Hoover's founding grant and the arrival of our first collections to our evolution into one of the world's preeminent centers for policy and archival research, the Hoover Institution's one-hundred-year history has been written through the dedication and generosity of extraordinary individuals. We offer our deepest thanks to the supporters and scholars who stand together in defense of freedom, private enterprise, and America's system of government. We also report on strategic work to sustain the core of our Institution—the Hoover fellowship and Library & Archives—by broadening our base of contributors, modernizing our infrastructure, and carefully managing our supporters' investments in freedom.
Support The Hoover Institution
To learn more about joining the community of supporters and scholars working together to advance ideas defining a free society, contact Hoover's Office of Development or visit hoover.org/get-involved.