Civil Discourse
Civil Rights Leaders
on Firing Line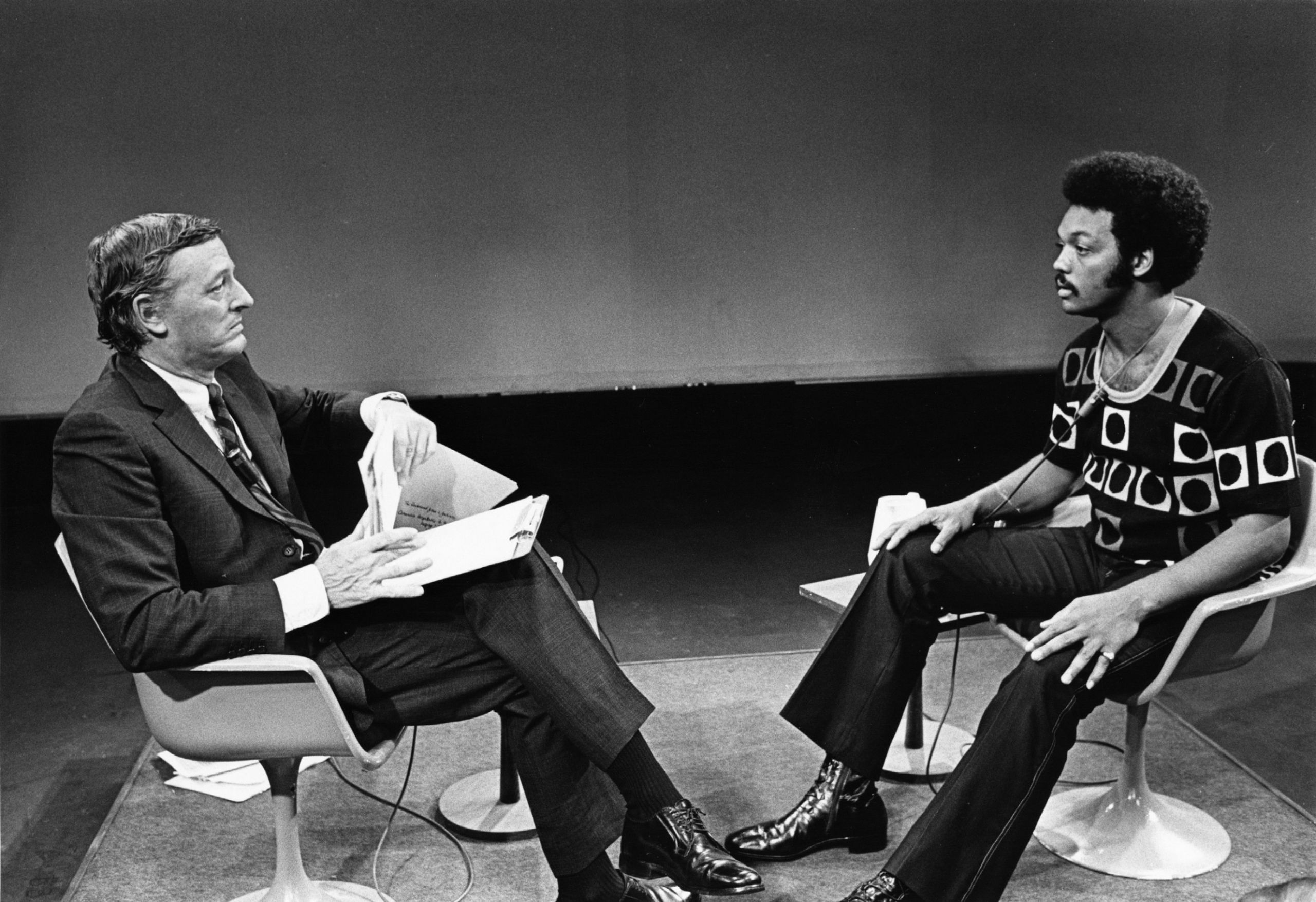 "At some levels, because sometimes solutions do not appear to be forthcoming, sometimes expressions of pain can grow into statements and expressions of frustration; but, nonetheless, we have to spend most of our time still fighting for a transcendent perspective that will move us toward a solution to the problem."
Jesse Jackson on Firing Line, October 2, 1971
A note on historical language: Please note that some language in the following archival material may be culturally insensitive or offensive to some viewers. It is presented as it exists in the original documents for the benefit of research. The material reflects the culture and context in which it was created. More information available at:
Statement on Descriptive Practices and Potentially Harmful Language.
The genre of broadcast debate forever changed when Firing Line first aired in 1966. A pivotal moment for William F. Buckley Jr. that led to this new show happened a year earlier on February 18, 1965. As the civil rights movement was gaining momentum throughout the United States, Buckley faced off in a televised debate with Harlem-born author James Baldwin on the topic, "The American Dream is at the expense of the American Negro." Buckley, arguing against the proposition, was trounced publicly by his ideological opponent. Although this moment did not forever define Buckley nor his ideology, the debate with Baldwin did help spur the creation of Firing Line.
At Buckley's discretion, Firing Line featured many Black public figures and civil rights leaders, including Muhammad Ali, Jesse Jackson, Huey Newton, Julian Bond, and John Lewis. As host, Buckley listened to and interrogated these guests whose views were often counter to his own. Firing Line provided guests, regardless of viewpoint, with a rare platform to share their perspectives globally and across the political spectrum. Together, these episodes do more than present personal attitudes—they provide a broader understanding of the transformative struggle for civil rights in America at the time.
"Muhammad Ali and the Negro Movement"
Muhammad Ali
December 12, 1968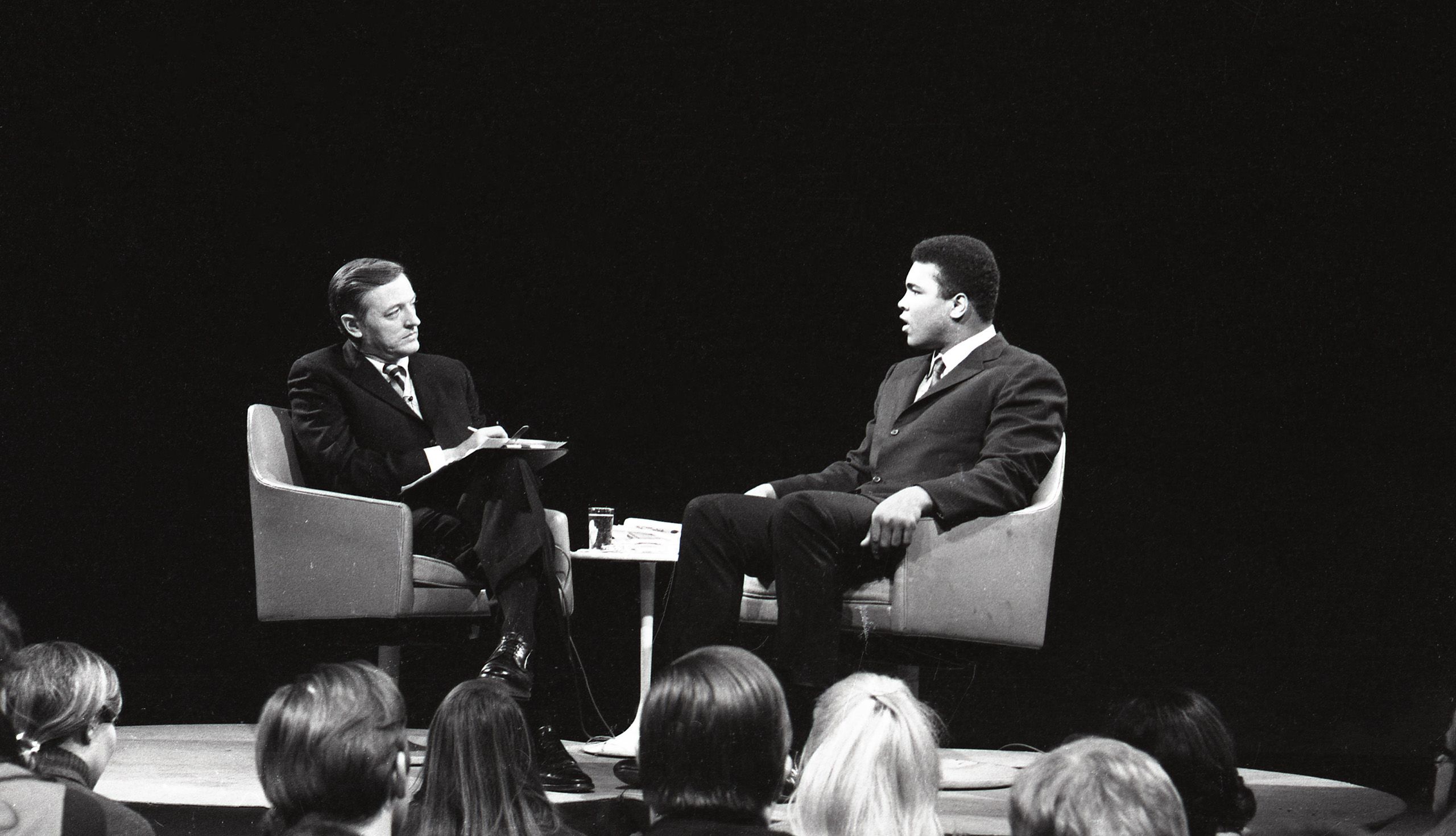 William F. Buckley Jr. and Muhammad Ali, December 12, 1968, Program 130
William F. Buckley Jr. and Muhammad Ali, December 12, 1968, Program 130
Muhammad Ali (1942–2016) was an American heavyweight boxing champion and civil rights activist. He refused to serve in the Vietnam War in 1967, was found guilty of draft evasion, and was sentenced to five years in prison. The following year, as the appeal of his conviction worked its way through the courts, Ali appeared on Firing Line. The range of the conversation went beyond his Muslim faith and position as a conscientious objector. Buckley and Ali exchanged thoughts on the religious leader Elijah Muhammad and Black nationalist Malcolm X, and the episode most poignantly revealed Ali's views on racism in America. Eventually, in 1971, the Supreme Court overturned Muhammad Ali's conviction, but by then he had been stripped of his 1964 heavyweight boxing title and had spent four years barred from competition.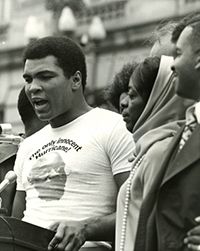 Muhammad Ali speaking at a rally for the release of Rubin "Hurricane" Carter, by Theodore A. Morrison, October 16, 1975. The Militant Photographic Collection, Hoover Institution Archives
"Now, but Black people, we've been taught that we will never be free until some will have to die, some will have to give up wealth, their loved ones, and their health. So, what I'm doing is for myself and for justice for Black people."
— Muhammad Ali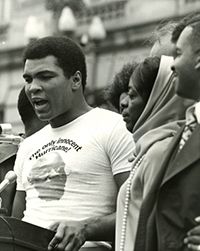 "Is America Hospitable to the Negro?"
Jesse Jackson
October 2, 1971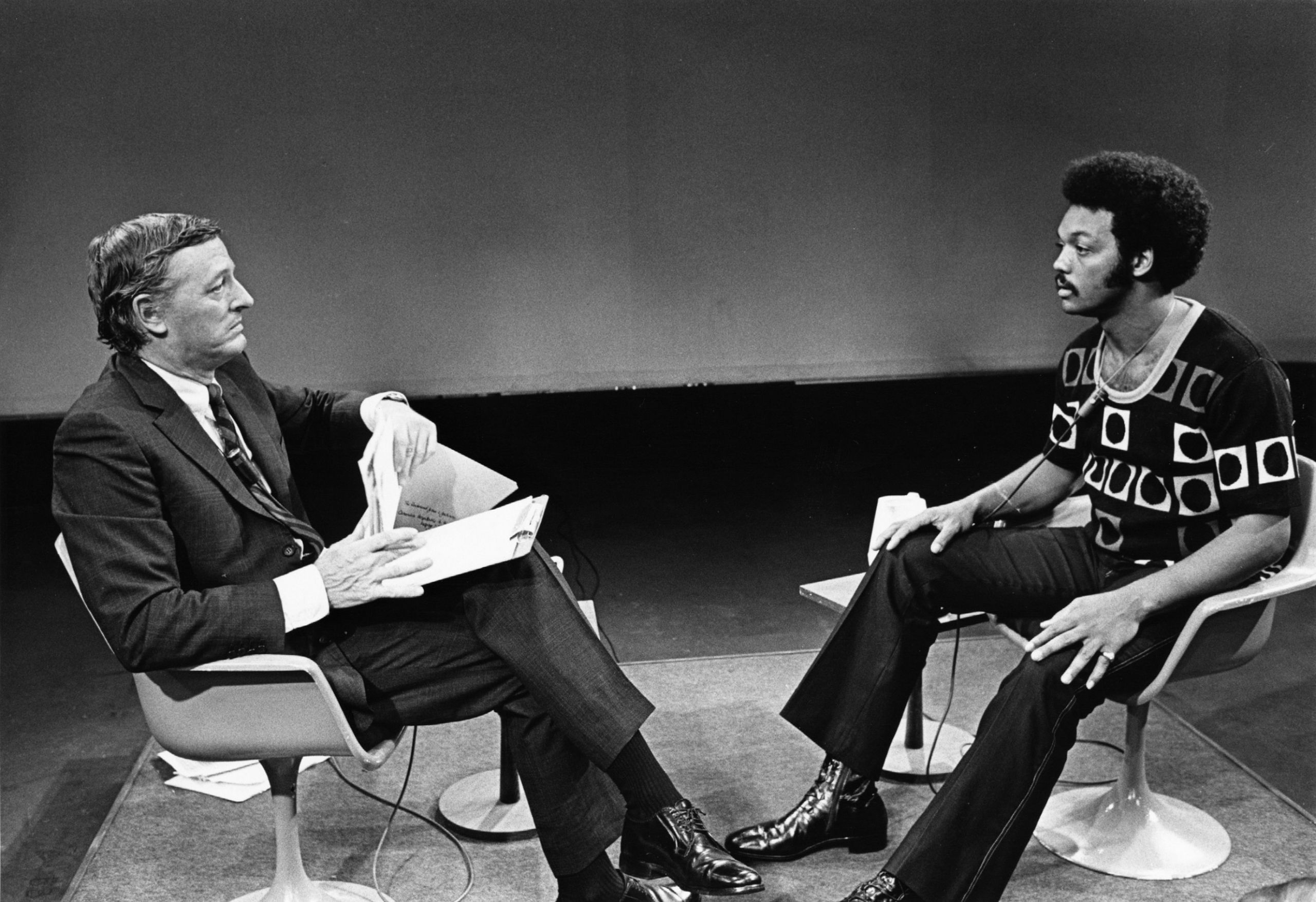 The Reverend Jesse Jackson (b. 1941) is a Baptist minister, civil rights activist, and politician. During the 1960s, his commitment to the civil rights movement and his gift as a galvanizing orator garnered the attention of Martin Luther King Jr., who involved him in the Southern Christian Leadership Conference (SCLC). Jackson was eventually appointed national director of its Operation Breadbasket program, which sought to improve the economic status of Black Americans. At the time of his 1971 Firing Line appearance, Jackson was commonly described as a moderate civil rights leader—although, as Buckley says in his guest introduction, "moderate" hardly did justice to what he describes as Jackson's "special mixture of evangelism, toughness, eloquence, and bombast." In the episode, Jackson discussed the civil rights movement, life in the inner cities, and economic opportunities for Black Americans. Just two months later, a simmering power struggle caused a schism in the SCLC, and Jackson left it to establish a new organization, taking the majority of the board of directors and the entire Breadbasket staff with him.
"One continues to hear the cries of racism in the country, because a Black person still has to be seen in terms of his adjective—which is his skin color—rather than his noun, his very person, his very being. A Black person cannot really be seen, within the context of this country, as a subject, only as an adjective."
— Jesse Jackson
"How Does It Go with the Black Movement?"
Huey Newton
January 23, 1973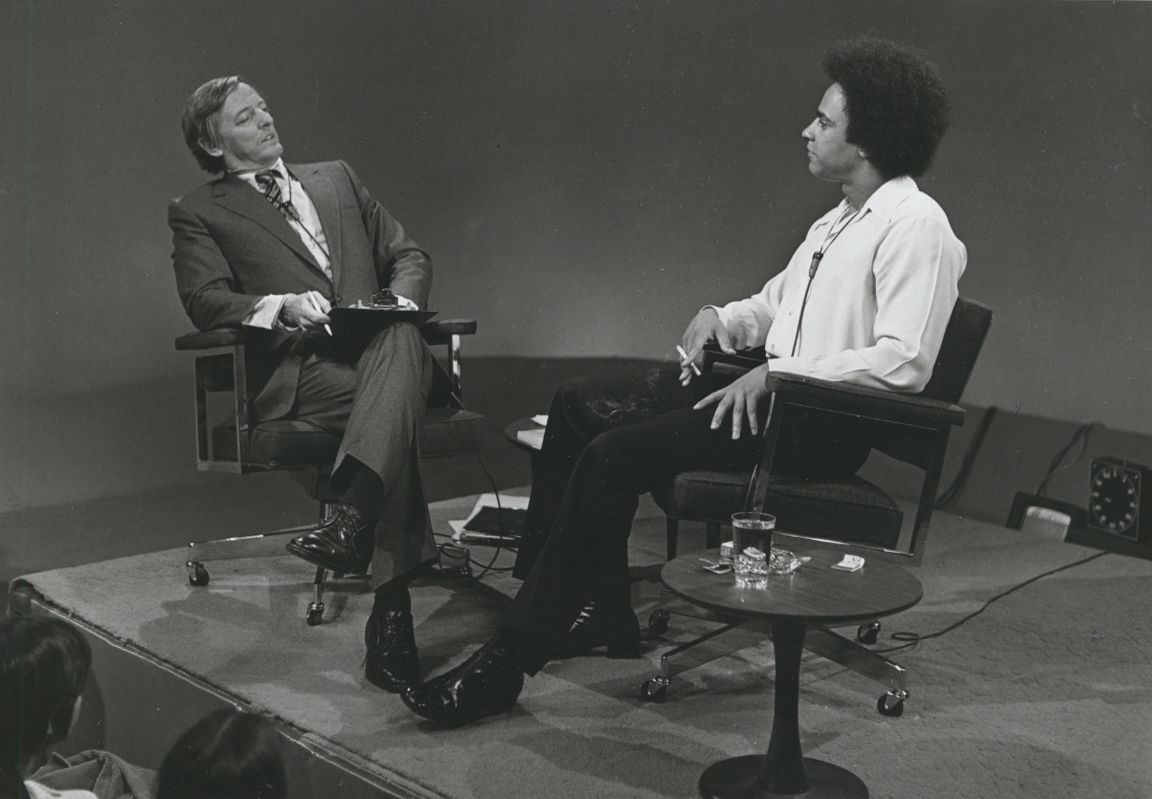 William F. Buckley Jr. and Huey Newton, January 23, 1973, Program S0080
William F. Buckley Jr. and Huey Newton, January 23, 1973, Program S0080
Huey Newton (1942–1989) was an activist who co-founded the Black Panther Party with Bobby Seale in Oakland, California, in 1966. The Black Panther Party was a political organization originally founded to combat police brutality against Black Americans, but it eventually expanded its activities to political advocacy and the facilitation of various social programs. At the time of Newton's appearance on Firing Line, the organization was already in decline with the recent departure of outspoken member Eldridge Cleaver, who had championed the need for armed insurrection. As Buckley sets up the conversation, he notes how the party recently turned away from condoning the use of violence and suggests that he and his guest discuss its current ambitions and campaigns. Newton forestalls Buckley's first question with one of his own, asking whether Buckley would have supported the American Revolution. Buckley states that he "probably" would have been on the side of George Washington but that generally speaking he was against revolutions, to which Newton responds, "Yes, you're not such a bad guy after all."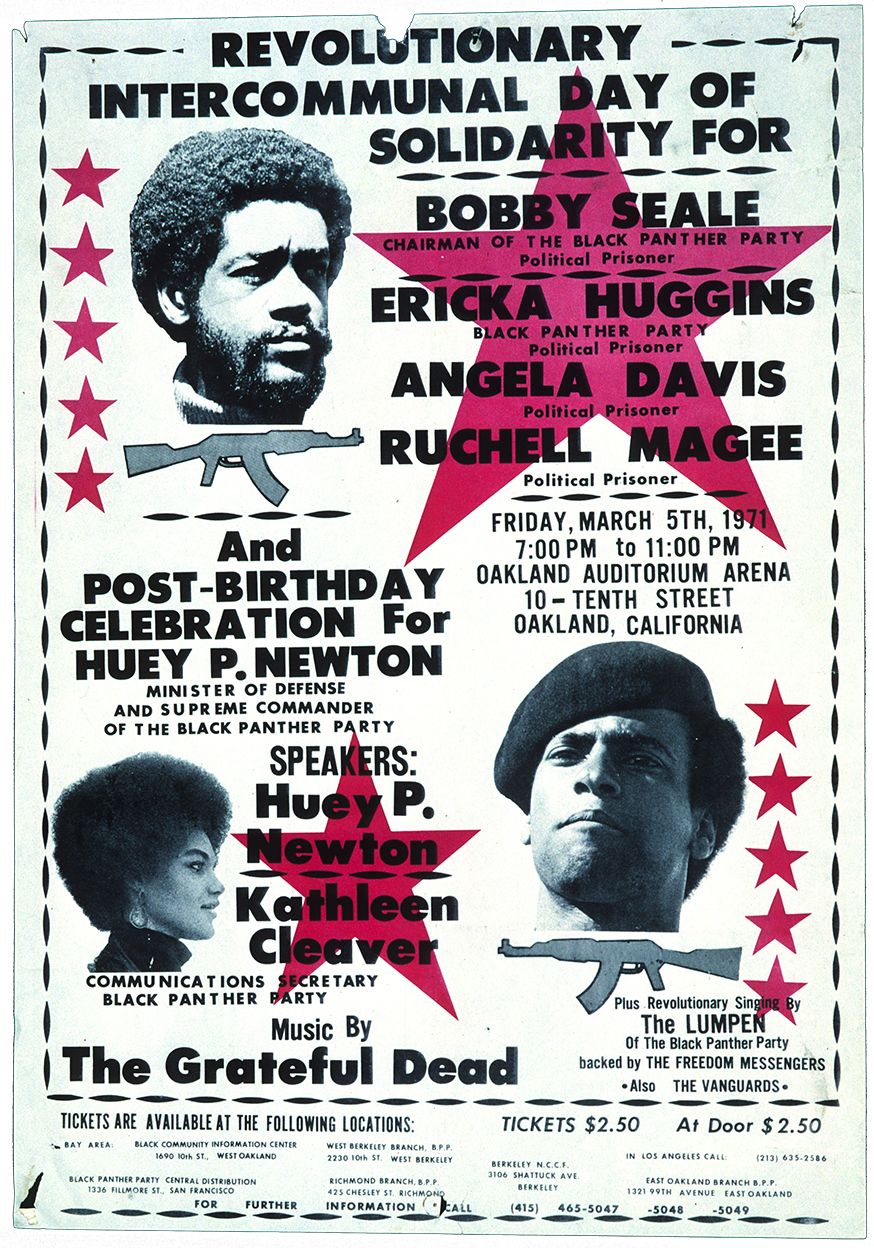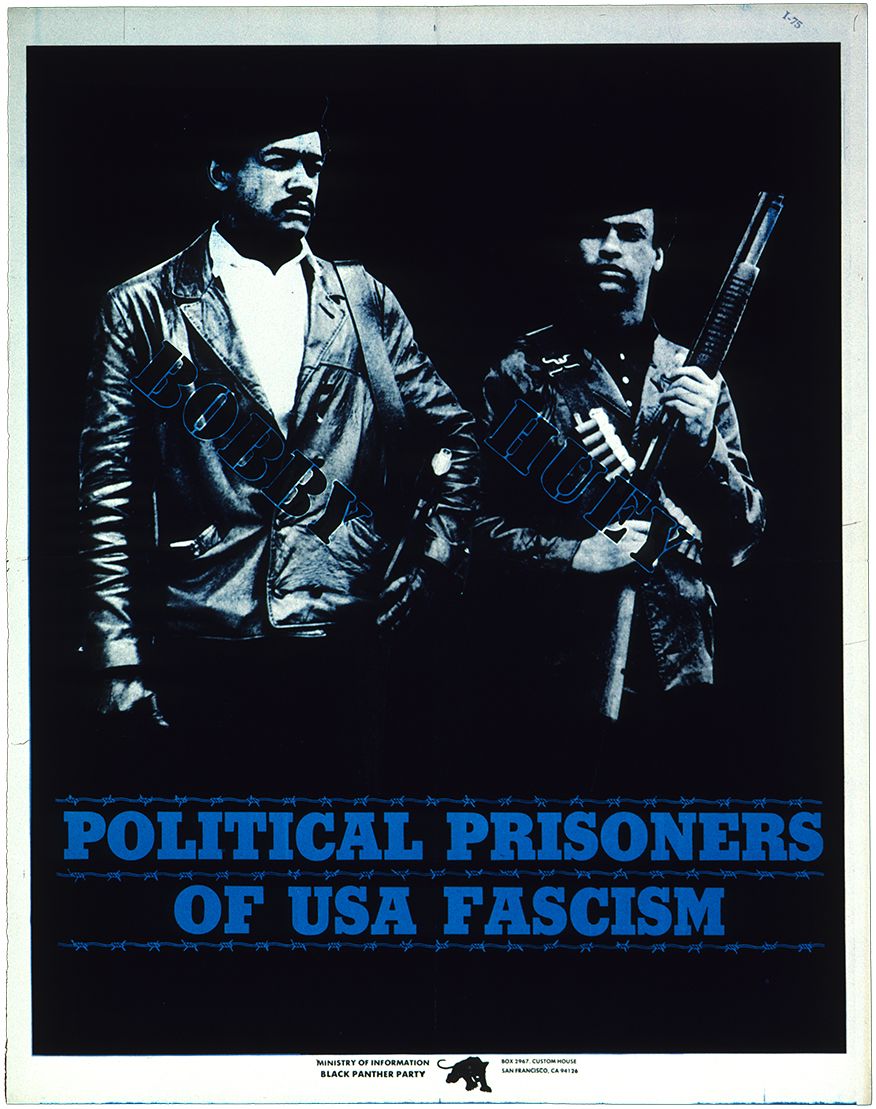 "All an organization or party can be is a vehicle or spark to get popular support and then the people carry out changes such as they desire."
— Huey Newton
"Politics and Black Progress"
Julian Bond and John Lewis
January 23, 1974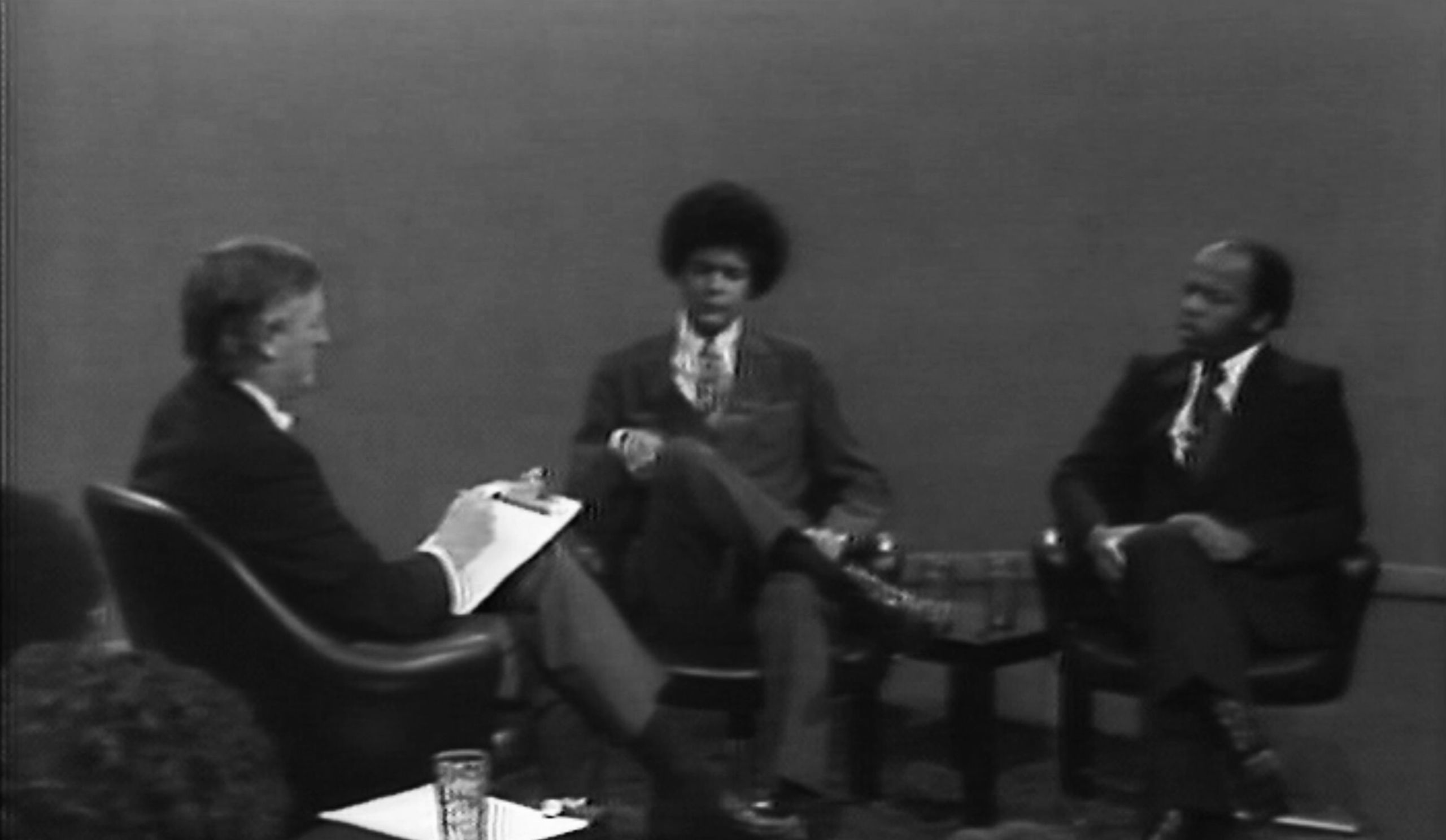 William F. Buckley Jr., Julian Bond, and John Lewis, January 23, 1974, Program S0129
William F. Buckley Jr., Julian Bond, and John Lewis, January 23, 1974, Program S0129
Julian Bond (1940–2015) and John Lewis (1940–2020) were both politicians and civil rights activists from the American South. They appeared together on Firing Line in 1974 to discuss changes in voting practices since the passage of the Civil Rights Act a decade earlier. Lewis was then the director of the Voter Education Project, which would eventually add nearly four million voters to the rolls under his leadership. Bond was in his third term as a state representative in Georgia, for an area that had been redistricted each term, and was the president of the Southern Poverty Law Center. Their conversation with Buckley also raised the issues of political parties, low-income housing, the role of government, the Student Nonviolent Coordinating Committee (SNCC), and economic mobility in America. Bond, in particular, articulated his understanding of politicians and their tendency to "over-promise" when addressing their constituents. This, he reasoned, explained constituents' "lack of faith" in their politicians.
"What I'm talking about is a constructive kind of skepticism, because I don't think you ever ought completely to give yourself up to the kind of foolish optimism that says, you know, things are just going to get better, I know they will. They won't get better unless a lot of different people do a lot of different things."
— Julian Bond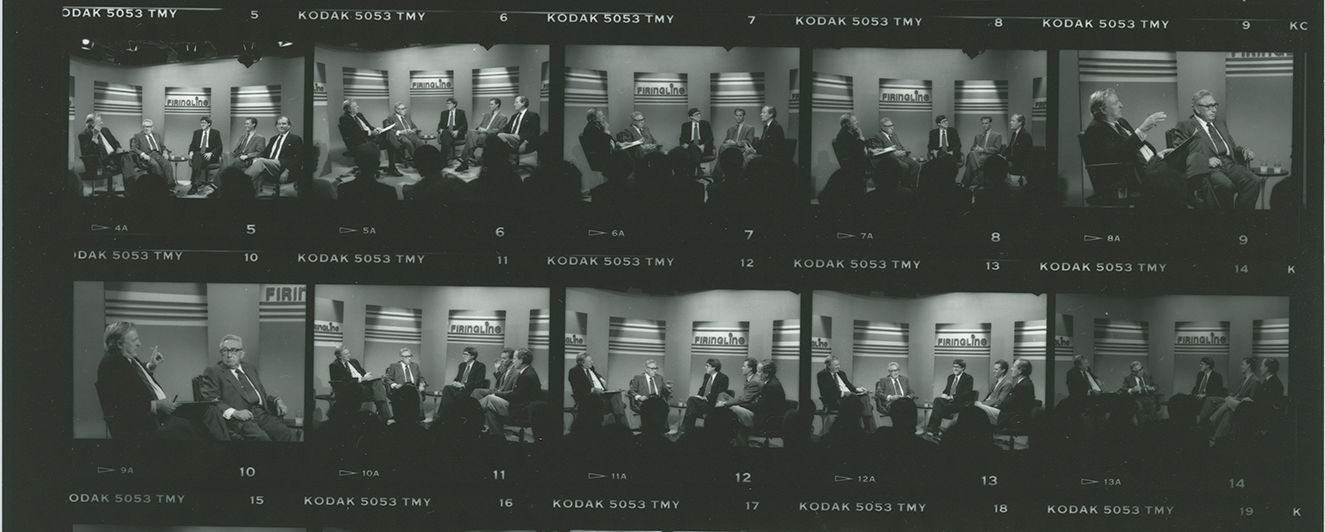 Unless otherwise noted, all collection material shared in this presentation is part of the Firing Line broadcast records housed at the Hoover Institution Library & Archives, Stanford University.
The Hoover Institution Library & Archives has placed copies of these works online for educational and research purposes. If you would like to use any of these works, you are responsible for making your own legal assessment and securing any necessary permission. If you have questions about this resource or have concerns about the inclusion of an item, please contact the Hoover exhibits team:Contact Us
For more information about rights and permissions please visit,https://www.hoover.org/library-archives/collections/get-help/rights-and-permissions.​
© 2022 by the Board of Trustees of Leland Stanford Junior University.