Civil Discourse
The Cold War on Firing Line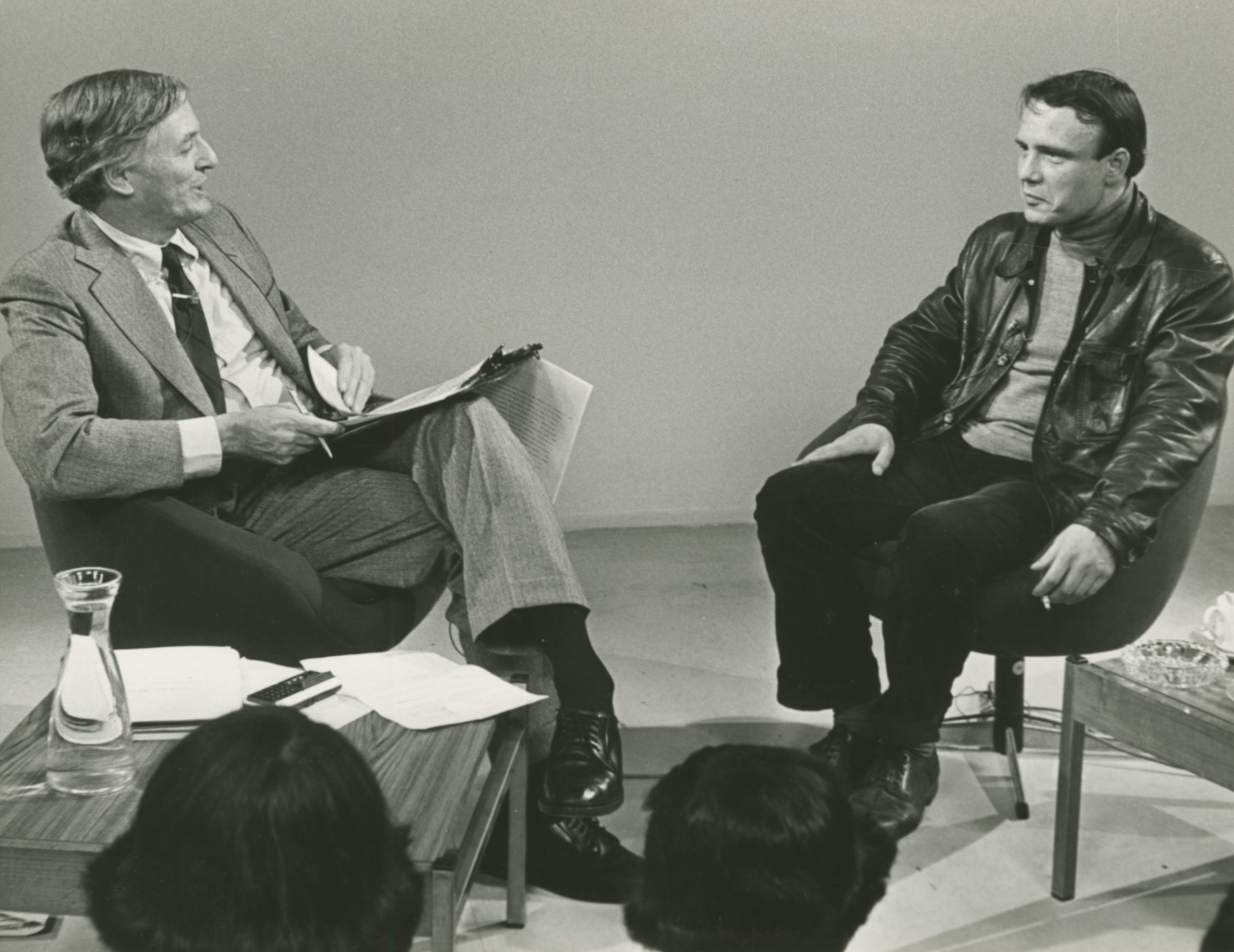 "If the criterion is a free society, a democratic society, a society that would be man-centered and would be based on humanistic values, then you come into tremendous conflict with Marxism."
Eugen Loebl on Firing Line, June 27, 1977
When the public affairs show Firing Line premiered in 1966, the Cold War was escalating as the US and the USSR faced off in a battle of ideologies and an arms race that continued until the Soviet Union's dissolution in 1991. Host William F. Buckley Jr. invited guests from different political and social backgrounds onto the show to discuss the history and rise of communism and how the United States should address the Cold War. These guests included former Communist party members and Soviet dissidents, politicians, and ex-intelligence officers. Their lively conversations became the show's trademark and provided audiences with intimate, eyewitness perspectives into conditions in the Soviet Union and its relations with the United States during this period of history.
"McCarthyism: Past, Present, Future"
Leo Cherne
May 16, 1966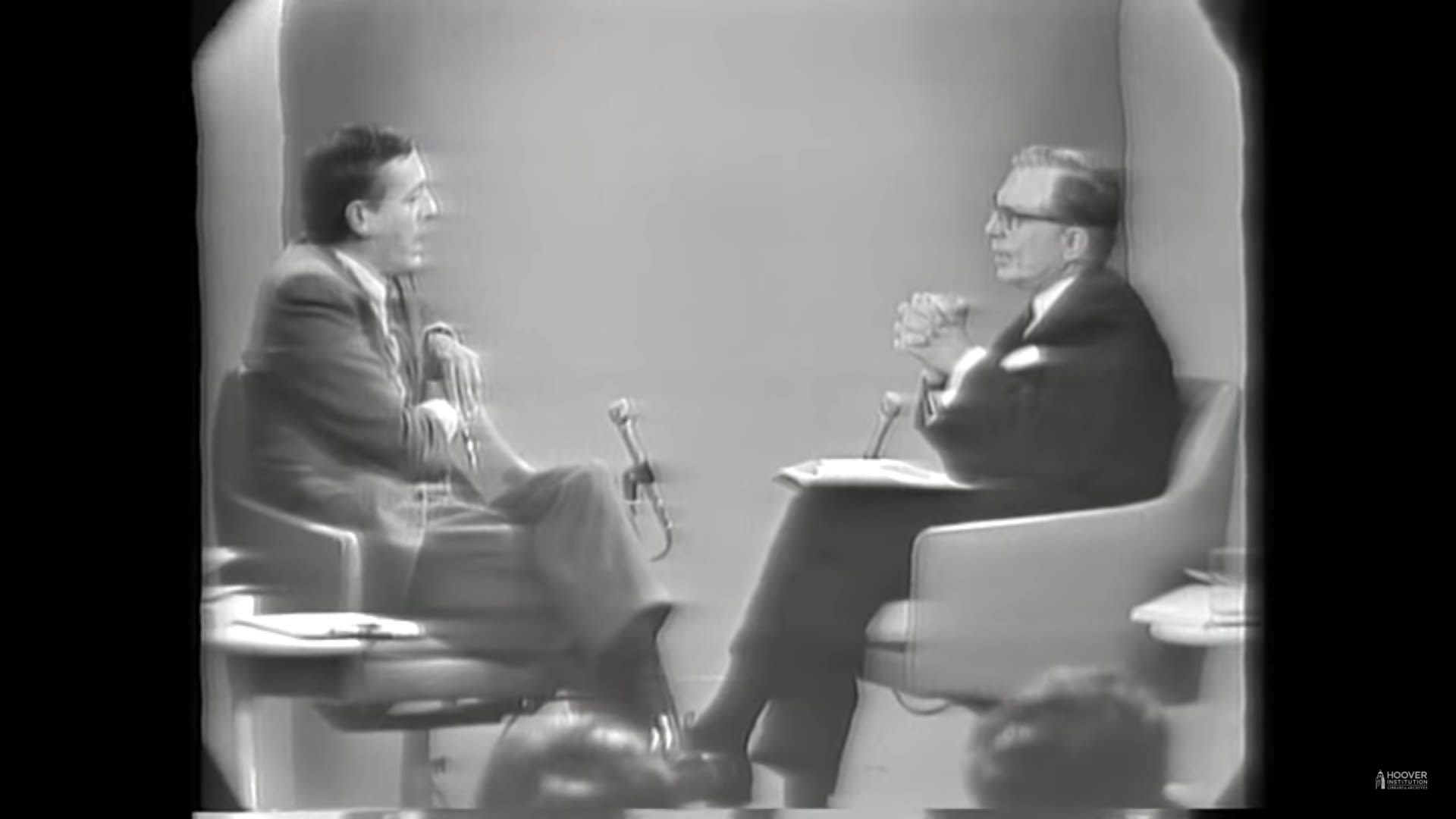 William F. Buckley Jr. and Leo Cherne, May 16, 1966, Program 10
William F. Buckley Jr. and Leo Cherne, May 16, 1966, Program 10
During the 20th century, the fear of a domestic communist movement, sometimes referred to as the Red Scare, swept through the United States. In 1950, Wisconsin senator Joseph McCarthy claimed that he had a list of members of the Communist Party working for the State Department. In the following years, McCarthy's indiscriminate accusations, though his House Un-American Activities Committee, led to the term "McCarthyism" to describe the practice of investigating US citizens' associations with the Communist Party, epitomized by the phrase, "Are you, or have you ever been, a member of the Communist Party?" Although McCarthy's credibility crumbled in 1954, after his committee's investigation of the US Army, many people still feared communist subversion in America during the Cold War.
In this episode of Firing Line, Leo Cherne (1912–1999), economist and head of the humanitarian aid organization International Rescue Committee, comes on to discuss McCarthyism. Although an anticommunist, Cherne is a critic of McCarthyism, which he believes endangers free society and political discourse. Buckley, meanwhile, states that he does not prefer a society that is open to ideas from Nazis, communists, or people who believe in class legislation or genocide. Cherne doesn't agree but respects Buckley's idea, stating that if it is going to have credibility, "the term communist and the term fascist must be applied with absolutely surgical accuracy."
"I would be, myself, inclined not to curtail the civil liberties of the neo-fascist or fascist, or communist or neo-communist segments of the community. I believe that one of the strengths and virtues of a free society resides in its ability to take this element of disease and listen, absorb, and handle the disease."
— Leo Cherne
"What's Up with Eurocommunism?"
Eugen Loebl
June 27, 1977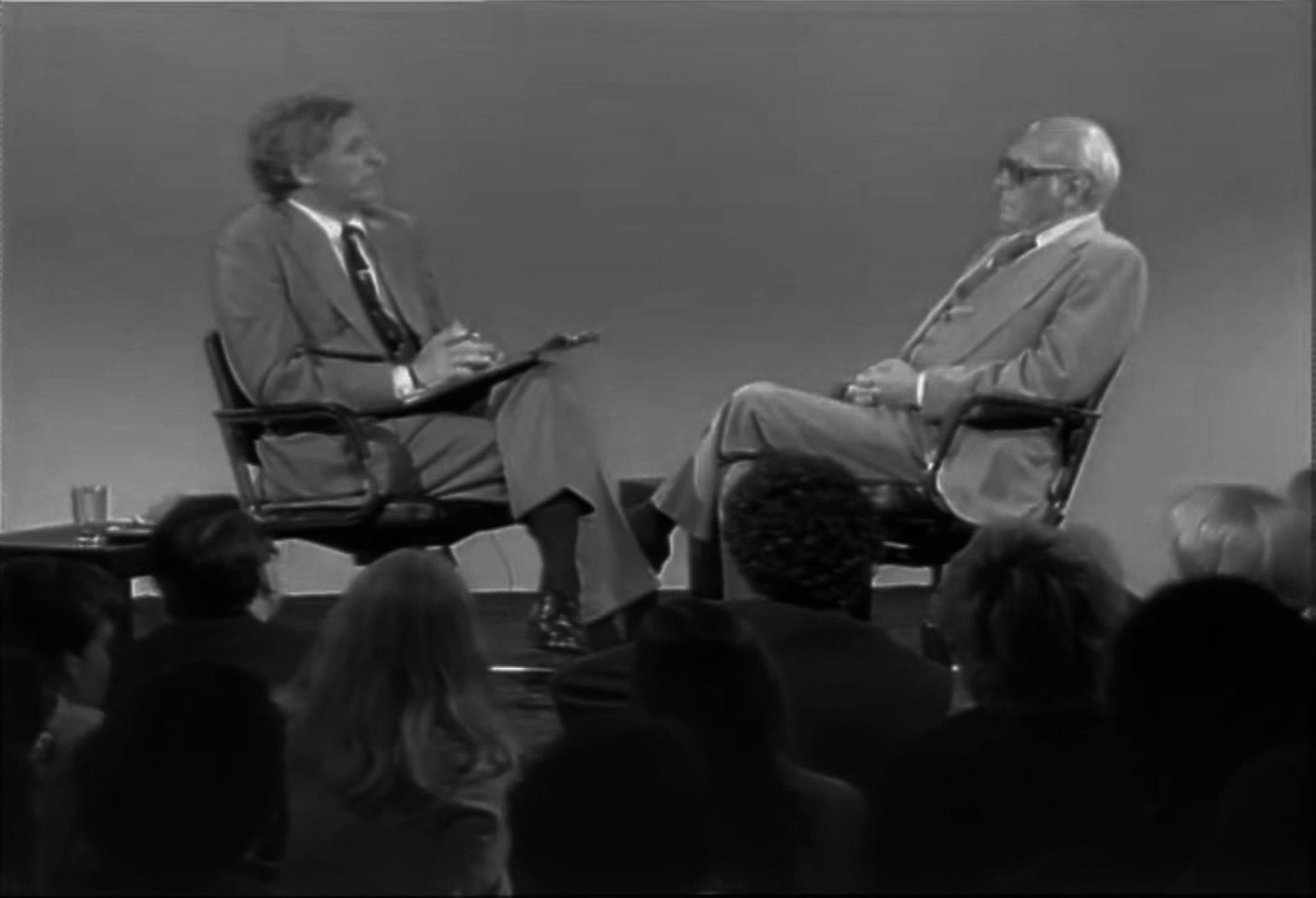 William F. Buckley Jr. and Eugen Loebl, June 27, 1977, Program S0284
William F. Buckley Jr. and Eugen Loebl, June 27, 1977, Program S0284
Eugen Loebl (1907–1987) joined the Communist Party in Czechoslovakia in 1934. By the end of World War II, Loebl was a high-ranking party member and, briefly, deputy foreign minister of Czechoslovakia after the Communist coup of 1948. A year later, he was arrested in a political power struggle and subsequently lost faith in communism. Loebl emigrated from Czechoslovakia in 1968 and at the time of his appearance on Firing Line he lived in the United States. He became a proponent of economic reforms and the democratization of Czechoslovakian politics. This episode includes a rich discussion between Buckley and Loebl about the way communism has played out in Central Europe and the lessons this might hold for the "Eurocommunism" being talked about in France and Italy.
"If democracy wants to survive, see, then it has to find democratic forces that will bring about democracy... I don't think that it can be achieved with the help of the Eurocommunist."
— Eugen Loebl
"The Guilt of Alger Hiss"
Allen Weinstein and Athan G. Theoharis
March 21, 1978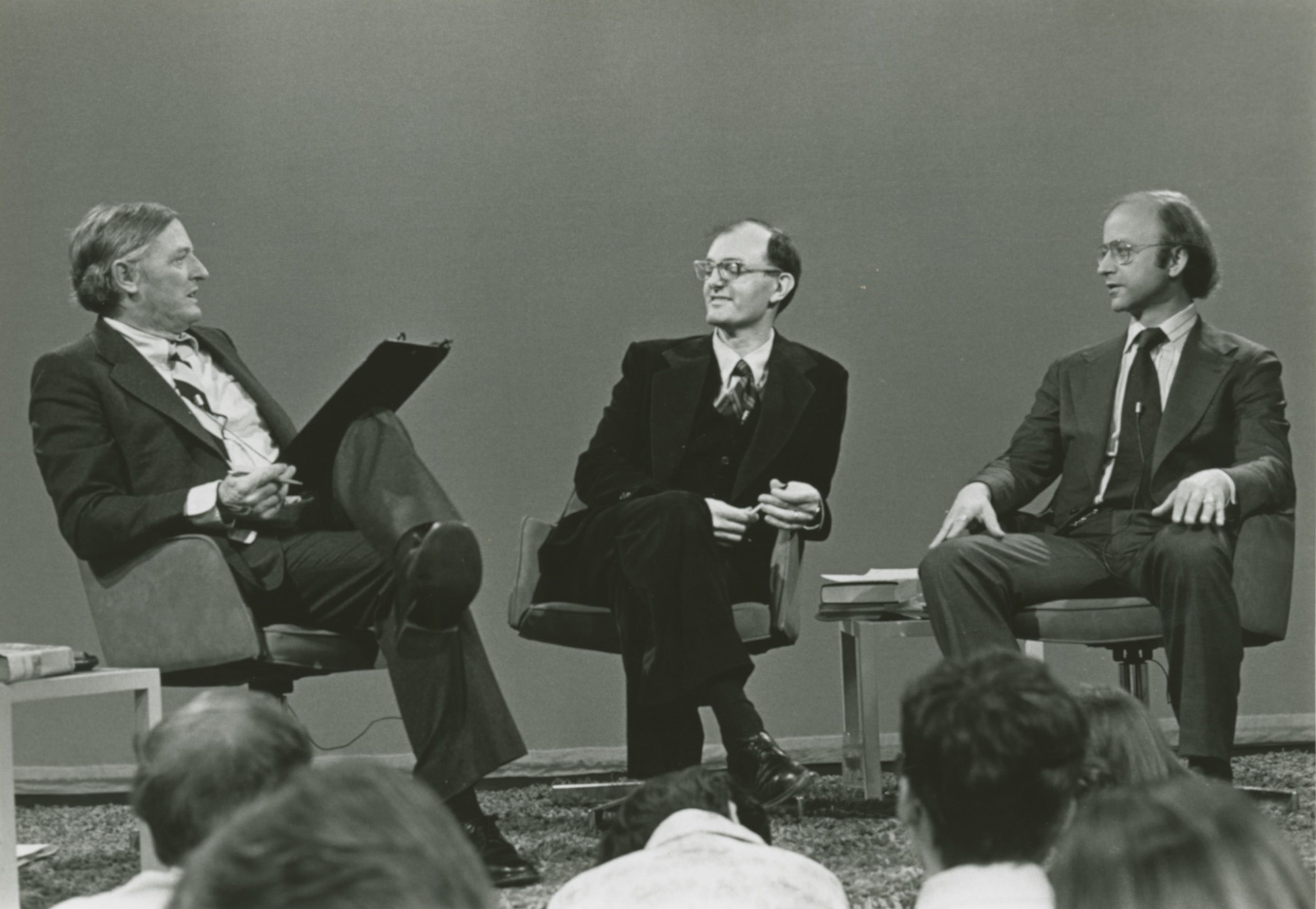 William F. Buckley Jr., Allen Weinstein, and Athan G. Theoharis, March 21, 1978, Program S0316
William F. Buckley Jr., Allen Weinstein, and Athan G. Theoharis, March 21, 1978, Program S0316
Alger Hiss was a US State Department official accused in 1948 of being a Soviet spy and convicted of perjury in 1950. He had been exposed by former Communist Party member and Soviet spy Whittaker Chambers, who testified before the House Un-American Activities Committee that Hiss had been a member of the Communist Party, though not a Soviet agent. Incidentally, Chambers went on to become a founding member of the editorial board of William F. Buckley Jr.'s National Review. This episode, in which Buckley, Allen Weinstein (1937–2015), and Athan Theoharis (1936–2021) explore the Hiss-Chambers case, was occasioned by the publication of Weinstein's book Perjury. Before Weinstein began working on his book, he believed that Hiss had been framed and that it was Chambers who had perjured himself, but his research brought him to the opposite conclusion. Throughout the episode, American historian Theoharis maintains that Hiss was innocent.
"I think it's fair to say that without the events of the 1960s and early Seventies, without the deepening suspicion of the intelligence agencies, without the Watergate crisis, without the Vietnamese War, and all of the other unhinging elements in American life over the last decade and a half that Alger Hiss and his case would be a relatively dead issue in this society."
— Allen Weinstein
"Human Rights in the USSR"
Vladimir Konstantinovich Bukovsky
December 30, 1978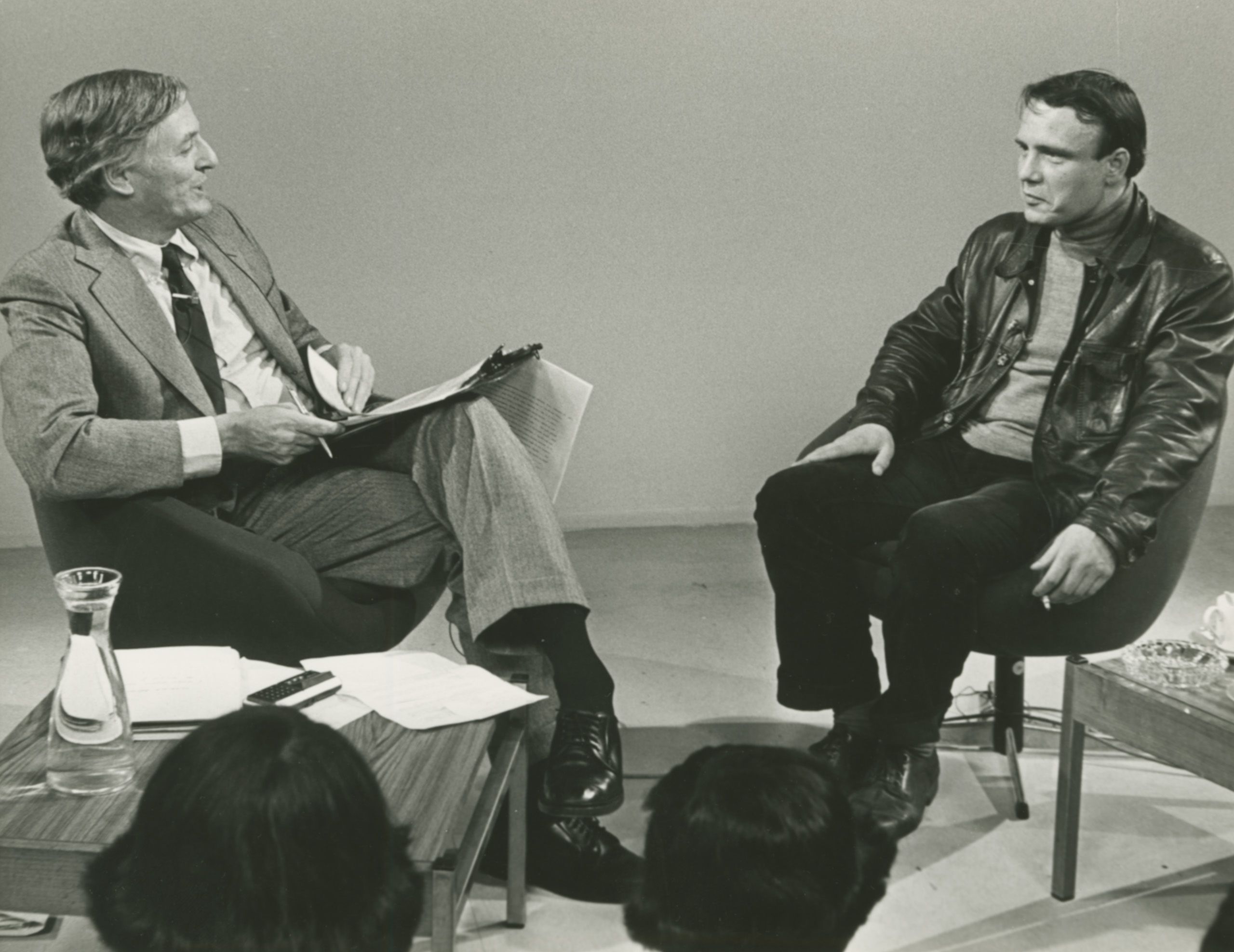 Vladimir Bukovsky (1942–2019), prominent writer and Soviet dissident, was arrested in 1963 for distributing two photocopies of Milovan Djilas's banned book The New Class, which was highly critical of Soviet society. Soviet authorities declared Bukovsky mentally ill, and he spent much of the next 13 years confined to asylums. Bukovsky first came to the attention of the West in 1972, when he collected and smuggled documents on Soviet abuse of psychiatric institutions for the confinement and torture of dissidents, including himself.
Bukovsky was released and deported in December 1976 as part of an exchange whereby the government of Chile freed the jailed head of the Chilean Communist Party. Bukovsky's release was a landmark event, a tacit acknowledgement by the Soviet government that it was holding political prisoners. The human rights organization Amnesty International estimated in a 1977 report that up to 10,000 political and religious "prisoners of conscience" were being held in Soviet prisons, labor camps, and mental institutions.
"It's very convenient for them, when they declare anybody as insane, it denigrates not only him personally, but views he expressed."
— Vladimir Konstantinovich Bukovsky
"Resolved: That the Cold War Is Not Coming to an End"
A Firing Line Debate
June 19, 1989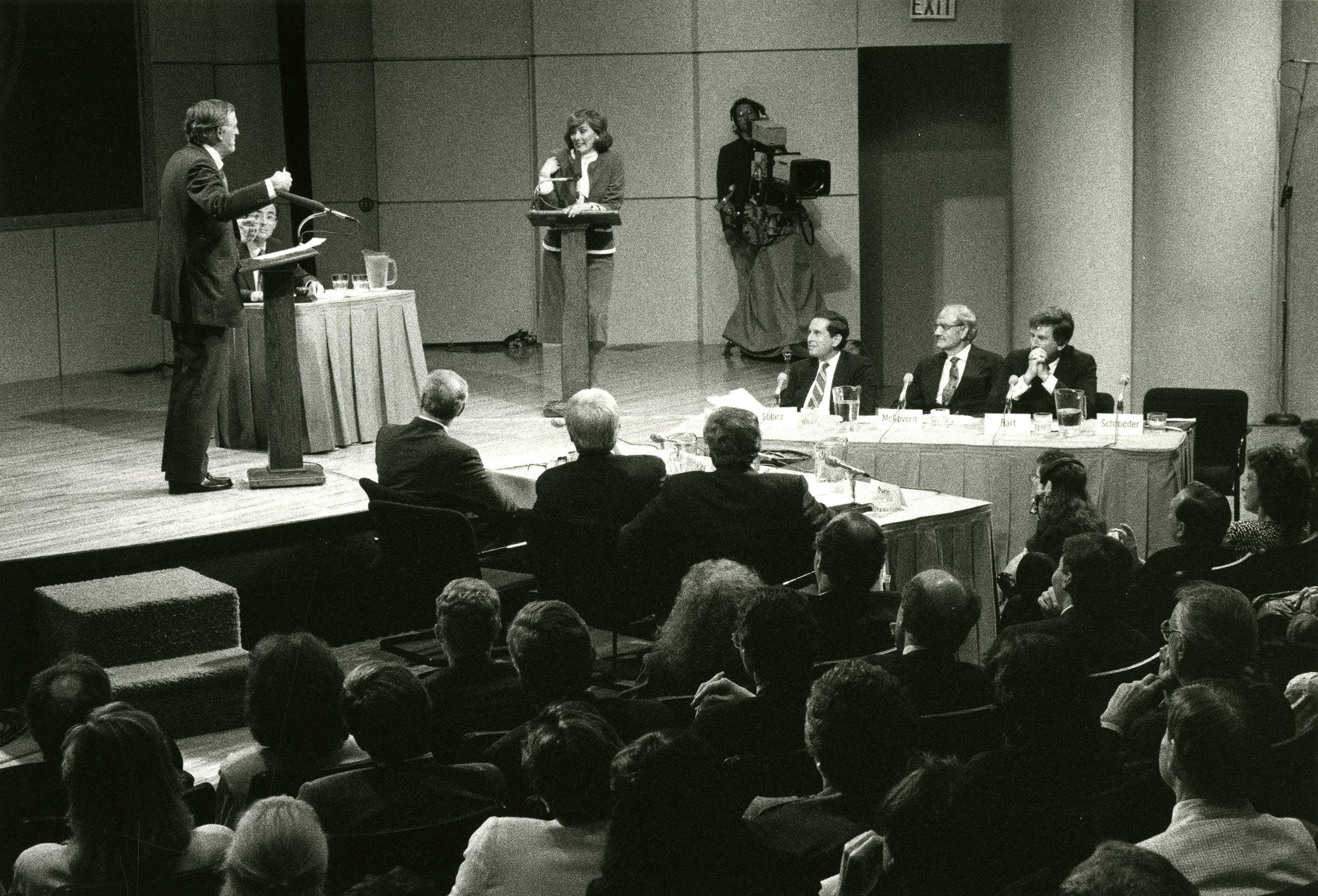 William F. Buckley Jr. and Pat Schroeder, June 19, 1989, Program FLS105
William F. Buckley Jr. and Pat Schroeder, June 19, 1989, Program FLS105
The year 1989 was a pivotal one in the Cold War, making this episode of Firing Line particularly timely. That year witnessed the end of communist-controlled governments in several Soviet satellite states such as Poland and Czechoslovakia, the Tiananmen Square Massacre in China, the withdrawal of Soviet troops from Afghanistan, and the beginning of the Berlin Wall's destruction. In the midst of this, Buckley suggests the prompt "That the Cold War Is Not Coming to an End" in one of Firing Line's many popular debate episodes. William F. Buckley Jr., Newt Gingrich, Alexander Haig, and Richard Norman Perle make up the affirmative side, while George S. McGovern, Gary Hart, Pat Schroeder, and Stephen J. Solarz dispute the resolution. What follows is a debate in which both sides agree changes have occurred, but cannot agree on what these changes will mean for the end of the Cold War. Two and a half years later, the USSR collapsed, marking for many countries the end of the Cold War and a victory for democracy and human rights.
"Over the course of history there are democracies that have become dictatorships and there are dictatorships that have become democracies. Even if the Soviet Union were to evolve in a more open and liberal direction, there is of course a possibility that it could revert to its more repressive policies of the past."
— Stephen J. Solarz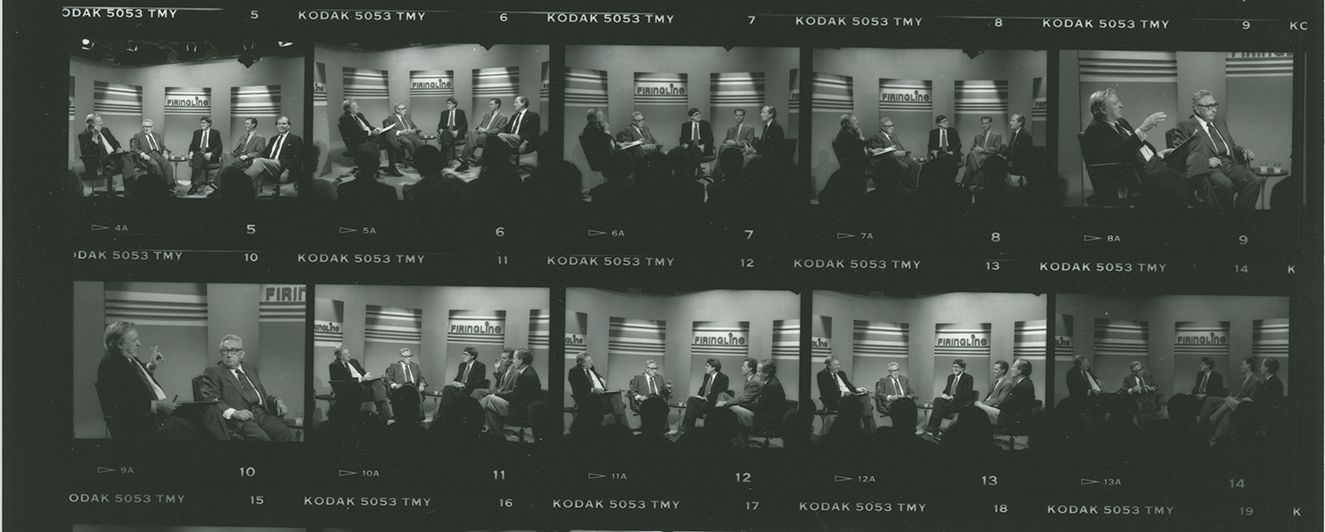 Unless otherwise noted, all collection material shared in this presentation is part of the Firing Line broadcast records housed at the Hoover Institution Library & Archives, Stanford University.
The Hoover Institution Library & Archives has placed copies of these works online for educational and research purposes. If you would like to use any of these works, you are responsible for making your own legal assessment and securing any necessary permission. If you have questions about this resource or have concerns about the inclusion of an item, please contact the Hoover exhibits team:Contact Us
For more information about rights and permissions please visit, https://www.hoover.org/library-archives/collections/get-help/rights-and-permissions.​
© 2022 by the Board of Trustees of Leland Stanford Junior University.