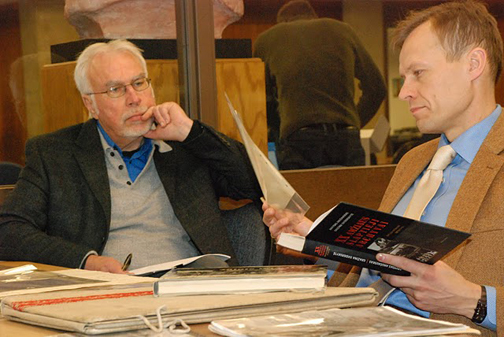 On January 29, 2010, Audrius Bruzga, Lithuanian ambassador to the United States, met at Hoover with Richard Sousa, director of the Hoover Library and Archives, and Maciej Siekierski, curator of Hoover's East and Central European Collection. In addition to discussions of future cooperation and exchanges between the Lithuanian government and Hoover, Ambassador Bruzga was shown a selection of material from Hoover's extensive holdings on Lithuania.
There are more than thirty collections (in Lithuanian, Russian, Polish, German, and English) directly related to Lithuania in the Hoover Archives. Among the highlights shown to the ambassador were documents and photographs of the American Relief Administration's humanitarian efforts in Lithuania after World War I, extensive lists of Lithuanian deportees to the Gulag preserved in the Polish Ministry of Foreign Affairs archives, and the private papers of the Lithuanian diplomat Edvardas Turauskas, who served his country from 1919 to 1946.
In 2009, the Hoover Archives entered into a partnership with the Lithuanian Archives Department of the Republic of Lithuania. Under the terms of that agreement, Hoover is receiving microfilm of KGB/MVD records from the Lithuanian Special Archives in Vilnius, formerly the headquarters of the KGB in Soviet Lithuania. The Lithuanian KGB/MVD archives has the largest holdings of documentation of the Soviet political police outside Russia that are open to researchers. The Vilnius project supplements and enhances Hoover's microfilm collection of the Communist Party of the Soviet Union.
Anatol Shmelev, curator of Hoover's Russia/CIS collection, and library specialist David Jacobs also met with Ambassador Bruzga.