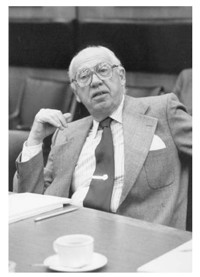 The William Casey papers are now open at the Hoover Institution Library and Archives. William Joseph Casey, most well known as director of the Central Intelligence Agency (CIA), held a number of high-level positions in the United States government during the presidential administrations of Richard M. Nixon, Gerald R. Ford, and Ronald Reagan. His government service dates back to his days as a decorated member of the Office of Strategic Services, the CIA's precursor. He was also the manager of Ronald Reagan's presidential campaign in 1980.
As CIA director from 1981 to 1987, Casey oversaw the American intelligence community's expanded funding and human resources, particularly within the CIA. During his tenure, in the interests of US policy, restrictions were lifted on the CIA's direct and covert influence on internal and foreign affairs.
Although they do not include official government records, his papers (contained in more than six hundred boxes) include personal use copies of unclassified official documents and unofficial correspondence that reflect formulation of government policy during the Nixon, Ford, and Reagan administrations, with particular reference to the agencies that Casey headed and to the commissions on which he served, including his service as chairman of the Securities and Exchange Commission. 
Casey's government service, however, was not without controversy. Linked, most famously, to the Iran-contra affair, he successfully weathered all the investigations and confirmation hearings. There is little material available related to the Iran-contra investigation (other than press coverage), as Casey was incapacitated by illness throughout most of the hearings.
In addition to material related to his political activity and government service, there is material on the Casey Foundation (1967–77), a philanthropy established by Casey. The collection includes Casey's published writings, together with drafts and related correspondence and background materials.  Besides numerous publications in the field of business law, Casey was the author of two books, Where and How the War Was Fought, inspired by the American Revolution Bicentennial, and the posthumously published The Secret War against Hitler, in which he drew on his experiences in the Office of Strategic Services.
The Hoover Archives has a number of noteworthy collections related to espionage including the Lithuanian KGB microfilm, Andrew Meier papers, Melita Norwood papers,  Kristie Macrakis papers, and the Sir Robert Hamilton Bruce Lockhart papers.
During the past few years, the Hoover Archives has opened up a number of other Reagan-era papers, including those of Edwin Meese, Lyn Nofziger, Dick Allen, Richard Wirthlin, Peter Hannaford, Deaver & Hannaford, and Citizens for Reagan.