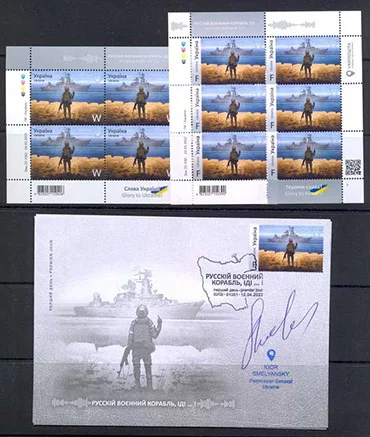 Several items related to the current Russian-Ukraine war, which began in February of 2022, have recently been acquired by the Hoover Institution Library & Archives following a trip to the Ukraine. Anatol Shmelev, Robert Conquest curator of the Russia and Eurasia Collection, who recently traveled to Kyiv, met with individuals and organizations with regards to preserving documentation on the war.
Thanks to Serhiy Leshchenko, an official in President Volodymyr Zelensky's administration, the Hoover Institution Library & Archives was able to acquire a number of compelling documents, such as a newly issued stamp, dedicated to the defenders of Zmeinyi (Snake) Island, whose defiant (and unprintable) words at the beginning of the war set the tone for the Ukrainian defense. Leshchenko's quick call to Postmaster-General Ihor Smilianskiy enabled the Library & Archives to acquire a few issues of the stamp along with first-day covers for the Ukrainian Subject collection. 
The image on the stamp depicts a Ukrainian soldier extending a middle finger to salute the cruiser Moskva, the flagship of the Russian Federation in the Black Sea (which later sank as a result of being hit by a Ukrainian missile). In recorded audio from February 24, 2022, the commander of the Ukrainian border outpost on the island tells the commander of the Moskva to "Go … himself" in response to the latter's call to surrender. These words are also reproduced on the stamp as, "Russian Warship, go …!" with an ellipsis gently covering the unprintable portion.
Another interesting document that was acquired, is a leaflet from a "propaganda" shell, which is an artillery shell that contains propaganda leaflets instead of a payload. They are designed to explode over a populated area, dropping propaganda as a form of psychological warfare. Although this leaflet was found near the Ukrainian city of Chernihiv on April 30, 2022, it was actually from an older shell that would have been used during the Chechen wars of the 1990s. Instead of calling on Ukrainians to assist the authorities of the Russian Federation, it calls upon Chechens to do so. In particular, it appeals to the population not to aid "bandits and terrorists." The propaganda shell must have been used in the current conflict either by mistake, lack of oversight, or because the combatants used any artillery that was available to them.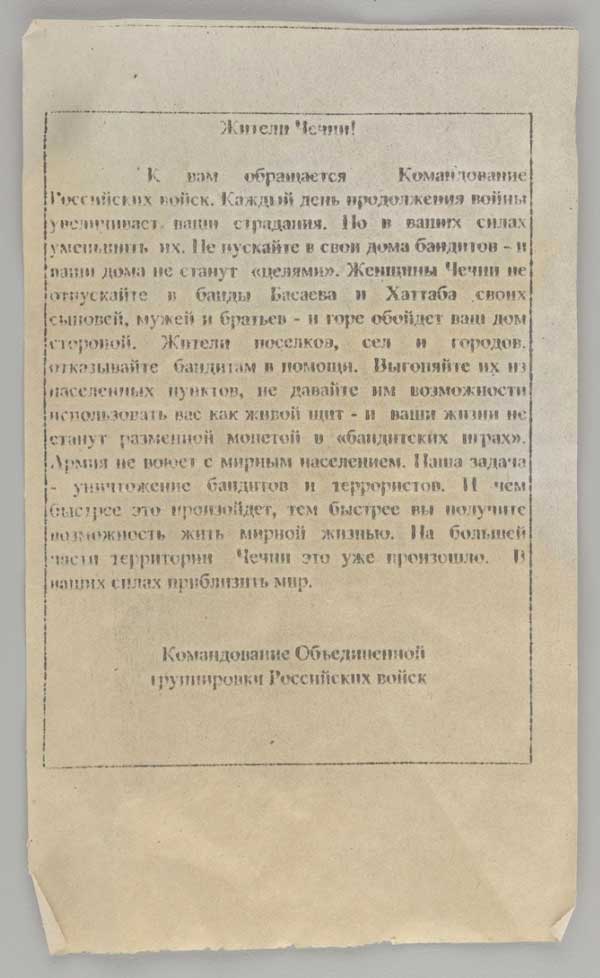 The fundamental lesson of this trip is that paper is not widely used to broadcast social or political sentiments amongst the masses. Archivists and historians have been concerned for some time about the growth of social media as a means of expression. Thoughts, opinions and actions are no longer written on paper through long-format correspondence, photographs, reports, notes, or diaries. They are instead jotted down, typed up or recorded exclusively in digital format for online video outlets such as YouTube, or messaging apps like Telegram, or a post on social media networks like VKontakte or Facebook, and a myriad of other social media sites, blogs, channels and services. As a result, collecting archival or library materials is more challenging, leaving future scholars with fewer resources for study about conflicts in Eurasia and Russia (or anywhere) during modern times, compared to what is available from the records of the Russian Civil War, from a hundred years ago, for example. Even though there is a prevalence of online content, in reality many of these resources remain in the cloud, until they are discovered, archived, preserved and made available for research. Today, this presents one of the biggest challenges for many archivists and for cultural heritage organizations actively collecting archival materials. Future access to these items will be available in the Hoover Institution Library & Archives reading room. Please contact us for more information.