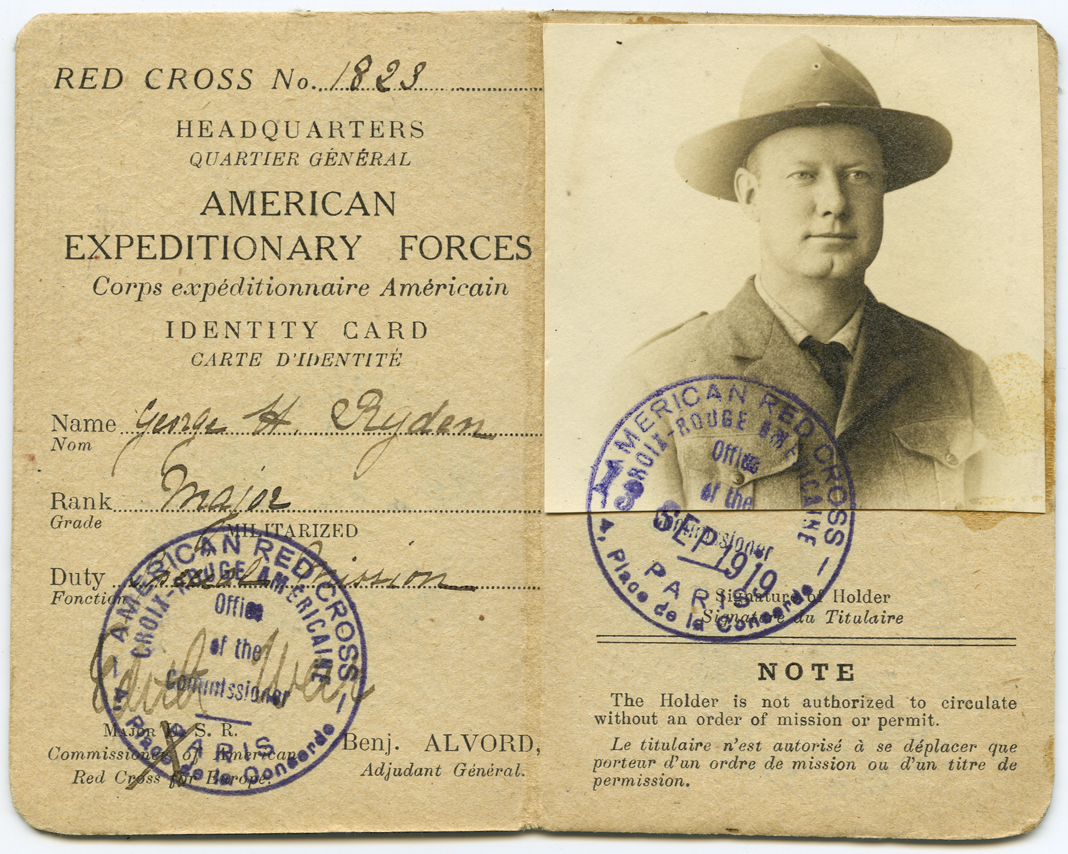 Historians and archivists are accustomed to saving historical records—and the memories they document—from oblivion. Seldom, however, do they find themselves in the position of saving actual historical personalities from an almost certain death. One such historian—who was later the state archivist of Delaware—found himself in precisely such a position while serving as head of the American Red Cross mission in South Russia in 1920.
George H. Ryden (1884-1941), a native of Kansas City who interrupted his academic career to serve with the American Expeditionary Forces in Italy during World War I, was with the Red Cross in the southern Russian city of Novorossisk in 1920, seeking to aid refugees during the civil war that followed the Russian Revolution. While there he played a key role in helping the family of Grand Duchess Olga Alexandrovna, the sister of the recently murdered Czar Nicholas II, escape to Turkey and subsequently to Europe. The Hoover Institution Library and Archives are fortunate to have recently acquired the papers of Ryden, which were donated by his niece, the author Hope Ryden. His collection includes twenty-three letters and postcards from the grand duchess that were written from Denmark between 1923 and 1929. Several of these postcards contain reproductions of her paintings, which Ryden helped sell in the United States during the 1920s and 1930s.
In addition to the correspondence with Olga Alexandrovna, Ryden's papers contain a variety of documents pertaining to Red Cross operations in the Crimea and southern Russia, including correspondence, reports of visits to orphanages, and financial records. Ryden and his colleagues received a number of honors from White Russian Army commanders, and his papers contain documents concerning honors and medals that he and his colleagues were awarded, including Ryden's honorary membership in the Kuban Cossacks, and medals that were bestowed on him by Generals Denikin and Wrangel. Following his service with the Red Cross, Ryden visited Denmark in 1921 to meet once again with Olga Alexandrovna, as well as with her mother, the empress dowager Mariia Feodorovna, who expressed her gratitude to Ryden with an inscribed photograph that read "In gratitude for what you did for my daughter," and signed simply "Marie."
The gift of the George H. Ryden papers further complements Hoover's extensive holdings on the Russian civil war, the humanitarian relief operations of that era, and other collections of papers from the Russian imperial family, including collections of personal papers from Empress Mariia Feodorovna and Grand Duchess Ksenia Alexandrovna, Olga's sister.