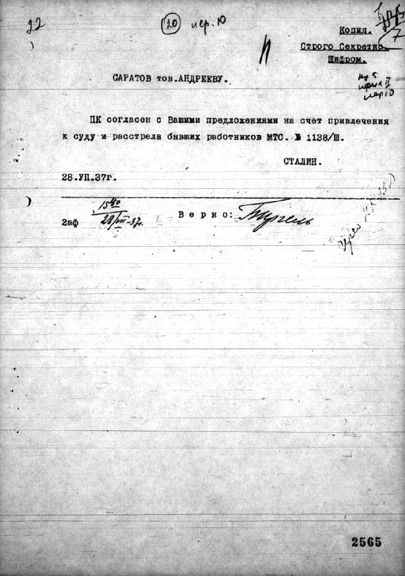 An enhanced set of guides to the Archives of the Soviet Communist Party and Soviet State microfilm collection is online. The guides include scope notes and reel numbers for all fifty-five major groups of records (fondy) and detailed descriptions of forty. Originally described in a single, less detailed guide, the three new guides represent the three repositories housing the original documents in Russia.
- State Archive of the Russian Federation (GARF) microfilm guide

- Russian State Archives of Contemporary History (RGANI) microfilm guide

- Russian State Archives of Social and Political History (RGASPI) microfilm guide
This vast collection, which concerns political conditions in the Soviet Union from 1917 to 1991, consists of 11,618 microfilm reels—more than 6.5 million pages, many of which have since been closed or made virtually inaccessible in Russia. Records of the USSR Council of Ministers, USSR Supreme Court, USSR Procurator's Office, Ministry of Justice, People's Commissariat of Internal Affairs, Central Committee of the Communist Party, Communist Party of the Soviet Union on Trial, and Party Control Committee are among those included in the collection.
This collection—the result of Hoover's twelve–year microfilming project in Russia—has been used by researchers for book and journal publications on the history of the Soviet Union. With these new guides, researchers worldwide can develop their research plans before arriving at the Hoover Archives to view the appropriate microfilms.