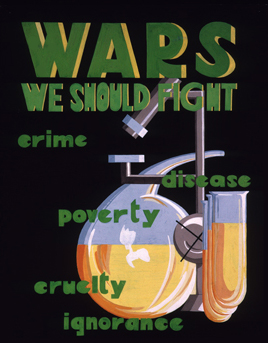 From 1935 to 1940, students from all over the United States participated in a contest to create posters inspired by the theme of Peace.   The National Circulating Library of Students' Peace Posters, based in Philadelphia, sponsored the contest; in 1940, the winning posters were reproduced and sold as collectible, stamp-sized stickers.   The sponsoring organization was founded by Nancy Babb, a Quaker who volunteered with the American Relief Administration's famine relief efforts in Russia in 1921. 
The Hoover Institution Archives' poster collection contains more than forty-five original hand-painted posters from the National Circulating Library of Students' Peace Posters that capture how young people in this country felt about war, just as another world war was about to begin. 
Among other treasures, the current exhibit in the Herbert Hoover Memorial Exhibit Pavilion, Art and History: Treasures from the Hoover Institution Library & Archives, features two posters from this contest. The exhibit is open Tuesday through Saturday, 11:00 am to 4:00 pm, free of charge.