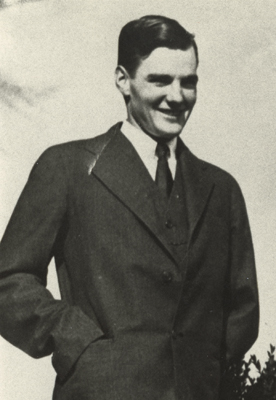 The Hoover Archives is pleased to announce the opening of materials relating to the government service of Herbert Hoover Jr., the son of President Herbert Hoover. This recently declassified set of papers documents Hoover's time as undersecretary of state during the Eisenhower administration, covering the period 1954 to 1957. Among the issues addressed are US base rights in the Philippine Islands, US/Israeli relations, the Suez Canal crisis, and foreign policy in the Middle East more broadly.
Herbert Hoover Jr. was born in London, England, in 1903 and, like his father, attended Stanford University. Following his graduation in 1925, Hoover attended the Harvard Business School to study aviation economics. Before entering the public sector, Hoover worked in the oil industry as a consultant to the Venezuelan and Iranian governments—experience which likely led then President Dwight Eisenhower to ask Hoover to accompany his special envoy to Iran in 1953. In 1954, Eisenhower tapped Hoover to serve as undersecretary of state, an appointment he held until 1957. Hoover died at home in 1969.
The Herbert Hoover Jr. papers, consisting of Department of State memoranda, reports, press releases, and transcripts, complement our other holdings relating to US foreign policy during the 1950s, specifically the J.C. Hurewitz collection and the Robert Daniel Murphy papers .