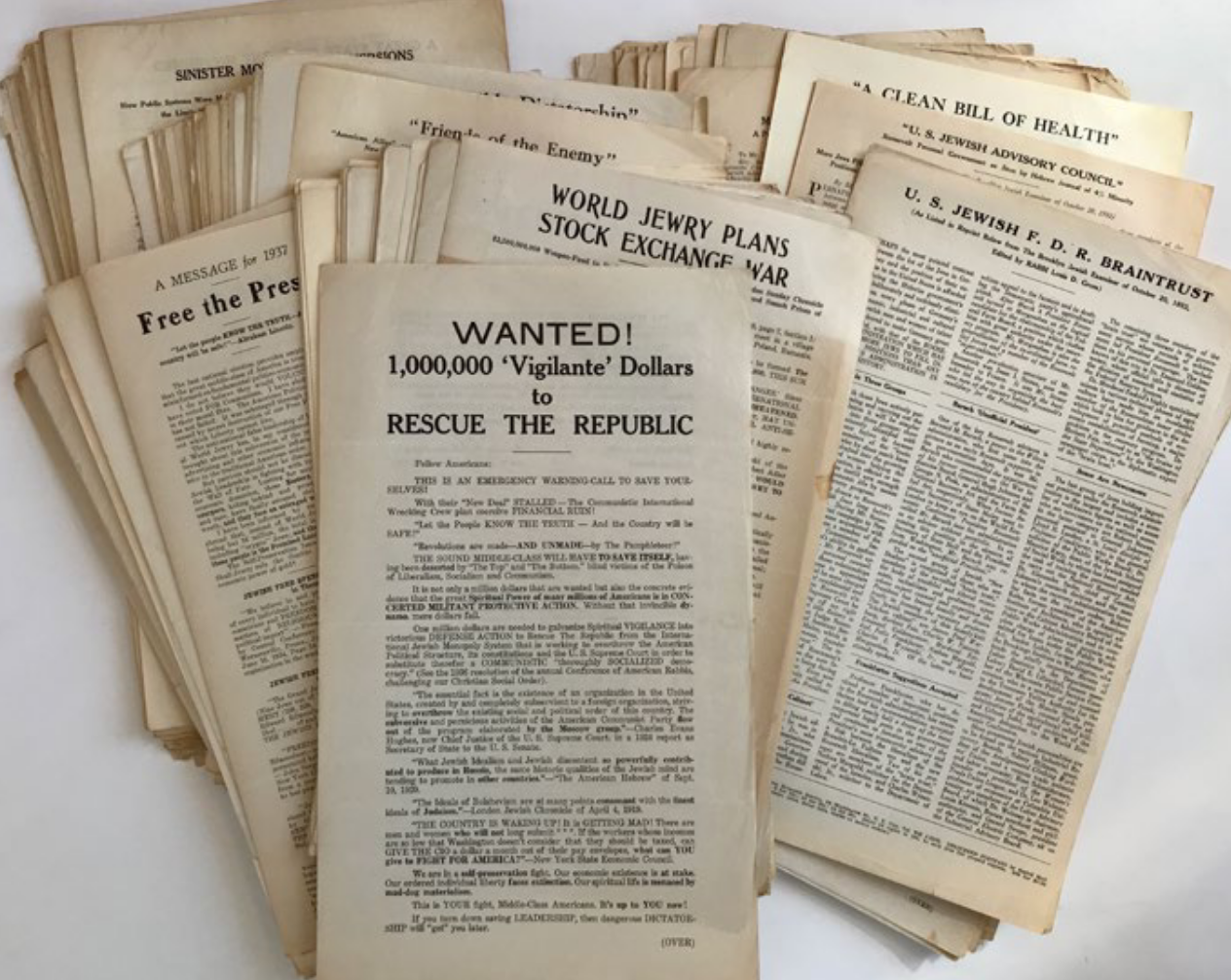 Hoover has acquired the largest known existing archive of propaganda created by 1930s isolationist provocateur Robert Edward Edmondson, a journalist and America First activist with a pronounced anti-Semitic, anti-New Deal agenda. The collection consists of approximately 375 handbills, broadsides, flyers, and newsletters primarily written by Robert Edmondson and published in New York.  The majority of the broadsheets are written and signed in print by Edmondson as part of his basic propaganda service, alternately named American Vigilante; Special Defense; Defense Series; and Jew Exposure Patriotic Bulletins. Representing the far-right political wing of the anti-interventionist movement prior to America entering WWII, the Edmondson archive complements Hoover's America First Committee Records and the recently acquired papers of Robert Douglas Stuart, Jr., founder of the America First Committee.
Robert Edward Edmondson began his career at the Cincinnati Post; he later covered economic issues for the New York Mail and Express and the New York Herald. While working as a reporter in New York, Edmondson became convinced of the existence of an organized Jewish cabal with ties to Bolshevik Russia, which he believed was manipulating the U.S. economy and controlling the press. In the spring of 1934, he launched the Edmondson Economic Service in order to publish information and opinions that he would have been unable to print in the mainstream newspapers of the time. In addition to his anti-Semitic invectives, he vociferously attacked President Roosevelt, the New Deal, and Roosevelt allies -- especially those who were Jewish, such as Bernard Baruch, Felix Frankfurter, Louis Brandeis, Henry Morgenthau, Mayor Fiorella LaGuardia, Rabbi Samuel Wise, Samuel Untermeyer, and Walter Lippmann, as well as those he suspected of being Jewish, such as newspaperwoman Dorothy Thompson and Secretary of Labor Frances Perkins. As Adolf Hitler began his rise to power in Germany, Edmondson became an associate of the pro-Nazi publisher Ulrich Fleischhauer, and his writing took on a distinctly pro-Nazi tone.
In the summer of 1936, Edmondson was brought before a grand jury where he was indicted for "libeling all persons of the Jewish Religion." Edmondson announced that at his trial he would call prominent Jews to the stand and interrogate them about their business and political associations. After he subpoenaed Baruch, Morganthau, Wise, Untermeyer, LaGuardia, Lippmann, and others, the American Jewish Committee -- in order to avoid the publicity that would have surrounded the testimony - quickly petitioned the court to drop all charges, and in May 1938 the presiding judge closed the case. With the U.S. entry into World War II, Edmondson curtailed his pamphleteering and eventually moved to Grass Valley, California, where he continued to crusade against such things as water fluoridation, which he saw as a Soviet attempt to undermine public health. He died in 1959 at the age of 86 in Bend, Oregon. Even after his death Edmondson continued to cause controversy, as politically far-right-leaning residents of the town launched a pamphleteering campaign against an editorial published in the Bend Bulletin that was highly critical of Edmondson.
Though the interventionist question was fiercely debated throughout the 1930s with Edmondson as a well-known voice, the ephemeral nature of Edmondson's printing has resulted in a scarcity of his publications surviving. Hoover's newly acquired archive contains controversial viewpoints and opinions; it nonetheless provides an extensive and fascinating look into the isolationist, anti-Semitic political viewpoint of 1930s America. Scholars studying the conservative wing of the America First movement prior to the attack at Pearl Harbor will have much to learn from the collection about the strategies of far-right propaganda focused on the New Deal, international conspiracy, and communist plots.