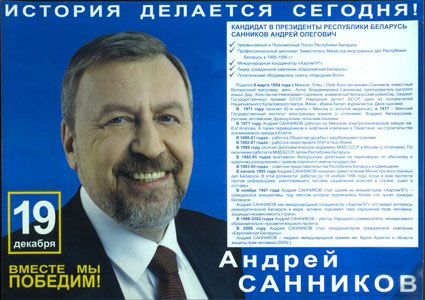 The victory of Alexander Lukashenka in the Belarusian presidential election of December 2010 was never in doubt, although the opposition fielded a number of candidates. The Organization for Security and Co-operation in Europe called the election "flawed," and the European Union issued a strong statement condemning the violence (the beating of two opposition candidates) during the polling process.
As a result of the violence and other irregularities, the opposition organized a mass protest, which was put down by government forces. Some of the opposition candidates who were bold enough to contest Lukashenka were arrested; one of them, Andrei Sannikov is still under arrest at the time of this writing. Others have been sentenced to lengthy prison terms.
The 2010 election campaign material has been added to the Belarusian subject collection in the Hoover Institution Archives.