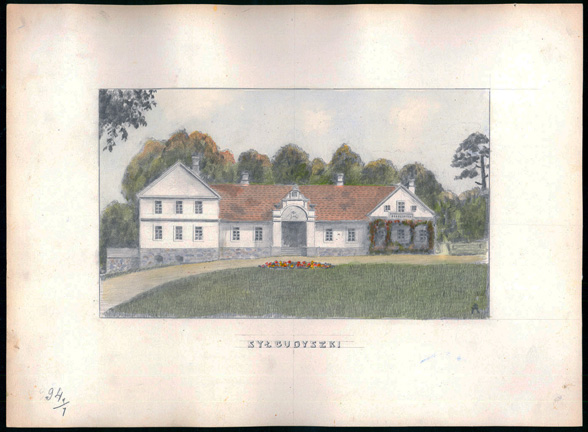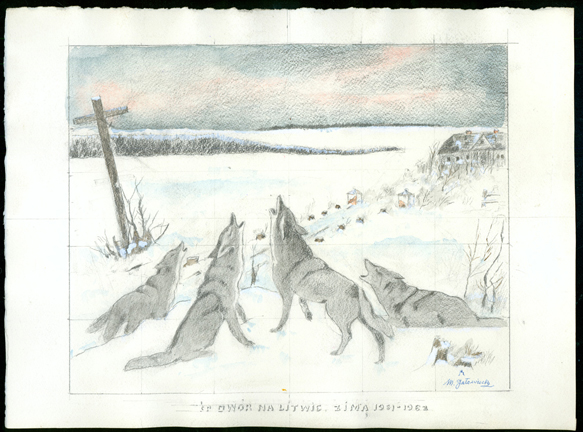 Hoover Archives preserves not only paper documents but a wealth of historic materials in other formats: photographs, films, sound recordings, memorabilia, and art. Some Hoover art collections are well known, including the imperial-era Russian art treasures of Nikolai Bazily, the European political cartoons of Louis Raemaekers, the Gulag paintings and drawings of Thomas Sgovio. Others are less well known, such as the Mieczyslaw Jalowiecki drawings of historic manor houses and palaces in historic Poland-Lithuania, lands that include not only present-day Poland and Lithuania, but Belarus, as well as much of Ukraine and Latvia. Among the more than one thousand watercolored pencil drawings preserved in the collection is that of Jalowiecki's ancestral manor of Sylgudyszki (Lithuanian, Saldutiskis] as it looked before the ravages of the two world wars and half century of Soviet occupation. That image may provide the basis of a restoration project, according to Lithuanian cultural heritage authorities who contacted Maciej Siekierski, Hoover's European curator.
Mieczyslaw Jalowiecki was born to a prominent Polish landowning family of northern Lithuania in 1876. He studied in St. Petersburg, Riga, and several German universities, completing degrees in agriculture and agricultural economics. His career in Russian civil service, in agricultural finance, and in business, gave him the opportunity to travel and to develop an intimate knowledge of the economic and cultural landscape of Lithuania and its neighborhood. Shortly before World War I, Jalowiecki was elected president of the assembly of the nobility of northeastern Lithuania. The war devastated the region and disrupted the lives of most of its inhabitants. Jalowiecki lost virtually everything. His ancestral Sylgudyszki, with thousands of acres of meticulously managed farmland and forests, was nationalized by the government of the newly independent Lithuania, and he moved to Poland. Because of his economic expertise and knowledge of German affairs, the Polish government appointed him to be its representative in the city of Gdansk (Danzig). Here, during 1919-20, he was able to open the port facilities to arriving American food and humanitarian relief for Poland, which was organized by Herbert Hoover. He spent the remaining interwar years farming on his wife's estate in western Poland.
World War II took him ever farther from the beloved lands of his ancestors and his youth. As a refugee in Allied London, he worked for the Polish government in exile, publishing pamphlets and textbooks on a variety of subjects. The war ended with East Central Europe under Soviet occupation and hundreds of thousands of Polish refugees unable to return to their homeland of whom Jalowiecki was one. From the standpoint of his literary and artistic legacy, these postwar London years were his most productive. Living in very modest circumstances, well into his seventies and eighties, he spent virtually all of his time writing his memoirs, drawing, and painting. Taking advantage of the private photographic and iconographic collections of the Polish émigré community, the resources of the British Museum, and his own near-photographic memory, Jalowiecki re-created the world of his youth, in his sixteen-volume memoirs and in more than a thousand detailed views of country manors, palaces, and landscapes of Poland, Lithuania, Latvia, Belarus, and Ukraine. Each view is accompanied by detailed information on former owners and, whenever possible, builders and architects. Jalowiecki died in London in 1962; his manuscripts and watercolors were acquired by the Hoover Archives a few years later. Because of the massive destruction wreaked by World War II, the many decades of deliberate neglect under communism, and limited surviving documentation, Jalowiecki's drawings have become a valuable source of information on the region's architectural heritage. In some cases, as the modest country manor of Sylgudyszki, they are the only available representations. As the independent countries that emerged from the western reaches of the Soviet Union become more prosperous and able to expand their programs of architectural preservation and restoration, this Hoover Archives' collection will likely continue to receive researchers' attention.