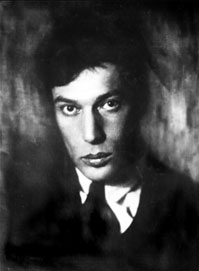 STANFORD — The Hoover Institution is cosponsoring an international symposium titled "The Life of Boris Pasternak's Dr. Zhivago: Culture and the Cold War" with Stanford University's School of Humanities and Sciences. The two-day conference, organized in recognition of the fiftieth anniversary of the publication of Doctor Zhivago, begins Friday, October 19, and will be held on the Stanford University campus in the Oak West Room of Tresidder Union. The event is open to the public.
Hoover assistant archivist Leonora Soroka will give a talk at the symposium entitled "Pasternak Manuscripts, Books, Photographs, and Digital Documents in the Hoover Archives" on October 19 at 10:00 a.m.
In conjunction with the symposium, an exhibit of Boris Pasternak materials is on display in the rotunda of the Hoover Tower. The materials for the exhibit were drawn from the Hoover holdings, including the collections of the Pasternak family, as well as those of Irwin T. Holtzman and Gleb Struve. The Hoover Institution has the largest collection of Pasternak manuscripts and books outside Russia. Hours for the exhibit are Monday through Friday, 8:00 a.m. to 5:00 p.m., and Saturday and Sunday, 10:00 a.m. to 4:30 p.m. The exhibit is free of charge.
For more information, please contact ksteilen@stanford.edu or lazar.fleishman@stanford.edu.
Background information regarding Pasternak's Doctor Zhivago