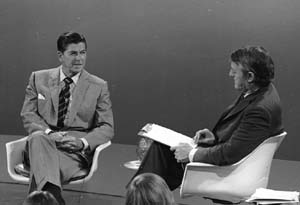 The broadcast archive of William F. Buckley Jr.'s television show Firing Line is housed in the Hoover Institution Archives. In addition to the television show he hosted, Buckley, who died today, was a columnist, author, and founded National Review in 1955.
On his show, one of the longest-running in television history, his varied guests included President Ronald Reagan, Nobel laureate Friedrich von Hayek, economist John Kenneth Galbraith, author Noam Chomsky, boxer Muhammad Ali, and poet Allen Ginsberg, among others.
Firing Line was broadcast from 1966 to 1999, first as an hour-long program and later as a half-hour show. The Preface to the program catalog explains the program's broadcast history, format, and numbering system. The Firing Line collection includes videotapes of approximately 1,500 shows, as well as transcripts, still photographs, preparation materials, and other items.
A database describing all 1,504 Firing Line programs is available for searching. It includes program descriptions copied verbatim from the catalog compiled by Linda Bridges, senior editor at National Review. In some cases the first five minutes of the show can be streamed online. Those shows that are available for viewing online are indicated.