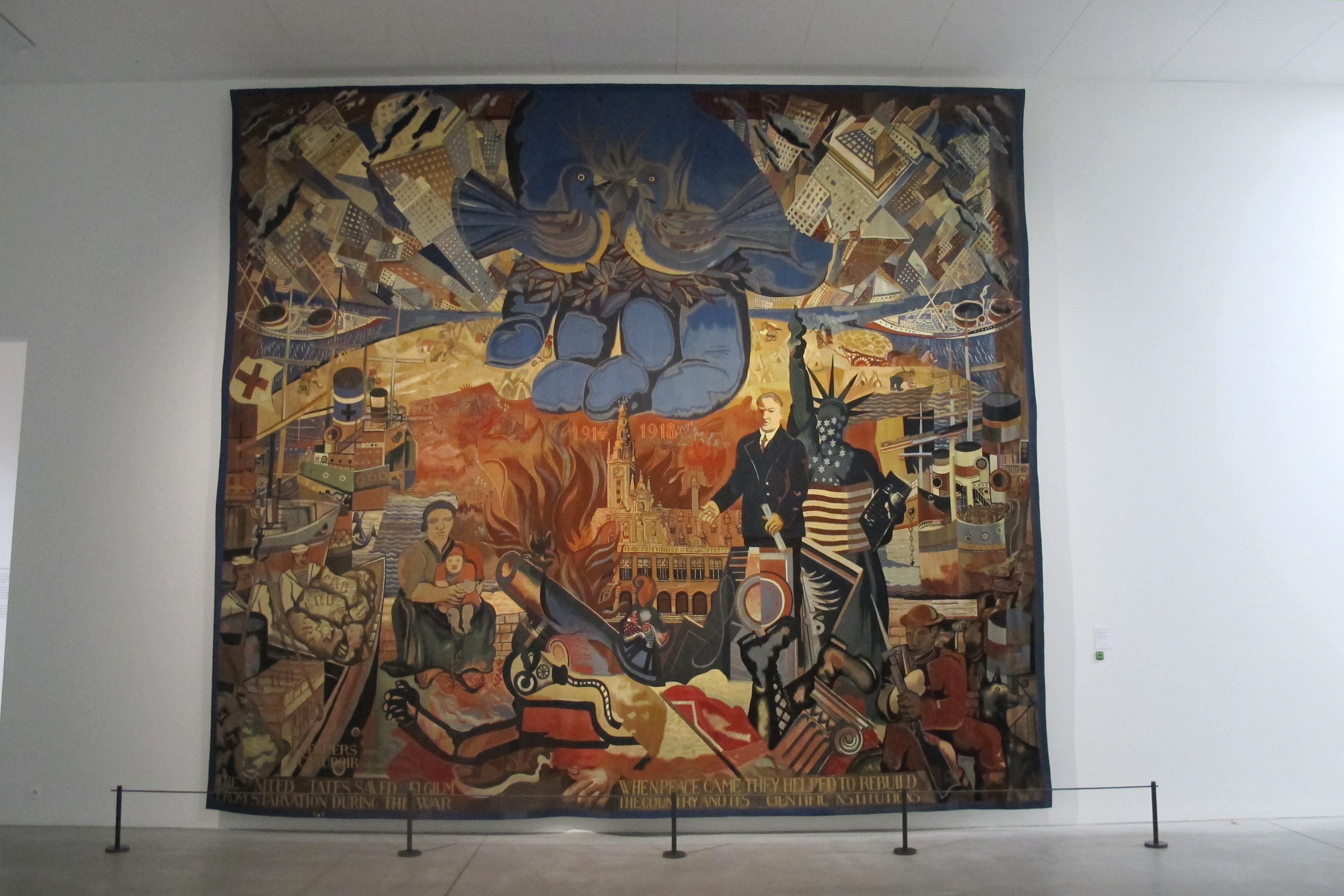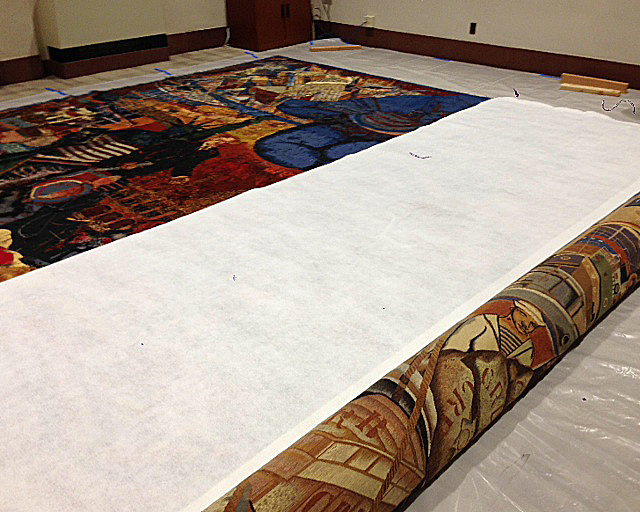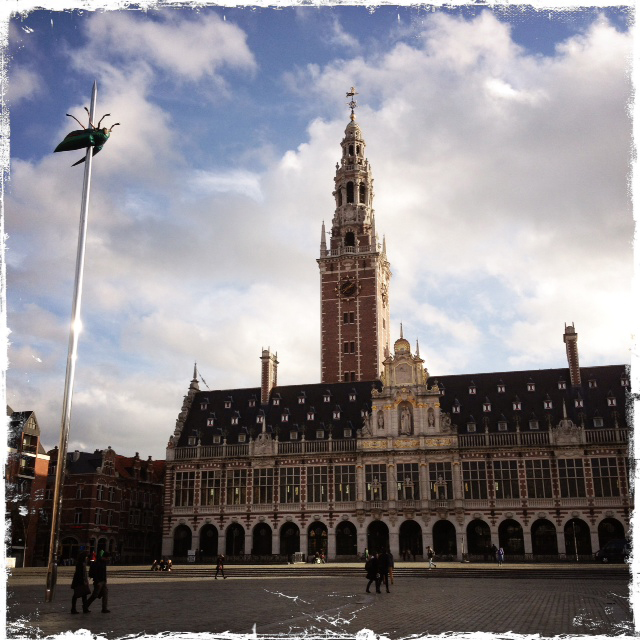 A work of art by Belgian artist Floris Jespers was unveiled today at the Leuven Museum as part of its exhibition Ravaged: Art and Culture in Times of Conflict, commemorating the centenary of the beginning of World War I and the devastation it brought to Leuven.
The enormous tapestry (16 ½ feet high and 18 ½ feet wide) honors Herbert Hoover and the Commission for Relief in Belgium (CRB), which Hoover founded in 1914 to bring food to Belgium and northern France, both under German occupation. Titled The United States Saved Belgium from Starvation during the War and When Peace Came They Helped to Rebuild the Country and Its Scientific Institutions, the tapestry depicts US soldiers sailing to fight in Belgium in 1917, CRB ships bringing food to Belgium throughout the war, and, in the center, Herbert Hoover next to the burning University of Leuven, whose library was destroyed by German troops in the summer of 1914 and which Hoover helped rebuild.
Woven by the manufacturer Chaudoir in 1939 for the Belgian Pavilion at the New York World's Fair (1939–40), the tapestry was shipped to the United States before Belgian citizens were able to see it. The plan had been for it to be shipped back at the end of the fair and displayed in Belgium. Instead, in 1940, with war raging once again in Belgium, the tapestry—as well as four others hanging in the Belgian Pavilion to celebrate Belgian American friendship—was sent to Stanford for safekeeping.
In 1953, the four were returned to Belgium, but the one now on loan to Leuven was donated to Stanford by the Belgian ambassador to the United States, Baron Robert Silvercruys. The ceremony, hosted by the Stanford Board of Trustees and President Wallace Sterling, took place on March 10 in the reading room of the Hoover Tower (where the tapestry was then hanging) in the presence of Herbert Hoover and several dignitaries.
Hoover's preservation department, along with Leuven Museum curators and officials, oversaw the work of local textile conservators and shippers and personally accompanied the twenty-foot-long, purpose-built museum crate to Belgium. On its arrival, the tapestry was prepared for display by De Wit Royal Manufacturers, world renowned for its restoration of tapestries and textiles, and now hangs in a room by itself to full effect.
Ravaged will run until September 1, 2014, after which time the tapestry will be shipped back to Hoover.
For more information, contact the Hoover Institution Archives at (650) 723-3563.