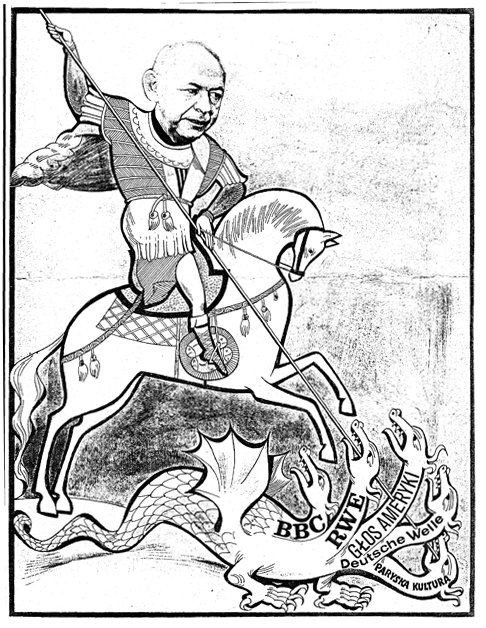 Hoover's extensive archival holdings on Poland in the Solidarity era of the 1980s have been strengthened by the acquisition of the papers of Jerzy Urban, the Polish communist government's spokesman during 1981–1989.
Born to a left-wing Polish-Jewish family in Lodz, Urban survived the war in the Soviet Union. He was then educated in the People's Poland and began his journalistic career in the mid-1950s, during the political "thaw" that ensued after Stalin's death. A natural contrarian, stubborn and provocative, Urban was frequently in trouble with communist censors. He found stable employment and relative security on the Party weekly, Polityka, which was run by a relative liberal, Mieczyslaw Rakowski. When the Solidarity trade union movement emerged in 1980, Urban criticized and ridiculed its leaders in dozens of columns that he signed as "Rem". In 1981, General Jaruzelski, the first secretary of the Polish Communist Party and prime minister, made Urban his press secretary. For all intents and purposes, then, Urban, technically never a Party member, became the official face of the communist regime, its chief propagandist, and probably the most hated person in the country, a distinction he seemed to enjoy. After the "Roundtable Talks" between the communists and the opposition, and the June 1989 national elections, which ended the Party's monopoly of power, Urban returned to private life. In 1990, he founded an anticlerical, semipornographic, largely nihilistic tabloid called Nie (Polish for No), making him one of the richest men in Poland.
Urban's archival collection consists of family documents, materials from his unsuccessful parliamentary run in June 1989, as well as a lot of published and unpublished texts. Most valuable perhaps are copies of political strategy memoranda submitted by Urban to General Jaruzelski during 1987-1989. The Jerzy Urban papers are an important complement to Hoover's premier holdings on the Solidarity movement and the transition to democracy in Poland more than two decades ago.