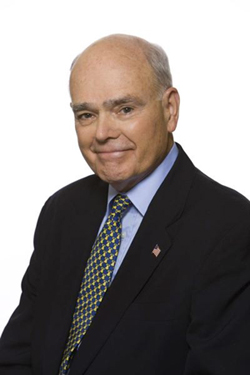 Audio interviews of William F. Buckley, Steve Forbes, Milton Friedman, Newt Gingrich, Barry Goldwater, Edwin Meese III, and Ronald Reagan are among the 470 audiotapes dating from the 1960s to the 2000s that have been digitized for preservation and access by Hoover's audio lab.
The interviews were conducted by Lee Edwards, a distinguished fellow in conservative thought at the Heritage Foundation and a former Hoover media fellow. Edwards used the interviews as source material for his many books, including biographies of Goldwater, Meese, and Reagan and histories of the Heritage Foundation and the conservative movement. The inventory of the Lee Edwards Papers contains a list of these sound recordings, which also include political campaign commercials, speeches, and conference presentations.
To make an appointment to listen to any of the presently digitized recordings or to purchase copies, click on Audiovisual Services.