The Hoover Institution Library & Archives has opened the letter series of the James B. Stockdale papers. Stockdale was a prisoner of war in North Vietnam from 1965–73 and was awarded the Medal of Honor. During Stockdale's time of incarceration, his wife Sybil Bailey Stockdale, whose collection is also housed at the Library & Archives, founded and became the national coordinator of the National League of Families of American Prisoners and Missing in Southeast Asia, a nonprofit organization that worked toward freeing incarcerated American servicemen. Researchers may now read the letters of the Stockdales in tandem, gaining rare insight into both the Prisoner of War (POW)/ Missing in Action (MIA) conditions of the famed Hanoi Hilton prison where Stockdale was held and the home front during the Vietnam War era. The newly opened James B. Stockdale correspondence series spans from 1933 to 2008, and includes letters to and from his wife, children, parents, and others.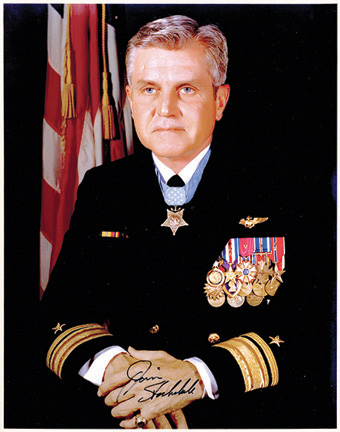 Taken in full, the letters document Stockdale's education and long career as a United States Navy vice admiral and aviator. Stockdale attended the US Naval Academy and subsequently received a Masters in International Relations at Stanford University—where he studied Stoic philosophy that he later stated helped him survive isolation and torture in the Hanoi Hilton. Following his time as a POW, Stockdale was president of the Naval War College from 1977 to his retirement from the US Navy in 1979. From 1979 to 1980 Stockdale was the president of the Citadel. Stockdale then returned to Stanford University and was a Hoover Institution Fellow from 1981 to 1996. In 1992, Stockdale was a candidate for the vice president of the United States in the 1992 presidential election, on Ross Perot's Independent ticket.
Beginning this May, the Stockdale letters held at Hoover will be on display at the Nixon Library in Yorba Linda, California, which is marking the fiftieth anniversary of the release of POWs from North Vietnam by hosting a reunion event for POWs and their families and mounting a new exhibition about the POW/MIA movement and experience. Captured: Shot Down in Vietnam opens to the public on May 24, 2023.