The Library & Archives Year In Review 2018

In a 1957 article entitled "Words to Live By," our founder, Herbert Hoover, reflected on the purpose of the Hoover Institution and its world-renowned Library & Archives, writing, "The Hoover Tower is more than a library . . . it is a laboratory for the study of human relationships on a world-wide scale." In the past year, the Library & Archives has honored and fulfilled our founder's mission by continuing to acquire the world's most significant archival materials on war, revolution, and peace, and freedom and liberty; opening our vaults to researchers publishing landmark works on twentieth and twenty-first century history; serving the Stanford and local community by providing classes, tours, lectures, and events; mounting exhibitions of our materials that have gained national and international recognition; and building a broad community dedicated to learning about history, economics, and public policy. The Library & Archives is indeed a special "laboratory" that continues to preserve Mr. Hoover's vision for studying and improving the human condition.
Highlights of the year included:
A Bold New Gallery Exhibition
We Shot the War: Overseas Weekly in Vietnam opened in May and almost instantly gained widespread attention in the community—with record-breaking attendance—and in the national and international press. The exhibition and its companion volume, published by Hoover Press, were reviewed by both the New York Times and the Daily Mail. Featuring hundreds of never-before exhibited or published photographs from the Vietnam War, the exhibition and book mark significant new territory in understanding one of America's most controversial twentieth-century events.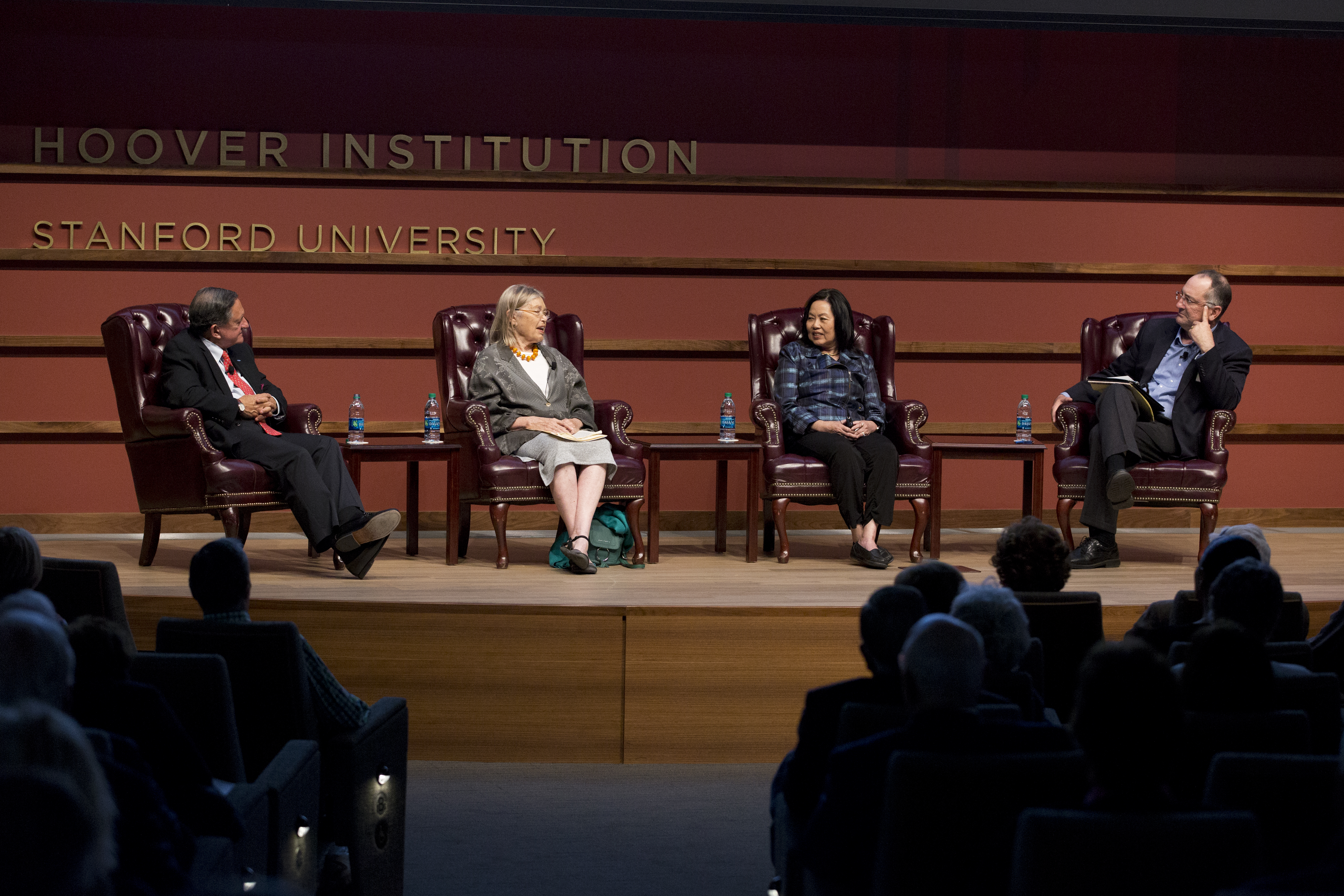 New Acquisitions
Hoover opened the papers of Ardeshir Zahedi, who served as the Iranian ambassador to the United States and the United Kingdom and is known as one of the most influential diplomats of the past century. To mark the much-anticipated opening of this collection, Hoover partnered with Stanford's Hamid and Christina Moghadam Program in Iranian Studies to introduce the Zahedi Family Fellowship.
Adding to its extensive documentation of the Pacific theater of World War II, Hoover Archives acquired the collection of watercolor artist and US Navy Seabee Natale Bellantoni, who served in the South Pacific from 1943 to 1945. Comprising art, sketchbooks, letters, ephemera, and more than 900 photographs, the collection paints a vivid portrait of young American sailors serving in New Caledonia, New Guinea, the Admiralty Islands, and Okinawa. The paintings and sketches will be featured in a new book entitled The Battalion Artist, to be published next year by Hoover Press.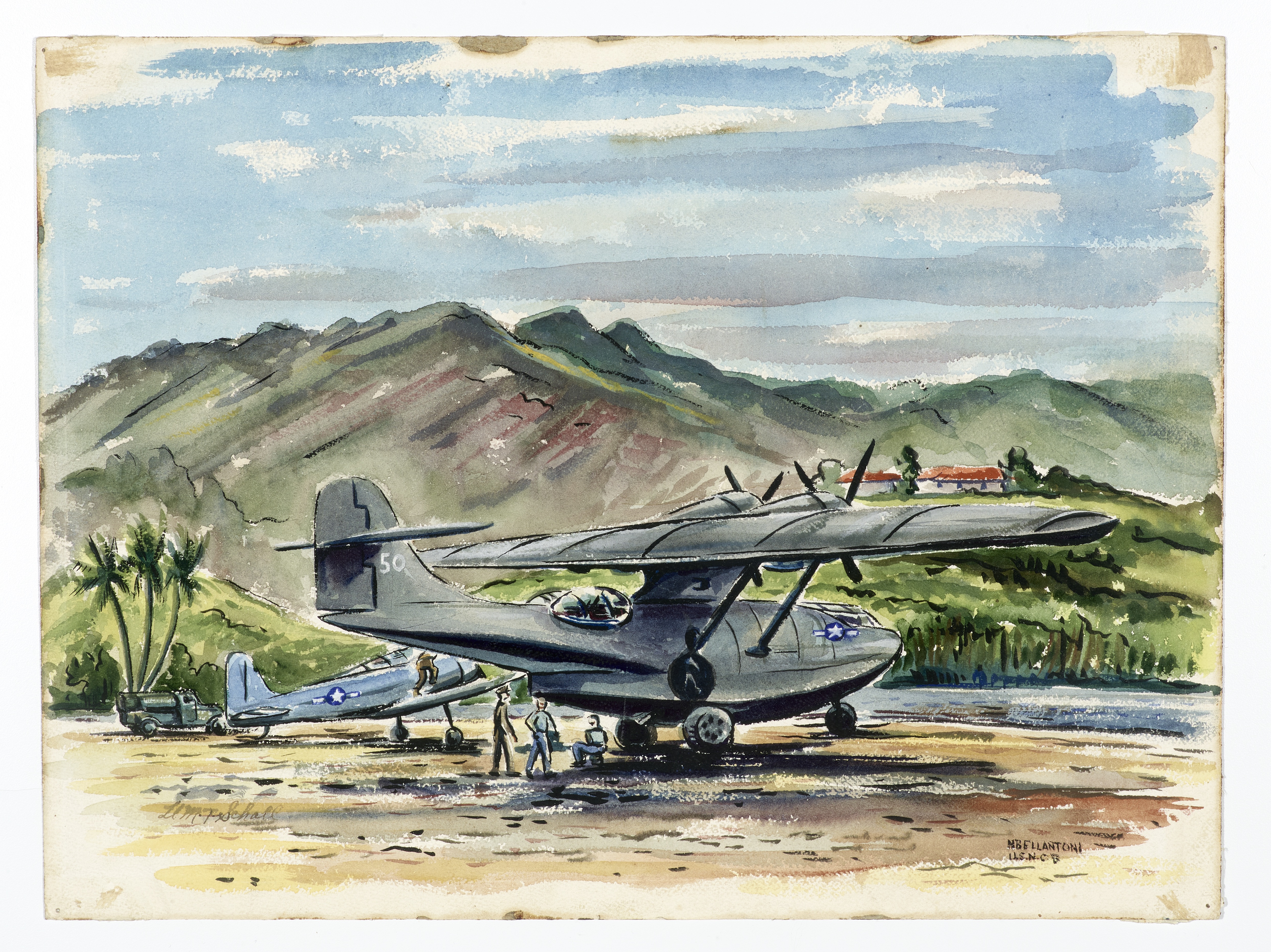 Hoover acquired the papers of journalist, author, and peace activist Norman Cousins, who worked tirelessly for nuclear disarmament during the Cold War. The collection includes such rare materials as a copy of the papal encyclical of Pope John XXIII that is signed by Nikita Khrushchev.
Publications That Enrich Our Understanding of History and Policy
Using the rich store of documents, photographs, films, and ephemera held at Hoover, scholars continued to publish significant books, articles, and dissertations throughout 2018:
Hoover fellow Stephen Kotkin published the second volume of his three-part Stalin biography, and drew from his research in Hoover's collection for this year's keynote address for the Workshop on Authoritarianism and Democratic Breakdown.
Hoover visiting fellow Piotr Kosicki published Catholics on the Barricades: Poland, France, and "Revolution," 1891–1956 as part of the Yale-Hoover Series on Authoritarian Regimes, and in June delivered a lunchtime History & Policy talk entitled "The Illusion of a Just Society: How Catholic Experiments with Communism and Nationalism Shaped the Twentieth Century."
Dr. Hsiao-ting Lin, Hoover fellow and curator for Modern China, received the 2017 Kingstone Award for Most Influential Book of the Year in Taiwan for his volume entitled  Accidental State: Chiang Kai-shek, the United States, and the Making of Taiwan, which drew heavily from the Chiang Kai-shek diaries held at Hoover.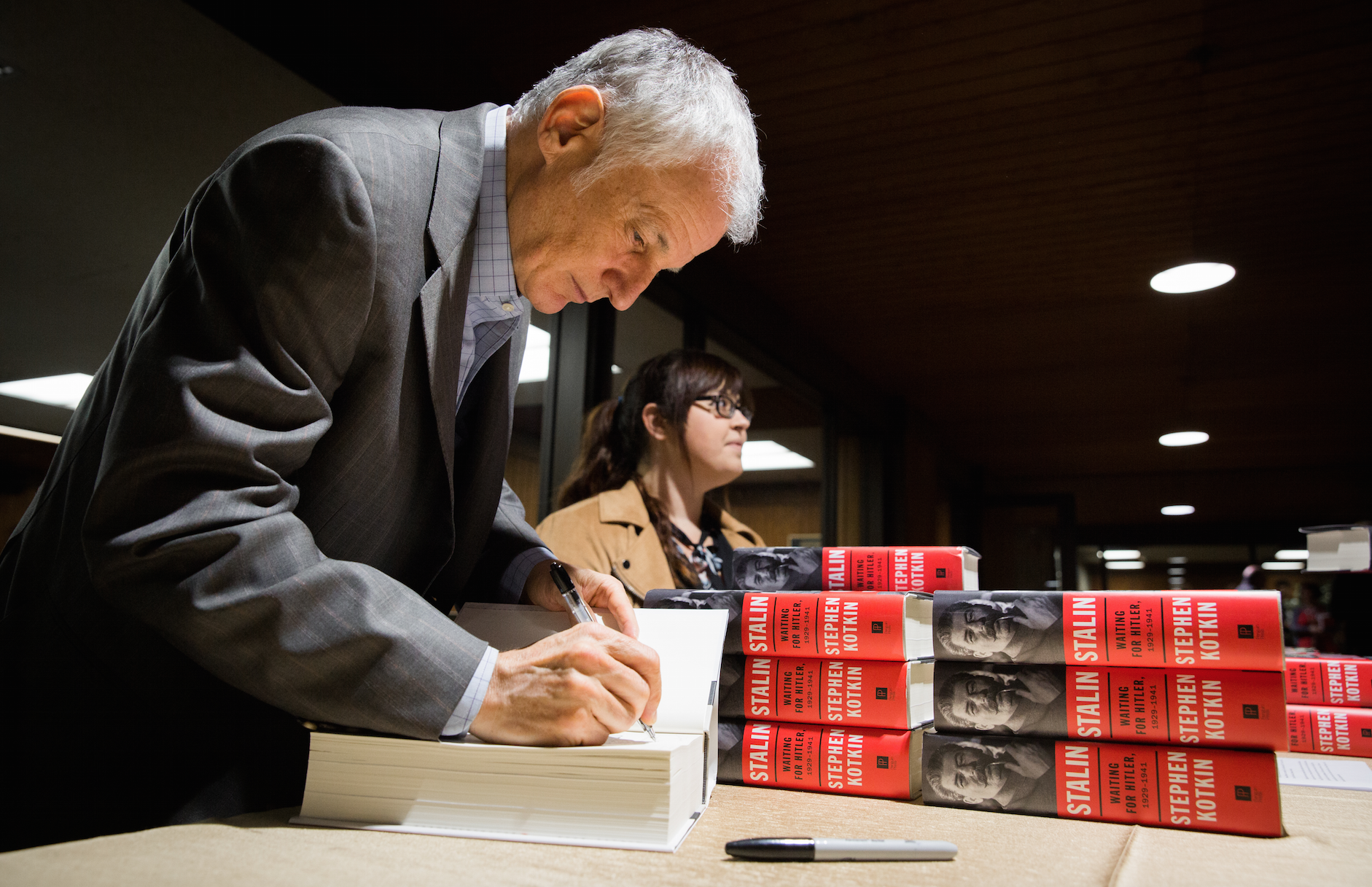 Preservation and Digitization
The Library of Congress added Hoover's United Nations Conference on International Organization proceedings collection, which documents the signing of the UN Charter, to its National Recording Registry of historical documents that showcase "the range and diversity of American recorded sound heritage." The collection is the only known copy of what is understood to be the de facto official audiovisual record of the conference.
Hoover digitized and made available several reels of film from the Boris T. Pash papers on its recently revitalized YouTube channel. The newly digitized films document Pash's leadership of the Alsos Mission, a US Army intelligence effort to discover enemy scientific developments—particularly the German nuclear program—during World War II. The films were preserved through National Film Preservation Foundation grants awarded to Hoover in 2016 and 2017.
Scholarship and Education
In 2018, Hoover Library & Archives continued its dedication to education and scholarship by hosting workshops, classes, conferences, and lectures. Highlights of our year in scholarship included:
Our first-ever Silas Palmer conference, which welcomed former Silas Palmer fellows for a conference celebrating the diverse and dynamic research that has resulted from the fellowship program, which supports students and recent faculty, now in its fifth year.
Hosting more than fifty undergraduate, graduate, and continuing education classes from the Stanford and local community. The year 2018 brought new collaborations with Stanford Global Studies and the Graduate School of Education that were featured in Stanford News.
A busy lecture schedule that included notable speakers such as Hoover visiting fellow and University of Hawaii history professor Yuma Totani, who discussed her work on Hoover's recently acquired sketchbooks of Shigemitsu Mamoru, minister of foreign affairs for Japan during World War II, and Steven Teles, professor of political science at Johns Hopkins University, who delivered a talk entitled "A Classic Reconsidered: The Rise of the Conservative Legal Movement Ten Years On."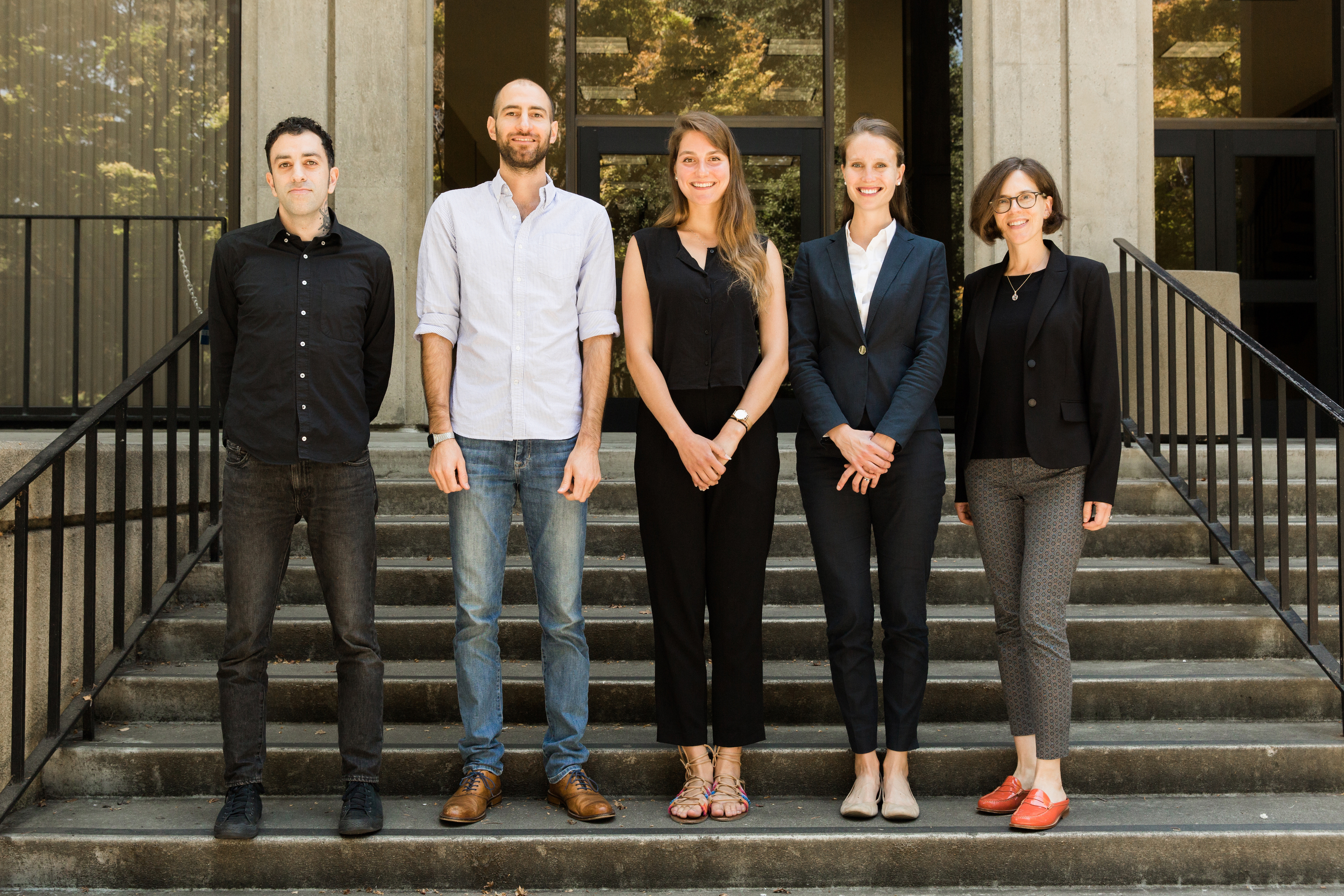 Looking Forward to Our Next Century
As the Hoover Institution approaches its centennial year in 2019, our Library & Archives looks forward to celebrating our history of collecting, preserving, and making available the world's most important material on war, revolution, and peace in the twentieth and twenty-first centuries, and to continuing to enrich one of the world's most renowned research centers.
In anticipation of a significant construction and renovation project that will prepare the Hoover Institution for its next century of activities, the Library & Archives reading rooms will be closed to most researchers from December 24, 2018, to the early winter of 2020. During this period, our collections and our public services will be unavailable, but our collecting, exhibition program, digitization projects, and other activities will continue. 
The changes are part of a multi-year master plan that will see new and improved facilities across the Hoover campus and a new strategic vision for the Library & Archives. We will be communicating more about our new strategic focus in coming months. In the near term, these changes will result in state-of-the-art storage facilities for our collections, improved digitization facilities, a shift in our exhibition gallery, and more.
Although our reading rooms will be closed, the Library & Archives exhibitions and the Hoover Tower rotunda will be open—including a new exhibition celebrating our centennial next year. Digital collections will be available online, and our public programming will continue. Most important, all of the behind-the-scenes activities that sustain and make the library and archives strong will continue.
We look forward to welcoming you to our updated facilities in 2020. With your patience and support, we will enter our new century with expanded abilities to collect, preserve, and make available the world's most important materials for the study of war, revolution, and peace.