Librarians at the Hoover Institution Library & Archives catalog hundreds of materials on a monthly basis. This month's list of newly cataloged items contains World War I and World War II-era information on topics such as welfare, population statistics, travel routes and geography, Soviet aircraft characteristics, offensive battle and campaign information, and details from the Thalerhof concentration camp.
To view more information and to request access to these materials, follow the links below to SearchWorks, the Stanford University Libraries online catalog.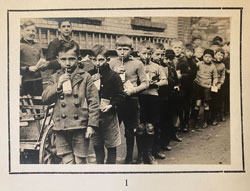 Author: Organisationstrager des Winterhilfswerk des Deutschen Volkes im Gau Halle-Merseberg
Title: Winter-Hilfswerk des deutschen Volkes 1933/34
Published: [Halle-Merseburg], [Organisationstrager des W.H.W. im Gau Halle-Merseberg], [1934]
This Tätigkeitsbericht, activity report, details the activities of the Winterhilfswerk des Deutschen Volkes (WHW) in Halle-Merseburg, Germany, during 1933–34. The WHW was a Nazi-era public welfare organization and was a subsidiary of the Nationalsozialistische Volkswohlfahrt (National Socialist People's Welfare). This unique volume features leaves of plates, illustrations, tables, portraits, color charts, and mounted photograph prints.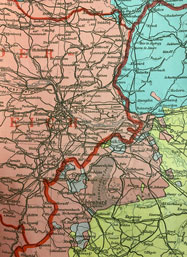 Cartographer: Institut de Géographie de Vienne
Title: L'Autriche Allemande et les nations environnantes
Published: [Vienne], [Institut de Geographie de Vienne], [1916]
The Institut de Géographie de Vienne published this World War II era map. It shows topography, boundaries, maritime travel routes, roads, railways, and tables of population statistics relating to nationality and languages spoken.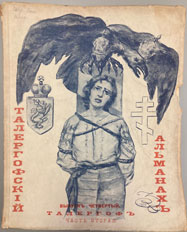 Title: Talergofskīĭ alʹmanakh : propami͡atnai͡a kniga avstrīĭskikh zhestokosteĭ, izuvi͡erstv i nasilīĭ nad karpato-russkim narodom vo vremi͡a vsemīrnoĭ voĭny 1914-1917 gg. [Талергофскій альманах]
Published: Lʹvov,  Izdanīe "Talergofskago komiteta", 1924-1932
This is a four-volume publication printed as a memorial to Carpatho-Rusyns from Galicia (Halychina) and Bukovina who were victims of Austro-Hungarian persecution and imprisonment during World War I. Austro-Hungarian forces imprisoned Carpatho-Rusyns in concentration camps including Terezin, Gnass, Gmünd, and Thalerhof. Thalerhof concentration camp, the namesake of the publication, was located in Styria, Austria. These volumes are comprised of memories of the survivors, lists of prisoners, camp photographs, and facsimiles of source documents.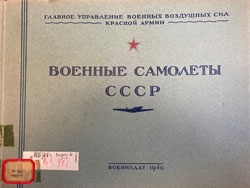 Title:  Voennye samolety SSSR [Военные самолеты СССР]
Compilers: Burche, Evgeniĭ Fedorovich and Vladimirov, Mikhail Alekseevich
Published: Moskva, Voennoe izdatelʹstvo Narodnogo komissariata oborony soi͡uza SSR, 1940 
This album, published in 1940, is comprised of illustrations of twenty-one different types of Soviet aircraft, including airplanes, bombers, and fighter planes. The visually rich album shows ways to correctly distinguish Soviet aircraft based on various external characteristics.
 
Cartographer: Kalbe
Title:   Schlacht Oise-Marne 1918 
Published: Leipzig, Mittelbachs Verlag, [1918]
This World War I-era German map shows German offensive battles and campaign forces in the direction of Amiens, France, 1918. The map shows topography and spot heights, telegraph and telephone lines, churches, ruins, and other geographical and cultural sites. 
 
---
To view additional materials that have been newly cataloged at the Hoover Institution Library & Archives, go to SearchWorks. For access, please plan a research visit. Reservations are required. For questions regarding access or for more information about the Library & Archives' holdings, please contact our Research Services team.