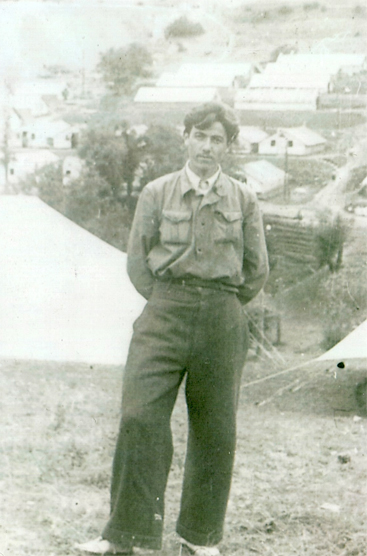 The Hoover Archives has received the papers of Spas Raikin, a Bulgarian-American historian, and émigré anti-communist activist. Raikin, who will celebrate his ninetieth birthday later this year, was for several decades a professor at East Stroudsburg University in Pennsylvania and is the author of some twenty books on Bulgarian history in the nineteenth and twentieth centuries. His papers, contained in ninety-nine binders, document Raikin's historical research and writing as well as Bulgarian émigré activities in the United States. Binder nr. 71, however, is different from the others. It documents an episode in Raikin's life that has a place in world history: his meeting with Lee Harvey Oswald in the port at Hoboken, New Jersey on June 13, 1962, when Oswald was returning from the Soviet Union.
Spas Raikin, born to a poor peasant family, herded cows and sheep until he was admitted to the Plovdiv Theological Seminary. He graduated with honors and went on to study in the School of Theology in Sofia University and teach in the Sofia Theological Seminary. Once the Bulgarian Communists had solidified their power, they intensified their religious persecution, drafting Raikin into the army, where he served his time in a military labor camp. In 1951, he and several of his friends escaped from the camp and formed a partisan group in the Rhodope Mountains in southern Bulgaria. Evading the Communists, they managed to cross into Greece, where he received a scholarship from the World Council of Churches to study theology at the University of Athens. He went on to study at the universities in Geneva, Basel, and King's College in London, finally taking a graduate degree in political science at Columbia University in New York. In New York, Raikin became a social worker who helped resettle Bulgarian refugees in the United States under a State Department Program, as well as a staff member in the Travelers Aid Society. It was in that capacity that he was directed to meet Lee Harvey Oswald upon his return from Russia. Raikin met Oswald, his wife, and baby at the dock when their ship arrived and helped them through customs. His account of this event is in the Warren Commission Report and is discussed in dozens of works on the Kennedy assassination. Binder 71 of the Raikin Papers includes copies of documents, notes, and clippings on the event and its aftermath.
Spas Raikin's academic career was mostly with the East Stroudsburg University in Pennsylvania, where he taught from 1966 until his retirement in 1991. He published some twenty books on Bulgarian history, politics, and culture from the late nineteenth century into the twentieth.. He was also active in Bulgarian and East European anticommunist exile organizations. Professor Raikin's productive and eventful life and research are documented in his voluminous papers in the Hoover Archives. Along with the even larger Kyril Drenikoff Papers, acquired by Hoover a generation earlier, they will be a valuable resource for scholars of Bulgarian history and politics in the twentieth century.