Papers on Chinese Political Economy Open for Research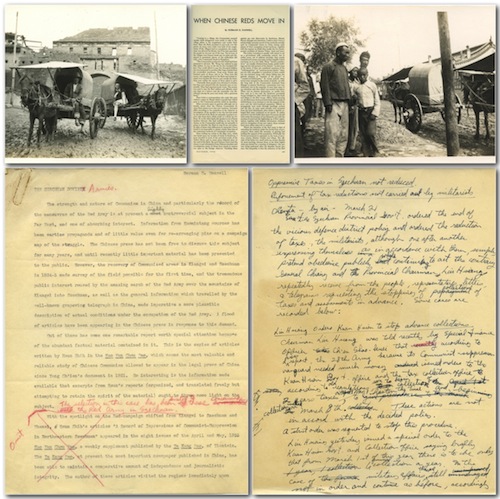 The papers of Norman David Hanwell (1909–41), a scholar of the Chinese political economy, are now available for research at the Hoover Institution Archives. The collection includes Hanwell's unpublished manuscripts, published writings, personal correspondence, research notes, and clippings relating to China in the 1930s. His research dealt with guerrilla movements, peasant secret societies (i.e., Red Spears), and village structures in communist-controlled areas in Southwest China. As a correspondent, Hanwell also reported on the Japanese expansion into Manchuria and severely criticized the Kuomintang's ruling of China. His articles, sometimes penned under the names David Weile or Norman David, appeared in publications such as the Christian Science Monitor, Herald Tribune, Asia Magazine, Far Eastern Survey, and The Nation. 
Hanwell was among the first US academics to cite Chinese sources. In his research notes, he mused,
Strangely enough, although there has been a good deal of writing concerning the actions of the Communists in China, very little of it has made [the] slightest use [of materials] that the Chinese have compiled. . . . It is the purpose of these notes to merely scratch the surface of some of these materials and give some of the inside conditions in Communist territory as revealed to Chinese observers. . . . I'm sure the reader will be able to see that the information unearthed by these Chinese is of a type that no foreigner could very well obtain at first hand no matter how well he could speak or read the language.
Although early treatments of Chinese Communists generally described them as organized insurgencies' indulging in destructive civil warfare, Hanwell questioned this belief and investigated whether that growing peasant force had made serious attempts to contribute to the effective governance and economic direction of China. His observations caught the attention of US China Hands including Owen Lattimore, Edmund Clubb, and Edgar Snow. Snow praised Hanwell's writings as "…one of the few pieces I have seen in English giving a picture of the Red Army, without being colored by blatant prejudice."