Papers of Economist Gottfried Haberler Open for Research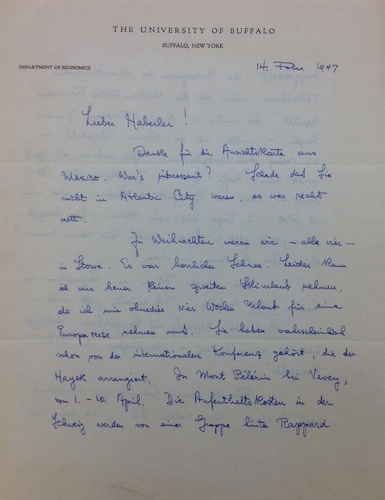 The Gottfried Haberler Papers are composed of correspondence, drafts, and published copies of Haberler's work and the work of other associated economists, along with photographs and personal items.  The collection, now fully accessible to researchers for the first time, is a rich resource not only on the life and work of this notable Austrian economist but also into the origins of the Mont Pèlerin Society and the Classical Economic Movement as a whole. 
Particularly interesting are collections of correspondence between Haberler and Friedrich von Hayek, Milton Friedman, John Maynard Keynes, and Fritz Machlup, many of whose collections are available at Hoover. Haberler wrote to discuss his work as well as theirs; the letters touch on many of the most hotly debated economic issues of the period.
The Haberler Papers also offer a nearly complete catalog of Haberler's economic writings, including conference and journal papers, speeches, and newspaper articles.  In addition to his published works, the collection also contains unpublished drafts and handwritten notes representing the earliest drafts of his speeches, lectures, and monographs, documenting the conceptual evolution of his work.