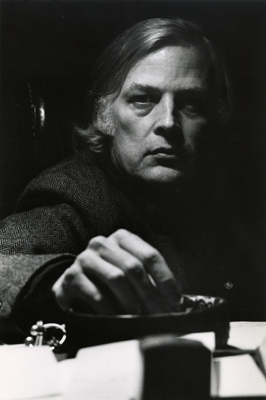 The personal papers of the classical liberal thinker and author Richard C. Cornuelle (1927–2011) are now available for research at the Hoover Archives. The papers detail the life and career of Cornuelle, a student of Ludwig von Mises and an early Ayn Rand supporter. Cornuelle was a wide-ranging thinker whose ideas were articulated in three seminal books: Reclaiming the American Dream (1965), in support of volunteerism and independent action; De-Managing America (1976),, against bureaucracy and for decentralized action; and Healing America (1983), which criticized Keynesianism and again argued for a return to volunteerism.
The Richard Cornuelle Papers span his life, including documents relating to his early family life and education, photographs, and extensive correspondence and research files. The papers also contain letters, pamphlets, and other materials relating to free-market and laissez-faire organizations, including the Earhart Foundation, Liberty Fund, Cato Institute, and the Heartland Institute. Cornuelle's writings document the evolution of his views on libertarianism and his argument that volunteer and nongovernmental groups, which he coined as the independent sector, are essential for making capitalism work for all Americans. 
Of particular interest to researchers is the inclusion of the manuscript Garet Garrett's Journal, written by Richard Cornuelle in 1967 but never published. Garet Garrett (born Peter Garrett) wrote the 1931 work on the 1929 market crash, The Bubble That Broke the World, as well as a trilogy of novels that were influential among Austrian economists and, later, libertarians. Publication files relating to Garrett's book projects are also available.
The Richard Cornuelle Papers cover a critical period in the history of modern libertarian thought and complement our other collections in this area, including the Heartland Institute Collection, the F. A. Harper Papers, and the Roy A. Childs Papers.