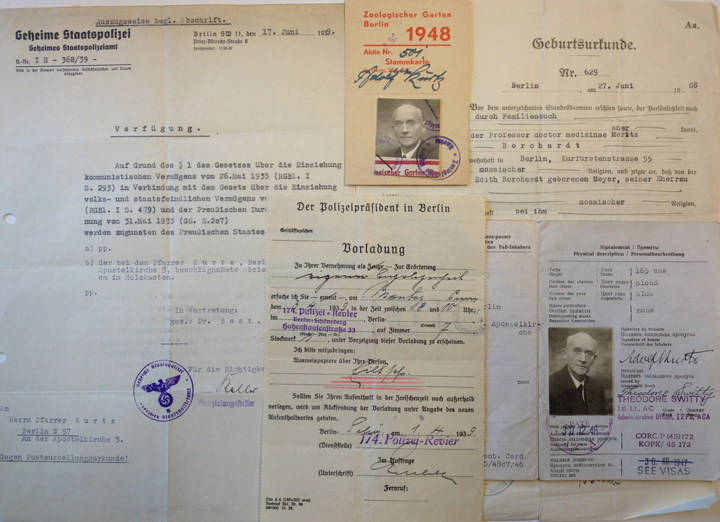 Adolf Kurtz, a Protestant pastor, following Hitler's ascent to power in 1933, resisted the government's efforts to control religious life in Germany. In that his wife was born a Jew, he organized a relief agency to help Christians of Jewish heritage. Along with other Protestant churchmen, including Martin Niemoeller, Karl Barth, and Dietrich Bonhoeffer, he founded the Confessing Church, an evangelical group that resisted the Nazification of the German churches. Most leaders of this movement were arrested; some died in concentration camps. Kurtz was interrogated several times, had his school for Jewish Christian children closed, and was nearly deported to Dachau; but he and his wife managed to survive the war in Berlin.
After the war, in 1948, Pastor Kurtz was invited by the British military authorities in Berlin to come to England to visit German prisoner-of-war camps. He soon discovered and took over a refugee congregation of German worshippers in Oxford where he remained until his death in 1975. Besides ministering to his parishioners' spiritual needs, Adolf Kurtz helped collect funds in Germany to rebuild Coventry, especially its cathedral, which was destroyed during a November 1940 Luftwaffe raid. Kurtz was present, along with many other German representatives, on March 23, 1955, when the queen presided over the laying of the new foundation for the new cathedral.
A year ago, Hoover Archives acquired a collection of letters, certificates, church registers, and photographs, mostly associated with Pastor Kurtz's later life in Oxford. The newly acquired increment consists of many original personal documents, mostly from the pastor's earlier years in Berlin. Among these are Kurtz's theological degrees, ordination diploma, marriage certificate, notifications from the Gestapo, Zonal Travel Permit for Occupied Germany, and so forth. The materials include the pastor's vita and other biographical information, as well as the papers of Eva Borchardt Kurtz, his wife. That documentation provides core archival sources for a future biographer of this extraordinary man of faith and integrity.