Alexander Buchman (1911–2003) was a young American engineer in the early 1930s when he landed in China, where he remained for almost six years. An amateur photographer, he got a job in Shanghai as a photojournalist for a foreign news agency, the China Press. He took photographs and motion pictures in Shanghai, a port city that was fast becoming a vibrant international hub for trade and finance. He returned to the US in 1939, but soon left for Mexico to visit the exiled Russian revolutionary Leon Trotsky. There, in Coyoacán, a suburb of Mexico City, over the course of five months, he took remarkably intimate photographs and motion pictures of Trotsky only months before the former Soviet leader's assassination. These unique photographs and films are the centerpiece of the Alexander H. Buchman papers at the Hoover Institution Library & Archives.
Buchman was born into an affluent family in Cleveland, Ohio, in 1911. He earned a degree in aeronautical engineering from the Case School of Applied Science in Cleveland in 1933. After graduation, he escaped the unemployment rolls of the Great Depression by moving to Asia, spending most of the next six years in Shanghai working for various foreign news agencies. This allowed him to travel around the city of Shanghai and other places in China. A camera enthusiast, he extensively photographed and filmed daily life in Shanghai, including the Japanese invasion and occupation of the city in 1937. While in China, Buchman, a self-described socialist, made a point of photographing ordinary people, especially laborers. He surreptitiously snapped pictures by using a camera hidden inside a specially designed jacket pocket whose lens peered through a buttonhole. This enabled him to capture unique glimpses of Shanghai street life in all its gritty reality. There are more than 7,000 photographs of his time in China. His movie camera recorded the carnage on August 14, 1937, when thousands of Shanghai residents were killed in an accidental bombing known as Bloody Saturday.
After Buchman returned to the US in 1939, political comrades arranged for him to visit Trotsky in Mexico in order to show him his motion picture films of Shanghai. He arrived at Trotsky's fortress-like residence in Coyoacán in November 1939 with his Leica and an 8mm Bell & Howell. He had intended to stay only long enough to show Trotsky his China films, but after inspecting the alarm system at the compound he offered to draw on his engineering expertise to improve it. After he had revamped the alarm system, he was asked to move into the house and take up guard duty. The idea appealed to him because he wanted more time to take photographs and films of Trotsky. He happened to be a good driver, so he was assigned to chauffeur Trotsky's wife Natalia on her food-shopping trips.
As a member of Trotsky's entourage, he took approximately 800 black-and-white and color photographs and some fifty-five minutes of moving images. These motion pictures were largely unknown until they were broadcast on British television in 1990 as part of a program called "Trotsky's Home Movies." Buchman's cameras recorded Trotsky deep-sea fishing, cactus hunting, and picnicking with his wife and bodyguards, and captured scenes of the former Soviet War Commissar and founder of the Red Army feeding his rabbits and chickens, part of his daily routine and his principal form of exercise. In January 1940, when the burgeoning bunny population was transferred to new three-decker cages, Buchman's Bell & Howell captured the moment, as Trotsky gently delivered the docile creatures to their new quarters.
The entire collection of Buchman's photographic nitrate film negatives is fully digitized and available on the Hoover Institution Library & Archives Digital Collections website. The Buchman collection also includes video and sound recordings, biographical materials, and correspondence illuminating Trotsky's life in his Mexico redoubt. The photographic negatives taken during Buchman's six years in China (1933–39) include rare images of H. H. Kung, a prominent Chinese banker and politician and the brother-in-law and a confidant of Chiang Kai-shek. Also discovered in the collection are images of Anna May Wong, a Hollywood film star who will be the first Asian American featured on US currency. The Mexico photos (1939–40) include images of Diego Rivera at home painting at his easel.
Bertrand Patenaude, Hoover research fellow and author of Trotsky: Downfall of a Revolutionary (HarperCollins, 2009), remarks about the collection, "Alexander Buchman's rare and remarkable photographs and motion pictures, a dazzling resource for researchers in many fields, illuminate two very different slices of 20th-century history."
Spencer Zidarich, digital imaging manager, digitized Buchman's photo negatives and described the experience as "watching a quick moving slideshow or a really slow movie…There are a lot of gems in the collection. He [Buchman] had a really interesting eye for portraiture."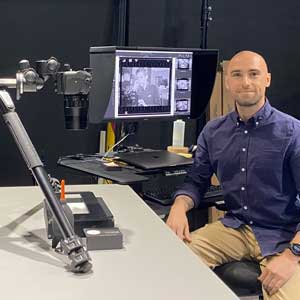 Spencer Zidarich used a high-resolution camera system to digitize Buchman's photo negatives.
Selected Images
Scroll through selected digitized photo negatives from the Alexander H. Buchman papers below.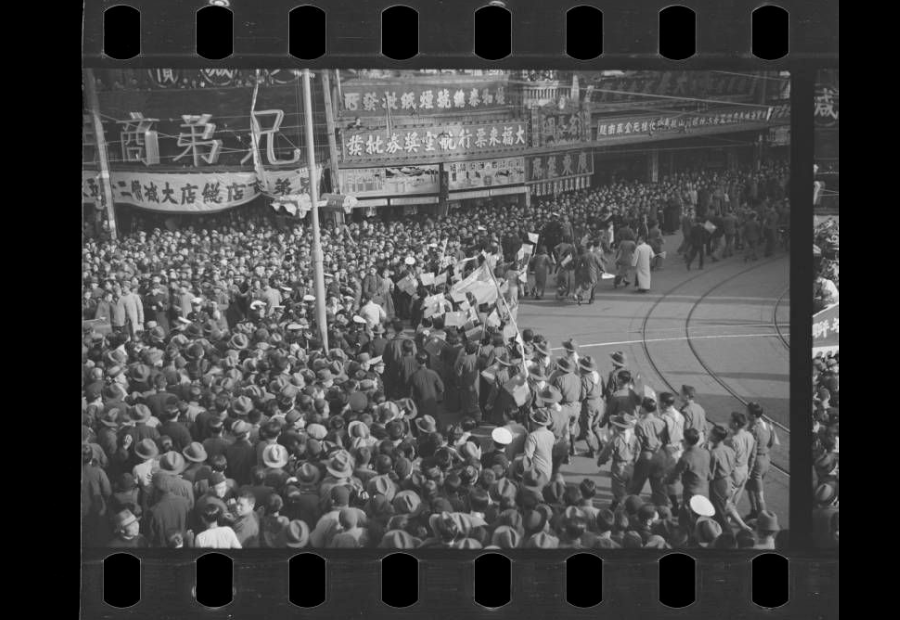 General Shanghai scenes. (Sleeve 22, https://n2t.net/ark:/54723/h3bq8s)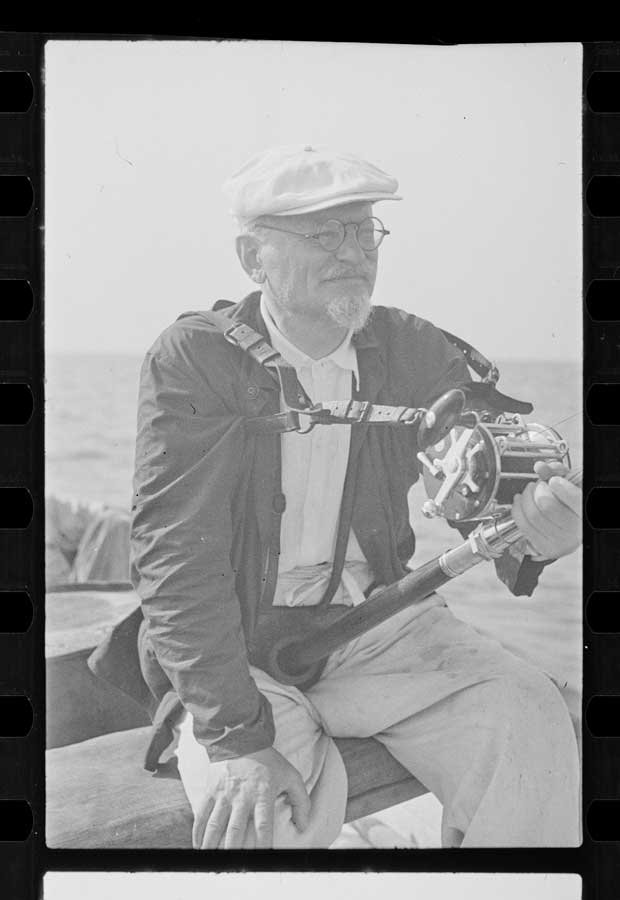 Leon Trotsky on a fishing trip. (Sleeve 14 (510-548), https://n2t.net/ark:/54723/h3243j)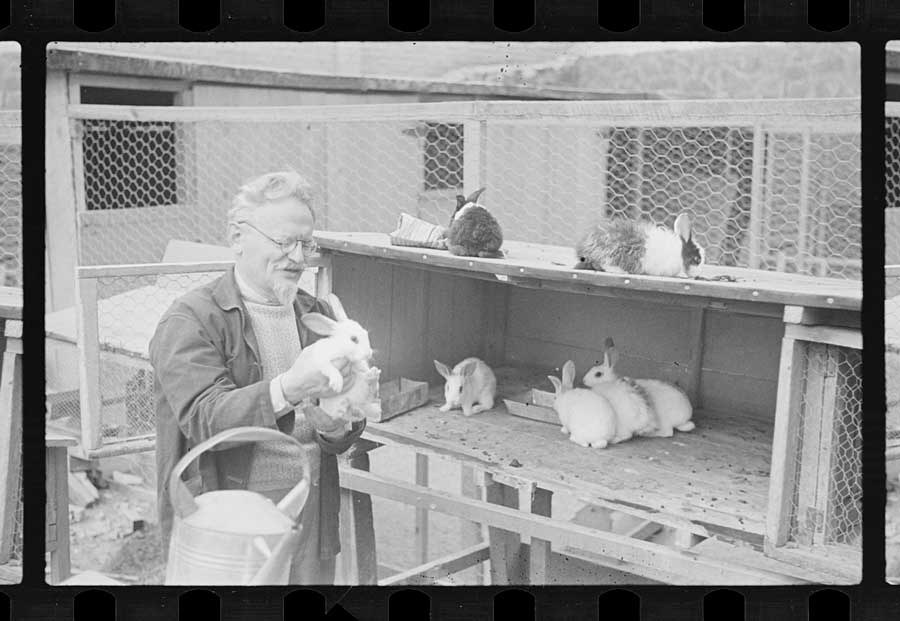 Leon Trotsky caring for bunny rabbits. (Sleeve 2 (41-79), https://n2t.net/ark:/54723/h3p68q)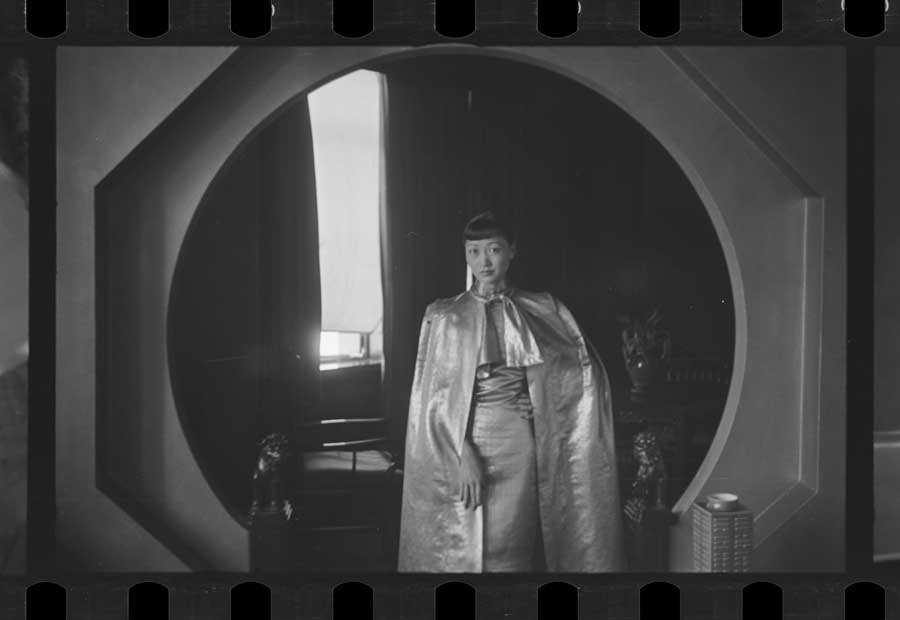 Anna May Wong. (Sleeve 48, https://n2t.net/ark:/54723/h3z741)