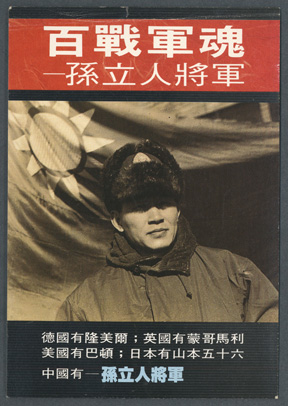 The papers of Shen Keqin (1921– ), former Republic of China representative to Thailand (1975–89) and director of the Executive Yuan (1989–90), are now available for research at the Hoover Institution Archives.
From 1949 to 1953, Shen served as secretary to Sun Liren (1899–1990), a general in Chiang Kai-shek's Chinese Nationalist Army. Sun's major military achievements—defeating the Japanese in Burma during World War II and leading the First Army to Manchuria to fight the Chinese Communists—earned him the nickname of "ever victorious general." A graduate of Purdue University and the Virginia Military Institute, Sun also served under the command of General Joseph W. Stilwell and was deemed "one of the ablest, bravest as well as one of the most 'Western-minded' leaders in the Chinese Nationalist high command" by Time magazine. In 1955, while serving as chief of staff, Sun was accused of conspiring to overthrow Chiang Kai-shek's regime in Taiwan. For more than thirty-three years, until his exoneration in 1988, Sun remained under house arrest in Taichung, Taiwan. Not until 2001 did the Control Yuan release a report that posthumously cleared Sun of all charges of wrongdoing and declared there was no evidence to support his involvement in the coup d'etat plot.
 Shen Keqin's papers then, which date from 1944 to 1998, primarily concern Sun Liren. Included are Sun's personal and official correspondence, printed matter, strategic maps, confidential reports and pictorials of the Burma Campaign, military directives and instructions, daily activity reports (March–December 1950 and January–October 1951) with notations by Shen, and photographs that depict Sun's military activities. Also included is a manuscript of Shen's publication Sun Liren Zhuan (A Biography of Sun Liren) and research materials used to prepare the book, such as photocopies of official government documents from the Wang Shancong case (i.e., the Case of Sun) and telegrams exchanged between Sun, General Douglas MacArthur, and Chiang Kai-shek.