Sparking Printmaking Inspirations In The Library & Archives: An Art Studio Class Visit
During the fall quarter 2021, a Stanford undergraduate class in art studio (course number Art Studio 144: Printmaking and Activism) taught by Professor Michelle Wilson, visited the Hoover Institution Library & Archives. The students critically observed the nishiki-e (Japanese woodblock prints), kamishibai (paper plays), and other objects currently on display in the Hoover Tower galleries for the exhibit Fanning the Flames: Propaganda in Modern Japan. Archivist for Exhibits Kiera Peacock led a guided talk through each exhibit section which included subtopics of propaganda, such as the role of women, depictions of the emperor, Bushido values, depictions of the enemy and the inclusion of disinformation. Students also explored archival materials and posters related to propaganda and activism facilitated by Jean Cannon, curator for North American Collections and Ray Pun, education and outreach manager. The purpose of their visits was to draw inspiration for their final printmaking projects by reflecting on the Fanning the Flames exhibition and materials from our collections. The class portfolio is titled, "Paradox and Pattern" and the students produced an edition of prints in the printed medium of their choice (linoleum block prints or etching). Each student also wrote short statements accompanying their print to reflect on the themes of activism and propaganda. 
The students' works are in the process of being digitized and archived at Stanford University Libraries University Archives and eventually will be available in the Stanford Digital Repository. Here are some samples of these fascinating prints and their short statements created by the students.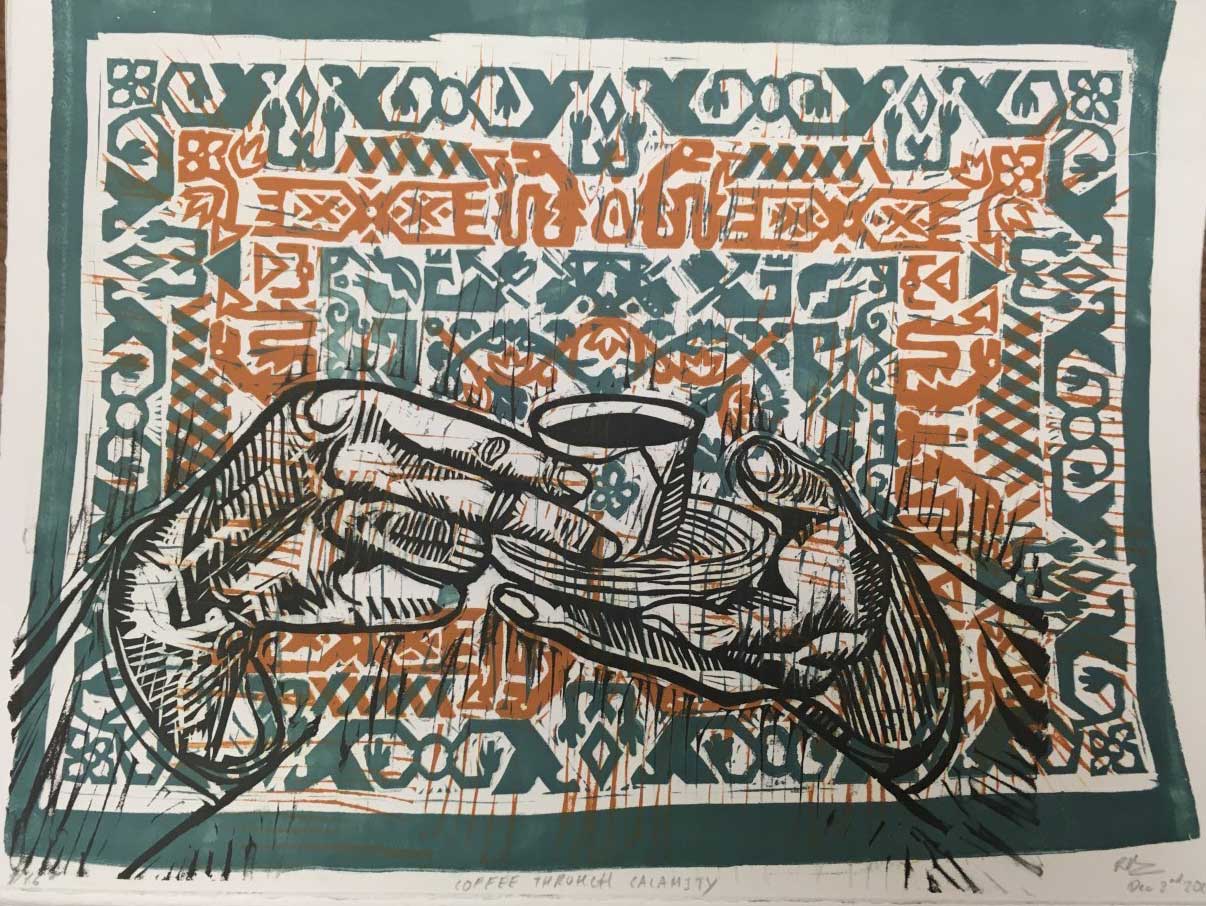 Coffee through Calamity by Rima Makaryan, Class of 2024 on Linoleum blocks on paper.
"This piece is about the cycle of ethnic conflict that appears to have no peaceful solution. It is predominantly inspired patterns in Armenian rugs that have been used as tools for storytelling and documenting history. In this case, the patterns in turquoise and yellow represent the push and pull between ethnicities- namely Armenians and Azerbaijanis. The cup of coffee held by the pair of hands represents the continuation of ordinary life despite the chaos surrounding them. The definition of the black and the boldness of this final layer is meant to highlight the ultimate victory of a peaceful life and treasured tradition."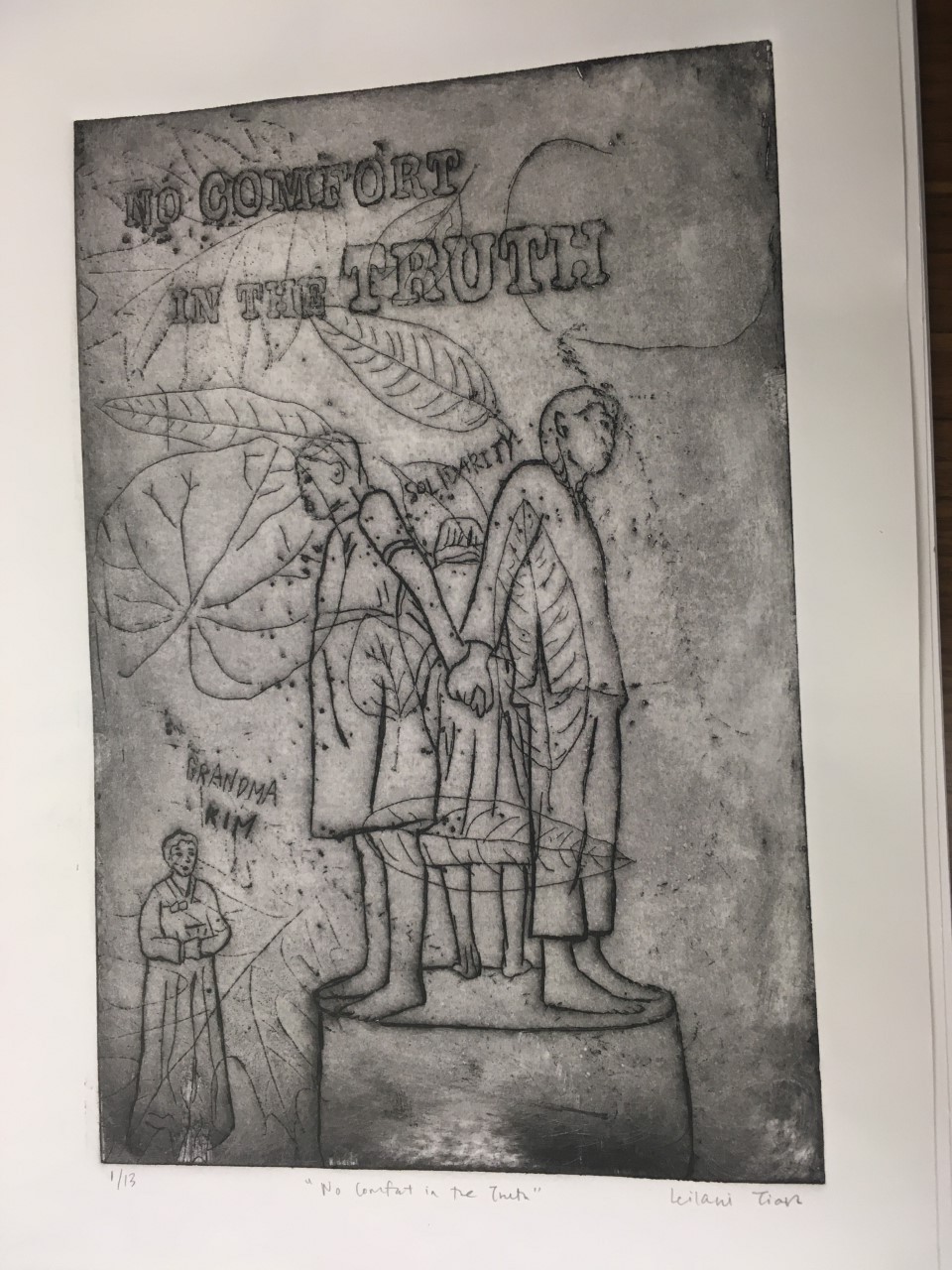 Untitled by Leilani Zhang Tian, Class of 2022 on Etching
"I first heard about comfort women in the play Among the Dead by Hansol Jung performed by students of the Asian American Theatre Project at Stanford. The play, bringing us on a journey with Ana as she relived the dark history of her mom, a comfort woman, and her father, an American soldier, moved everyone in that theatre to tears. During WWll, around 200,000 girls and women from various countries in Asia were forced into sexual slavery by Japan under terrible conditions. "Comfort women" was a euphemism for prostitute. Despite the trauma they faced, many of them were not accepted by their home countries after the war as they were believed to be dirty. Many of them were my age, some much younger. If there's anything I have learned from taking Printmaking and Activism with Michelle Wilson, it is that art is not just a static item to admire from afar but also a dynamic medium with an agenda that is evocative, meaningful and dynamic over time. I wanted to capture the strength and resilience and recognition that these women deserve. The Column of Strength erected in San Francisco that honors these women was my inspiration. Adding Grandma Kim was my tribute to Kim Hak-sun, the first woman to speak up about her trauma, inspire others to join her, and spearhead activism around reparations for years to come."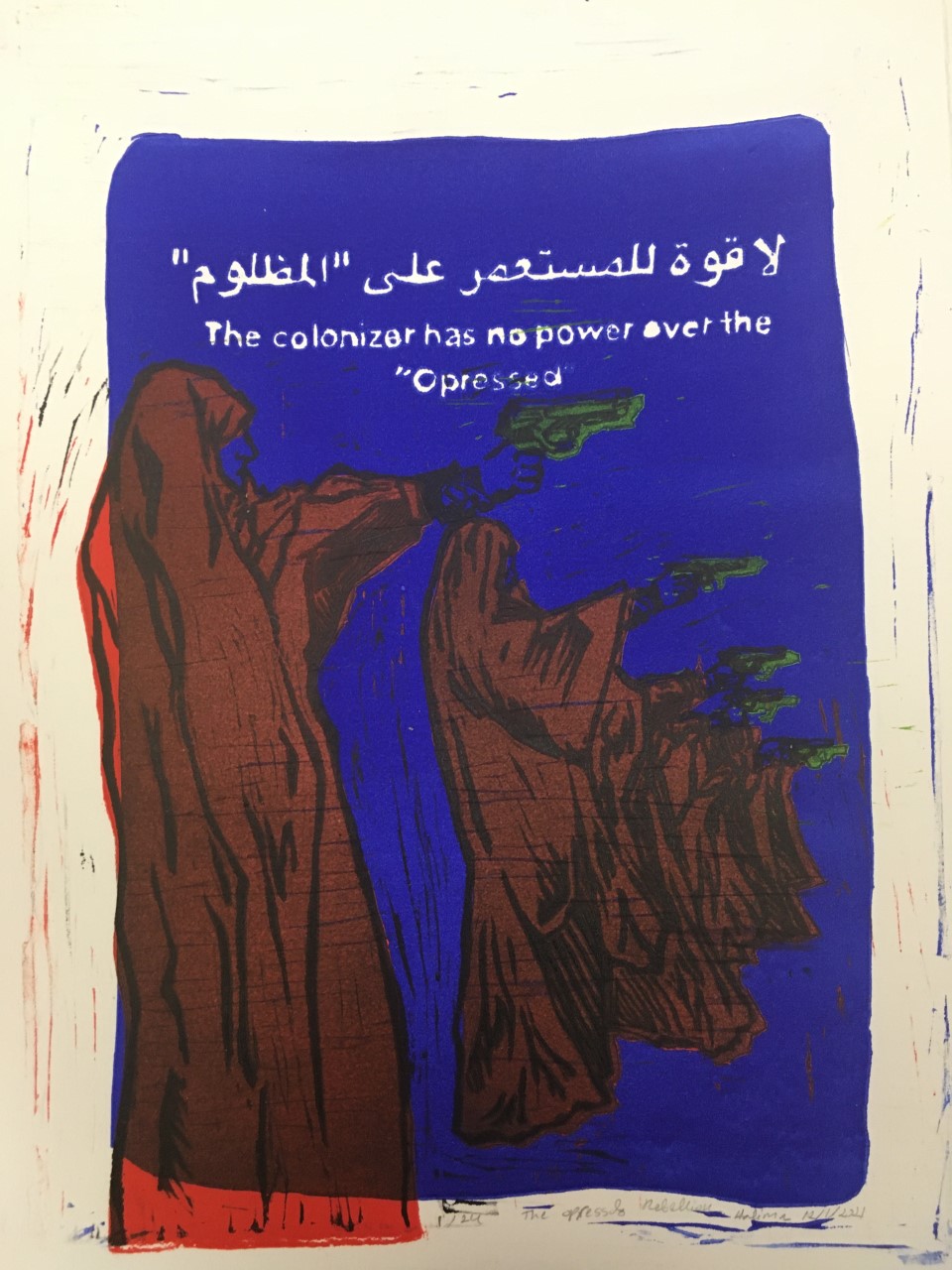 The Oppressed Rebellion by Halima Ibrahim on Linoleum blocks on Rives BFK
"To the West the hijab stands as a symbol of oppression. Muslim women are therefore weak, abused, lower class to the world. Islamophobic media only ever victimizes women who veil, when it is intended to be a symbol of strength and power. However, when a Muslim woman shows strength, society riots. A powerful Muslim woman is everything that threatens the colonialist mindset. We have been convinced that Muslim women are oppressed under Islamic society instead of under western colonialism. This print is an attack at the west and is intended to infuriate those who oppress us. The same sentence is repeated in both Arabic and english reading "The Colonizer has no power over the 'Oppressed.'" The composition is taken from a photo by Jean Gaumy of the Iranian female police force. Iranian women in full abayas are lined up in a row pointing their guns at an unknown target. The original photo is in black and white. The choice to make the print in color was inspired by street signs in Egypt. On highway signs, the background is a bold blue with white text. Arrows or other formatted block sometimes appear in orange and a bright lime green. The reference connects to the artists Egyptian heritage and ties the image of Iranian women to also include Egypt (and the rest of the SWANA world)."