Stanford's Polish Students' Association Visits the Library & Archives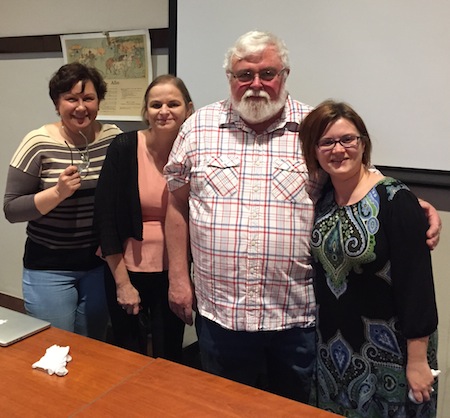 On April 6, European curator Maciej Siekierski and staff members Irena Czernichowska, Justyna Szulc, and Malgorzata Szudelski hosted a presentation of Hoover's archival treasures for members of Stanford's Polish Students' Association. The Hoover Institution Library & Archives are home to the largest collection of documentation on modern Poland outside Poland. 
The presentation included a large sample of posters from the 1919–21 war between Poland and Soviet Russia, colorful letters from Polish schoolchildren to Herbert Hoover thanking him for the assistance of the American Relief Administration, and a photo album documenting the second trip of Joachim von Ribbentrop to Moscow in September 1939 that sealed the partition of Poland between Hitler's Germany and Stalin's Russia. Some selected items from the archives of the Polish government-in-exile were also shown, including original release certificates from the Gulag, as well as testimonies of former Polish deportees and prisoners. 
Postwar materials included documents and internal-use-only publications of the Polish Communist regime gathered by Hoover's Warsaw Acquisitions' Office during 1990–93. The presentation was part of Hoover's outreach effort to student groups and the Stanford community to acquaint them with the rich historic resources available in the Library & Archives.