Student-Curated Online Exhibition, "The Female Image In Chinese Propaganda", Opens For Hoover Institution Library & Archives
Sharon Du (Stanford '22) is an undergraduate junior majoring in international relations. As part of the Hoover Student Fellowship program, under the mentorship of Liz Phillips, Head, Research, Education, and Operations, Ms. Du curated an online exhibition, "The Female Image in Chinese Propaganda".  The exhibition features, Chinese propaganda posters and related ephemera held at the Hoover Institution Library & Archives.
By Sharon Du
The global health crisis has popularized alternatives to the traditional exhibition, with galleries, museums and other institutions presenting a plethora of digital programming over the past year. The Hoover Institution is no different. Since 2020, Hoover Institution Library & Archives presented a number of online exhibitions, ranging from intimate histories of the Institution itself, to correspondence during twentieth century wartime, to a series discussing Firing Line, a television show hosted by conservative leader William F. Buckley, Jr. 
I spent the early part of quarantine browsing exhibitions set out by institutions such as Pace Gallery and Garage Museum of Contemporary Art, dreaming myself into different cities from my dorm on campus. But with the fantastic assistance of those at Hoover Institution Library & Archives, including Liz Phillips, Samira Bozorgi, Marissa Rhee, Kiera Peacock, as well as other staff, I had the rare privilege of curating my own humble online exhibition [The Female Image in Chinese Propaganda] during the pandemic.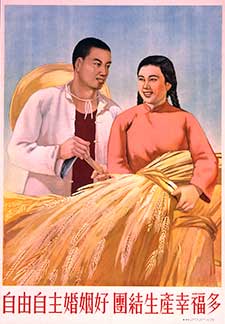 The Hoover Institution Library & Archives features rich examples of propaganda from across the globe—from the Alexander and Ethel Pronin collection of Soviet propaganda films, to Universum Film AG's Nazi newsreels. However, chiefly relying on the Library & Archives' incredible digitized collection of archival material, I planned my exhibition broadly regarding Chinese propaganda, which I have been fascinated with since my early childhood in Hangzhou. For my exhibition, I sought to examine nianhua propaganda posters by Yan Han and Bi Cheng, which advertised the New Marriage Law to China's peasantry using a folk-inspired woodcut style, as well as The White-Haired Girl, a classic revolutionary opera with a history as long as the regime itself. I suggest that in both such examples, the state's rudimentary feminist discourse translated itself through the images of women into private contexts, whereby depiction of ordinary citizens allowed the regime to seamlessly appropriate the public. 
The word "propaganda" in English suggests a blood-splattered totalitarianism, but its Chinese equivalent lacks that immediate connotation, hedging closer to "publicity" and "circulation." Surprisingly, perhaps, I prefer the more neutral definition that Chinese offers—not because I would ever want to overlook bloodshed, but for its potential insight. Though propaganda certainly enables horrific violence, including the current atrocities in Xinjiang, I believe that to treat propaganda as distinct from our own information environment is also perilous—prohibiting effective recognition and analysis. 
As my grandfather would prepare rice porridge and duck eggs for breakfast, he would hum "The East is Red" – not as a conscious ideological statement, but as a nostalgic tune from his youth, much as someone in the West might hum an advertising jingle. As the breadth of the Hoover Institution Library & Archives collection suggests, our lives cannot be so neatly extricated from propaganda, regardless of where or when we are.
About the Hoover Student Fellowship Program
The Hoover Student Fellowship Program offers Stanford students a unique opportunity to engage in important work at the Hoover Institution across research and organizational areas. The Fellowship is a paid internship in which students are paired in topical areas of their preference with Hoover fellows or staff members. Students in the Fellowship provide research and operational support, while also benefiting from mentoring and partaking in enriching programming for the Fellowship cohort. The Hoover Institution Library & Archives is proud to mentor students in the Fellowship.