Ukrainian History Collection Grows with Papers of Simon Starow ("Miron Dolot")
Image credit:
Courtesy of and held by the Starow family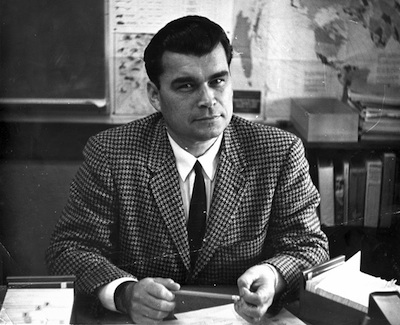 Simon Starow (1916–98), who wrote under the literary pseudonym Miron Dolot, was a Ukrainian language instructor at the Defense Language Institute (DLI) at the Presidio of Monterey, CA. In addition to founding the Ukrainian Department there, he co-wrote the official DLI Ukrainian Department textbook Ukrainian: Basic Course with his wife Alexandra M. Starow in 1972. He is better known by his pseudonym Miron Dolot, under which he published Execution by Hunger on the 1932-1933 famine in Ukraine (Holodomor), one of the few written survivor accounts of the Ukrainian famine on record. A US Congressional Commission, created under then-president Ronald Reagan to investigate the atrocities of the Ukrainian Famine of 1932–33, used Execution by Hunger as record testimony.
Simon Starow was born Semen Stariv in Verhuny, Ukraine in 1916. (As his family was too poor to note the day of his birth, it was always observed on April 27th). His father was killed in 1919 by the Bolsheviks for his loyalty to the independent Ukrainian National Republic while Simon was an infant. Simon served in the Soviet 44th Army Infantry Division during the Soviet-Finnish War on the Ukhta Front. As a soldier during World War II, Simon was captured by the Germans and imprisoned in a POW camp for 3 years until being freed by the Americans.
Starow then fled to Switzerland and made his way to West Germany as a political refugee and lived in Frankfurt am Main, where he worked as a journalist for Ukrainian émigré periodicals until 1949, when he emigrated to the United States. He settled in Los Angeles where he joined the burgeoning post-war Ukrainian émigré community. While doing his graduate studies at UCLA he also worked as a language instructor for the Voluntary Training Unit of the Marine Corps Reserve. He became a naturalized US citizen in 1954. In 1955 he moved to Monterey, California to work as Ukrainian language instructor at the DLI. In 1956 he married Alexandra Boyko, a fellow Ukrainian émigré whom he had met in Los Angeles.
The materials in this collection include draft manuscripts and research materials for Starow's publications, including Execution by Hunger. Other topics include the Winter War in Finland, Ukrainian émigrés (especially displaced persons), Ukrainian national identity, the history of Kievan Rus, Christianity in Ukraine, and Ukraine under Soviet rule.
This collection is an important resource for the study of Ukrainian history, especially the famine of 1932–33. The Dolot papers are a significant acquisition and an important step forward in expanding Hoover's Ukrainian collections, where they take their place along the papers of Lev Dobriansky and Ivan Petrushevich.