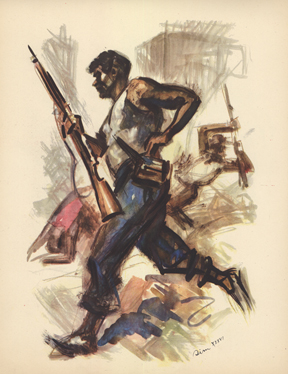 STANFORD—Next year marks the seventieth anniversary of the outbreak of World War II. "Shattered Peace," an exhibition by the Hoover Institution Library and Archives, chronicles the events leading up to the war by drawing on their rich holdings. "The collections of the library and archives offer a unique insight into the years leading up to World War II in the areas of diplomacy and military operations," said Nicholas Siekierski, exhibit and outreach coordinator.
The exhibition examines the conflicts preceding the United States' entry into World War II in both Europe and Asia and the Pacific. Highlights of the exhibition include photo albums by Randall Gould, newspaper editor, that document the initial bombing of Shanghai by the Japanese. From the papers of Leo Eloesser, a physician who operated a private, mobile surgical hospital on the Teruel and Ebro fronts during the Spanish Civil War, are notebooks from the operations on the battlefront, safe conduct passes from Republican forces, and a hand-drawn map of the Teruel front. In addition, films of the bombing of Warsaw made by American filmmaker Julien Bryan show the devastation of the Luftwaffe air raids on the city. In addition to the films is a photo album of an anonymous Luftwaffe pilot showing pictures of the burning city taken from his cockpit.
These conflicts and others included in the exhibit provide an understanding of the complex political and ideological aspects that led to World War II. In addition, the documents, posters, photos, and other audiovisual materials reveal the plight of civilians whose personal stories offer a view into the consequences of war on the individual.
The exhibit will be open to the public January 13, 2009, to May 27, 2009, in the Herbert Hoover Memorial Exhibit Pavilion, next to Hoover Tower, and is free of charge. Pavilion hours are Tuesday through Saturday, 11:00 A.M. to 4:00 P.M. For more information, go to www.hoover.org/hila or contact 650-723-3563.
Images from the exhibit are available on request.