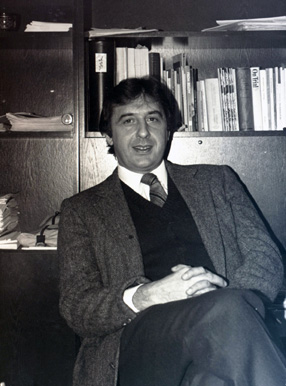 The Hoover Institution Library and Archives exhibition To Choose Freedom: Soviet Dissidents and Their Supporters offers a glimpse into the era of repression against Soviet human rights activists, focusing on the years that followed Khrushchev's "thaw" in the late 1950s up through the era of perestroika and glasnost in the 1980s. "In opposition to the communist leaders were many ordinary people, both inside and outside the country, who made extraordinary efforts to speak up for human rights and freedom of expression," said Brad Bauer, associate archivist for collection development at the Hoover Institution Library and Archives. Branded dissidents by the Soviet government, their story has gone largely untold.
Inspired by former Soviet dissident and political activist Yuri Yarim-Agaev, and timed to coincide with a scholarly symposium held at the Hoover Institution on April 14, this exhibit focuses on the lives and activities of the dissidents during the latter decades of the Soviet Union and highlights the role of their supporters in the West.
Yarim-Agaev, whose papers are included in the exhibit, was both a dissident and a supporter. He was a member of the Moscow Helsinki Group in the 1970s; after his expulsion from the Soviet Union in 1980, he founded an organization based in New York City, the Center for Democracy in the U.S.S.R., which sought to raise public awareness of the plight of dissidents and influence the actions of the U.S. government in its response to Soviet human rights violations.
The exhibit includes documents, photographs, and other audiovisual material from the collections of renowned dissidents and writers Aleksandr Ginzburg (1936–2002) and Andrei Siniavskii (1925–96) and the records of Scientists for Sakharov, Orlov and Shcharansky; Radio Free Europe/Radio Liberty; Firing Line; and the Communist Party of the Soviet Union and the Soviet state.
The exhibition will be open to the public through October 25, 2008, in the Herbert Hoover Memorial Exhibit Pavilion, next to Hoover Tower, and is free of charge. Pavilion hours are Tuesday through Saturday, 11:00 a.m. to 4:00 p.m. For more information, go to www.hoover.org/hila or contact 650-723-3563.