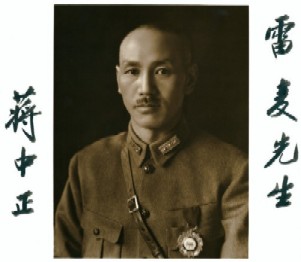 The diaries of Chiang Kai-shek from 1946 to 1955 are available to researchers at the Hoover Library and Archives as of July 18, 2008. They join earlier Chiang diaries from 1917 to 1945, which were opened in 2006 and 2007.
As this group of diaries opens (in 1946), control of China teetered between Nationalists and Communists as their civil war resumed. Chiang led the Nationalist government and its army, which gradually lost territory in the north to the Communists, led by Mao Zedong.
As civil war worsened and the United States suspended aid to Chiang, the Nationalist government battled severe inflation that threatened financial chaos. Chiang declared a series of financial and economic emergency measures in August 1948 that were ultimately unsuccessful. Five months later, in January 1949, Chiang resigned as president of the Republic of China but continued as leader of the Nationalist Party.
With a strong military push by the Chinese People's Liberation Army beginning in the spring, the Nationalist forces retreated in December 1949 to Taiwan, where Chiang established a stronghold for his party. Resuming his position as president in March 1950, he was reelected by the National Assembly in 1954. Having lamented in his diary about the disintegration and rot from within that led to his party's failure, Chiang established the Central Reform Committee in 1950 to revitalize the party and its principles, reestablish the state in a new milieu, advance his vision for China and Taiwan, and begin laying the groundwork for Taiwan's eventual economic success.
Additional information and resources are available on the Chiang Kai-shek diaries collection highlight page.