Posters emerged as an influential form of art and communication in the 19th century, as new technologies made possible their mass production and wide distribution. Poster artists straddled the worlds of art and commerce and quickly deployed their work in patriotic service during the First World War, as belligerents expanded the political and propagandistic role of posters.
Two speakers reflected on the artistic and political dimensions of poster art in the early 20th century, drawing on the Hoover Institution Library & Archives' renowned poster collection.
This event was held in conjunction with the exhibition Dynamic Designs: Transforming Posters at Hoover, currently on display in Hoover Tower through December 20, 2023. More information about the exhibition and its online component can be found here. 
learn-more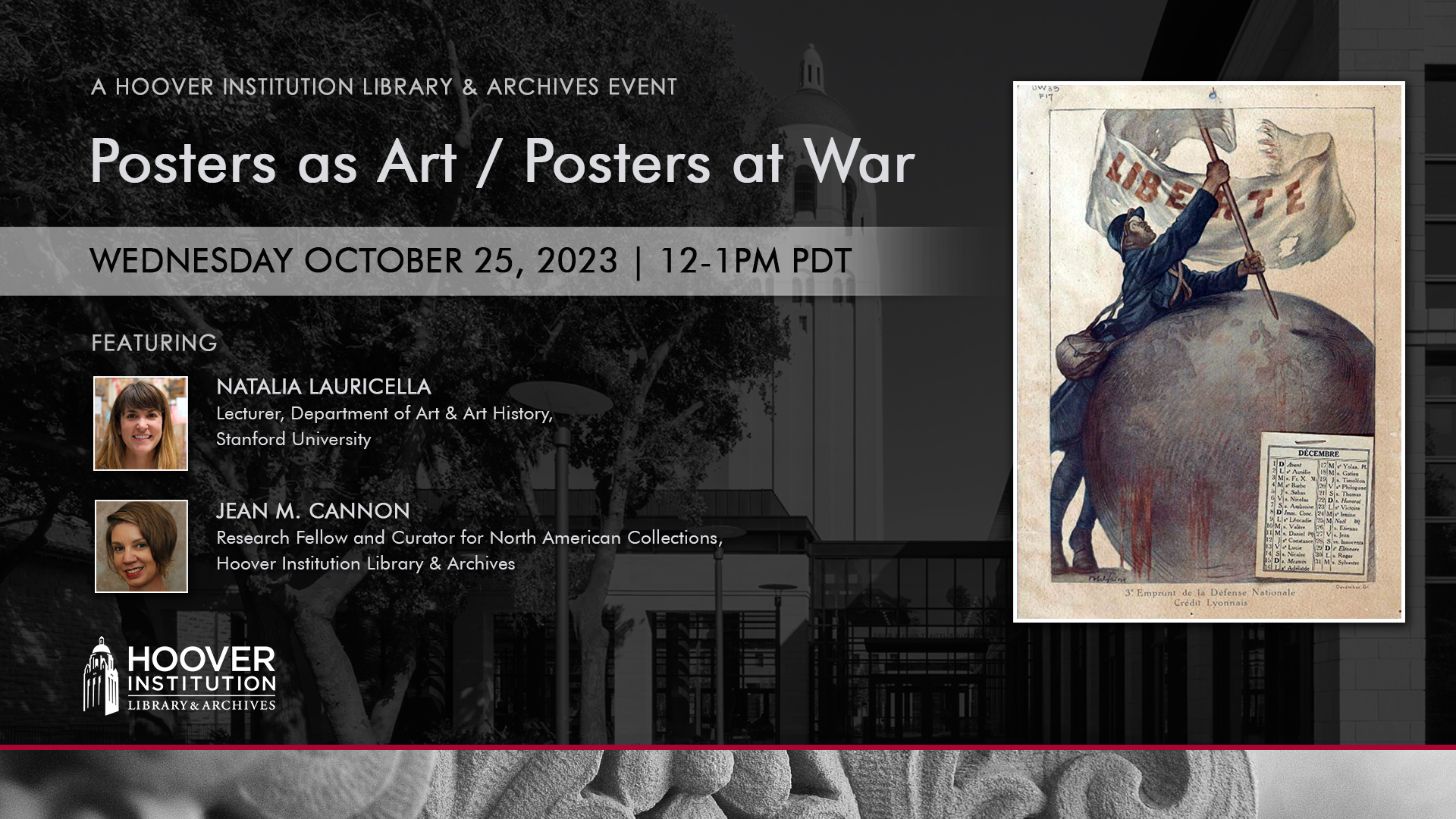 ABOUT THE SPEAKERS
Natalia Lauricella is a Lecturer in the Department of Art & Art History at Stanford University. Her research focuses on the history of print in 19th-century Europe. Her current project traces the network of dealer-publishers, printers, and artists who produced and marketed limited-edition original color lithographs as part of the development of modern art and the art market in 1890s France. Natalia received a PhD in art history from the University of Southern California. She worked as a curatorial assistant of collections and exhibitions at the Solomon R. Guggenheim Museum in New York, where she contributed to a number of exhibitions, including Italian Futurism, 1909–1944: Reconstructing the Universe.
Jean Cannon is a research fellow and curator for North American Collections at the Hoover Institution Library & Archives, where she specializes in acquisitions, education, exhibitions, and scholarly publications. She received a PhD in English Literature from the University of Texas at Austin, with a focus on WWI poetry and fiction, and holds a BA in English from Duke University. Prior to her current position, she was the Literary Collections Research Associate at the Harry Ransom Center, where she co-curated the 2014 exhibition The World at War, 1914-1918. She was also the curator of Hoover's 2017 exhibition Weapon on the Wall: American Political Posters of WWI.