A Revolutionary Idea: Hoover Making History since 1919
In celebration of the Hoover Institution's ninetieth anniversary, this exhibition of photographs, posters, memorabilia, audiovisual materials, documents, and books from its library and archives traces the Institution's development from its origin in 1919 as a special collection at Stanford's main library to the influential public policy and research institution that it is today.
Read an article about the exhibit, published in Hoover Digest.

Less than twenty years after graduating from Stanford's "Pioneer" class with a degree in geology, Herbert Hoover reached the heights of fortune and success by becoming a wealthy mining engineer with business interests spanning four continents.

The first person E. D. Adams contacted after speaking to Hoover was Ralph Haswell Lutz, a former student and a member of Stanford's class of 1906, who was then stationed in Berlin as a first lieutenant with the American Expeditionary Force. In peacetime Lutz was a history professor at Washington University; he had also been a guest lecturer at Stanford. When America declared war on Germany in 1917, Lutz had volunteered.

As Ralph Lutz became the pioneer in collecting twentieth-century documentation in Europe, Frank Golder did the same in Russia, solidifying Hoover's holdings on the period, which are unmatched outside their homeland.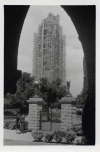 The massive influx of materials to the Hoover War Collection soon outgrew the storage space in Stanford's main library. Thus, in the mid 1920s, Herbert Hoover initiated a fund-raising campaign to construct a new building for the Hoover War Library that would confirm its virtual independence from the main library.

Ralph Lutz's successor in 1943 was Harold H. Fisher, under whose directorship the Hoover Institute and Library on War Revolution and Peace (as it was renamed in 1947) changed the emphasis of its operations. Beginning with the Revolution and the Development of International Relations (RADIR) project, the Institution embarked on a new course of research, focusing more on innovative works of interpretive analysis than on traditional documentary studies.

Under the directorship of W. Glenn Campbell, the Hoover Institution revitalized its research program, initiated a fellowship program, and began a publications department that would eventually develop into the Hoover Institution Press.

The last decade of the twentieth century bore witness to momentous international changes, the impact of which would have a lasting effect not only on the world but on the Hoover Institution.

The terrorist attacks of September 11, 2001, the wars in Afghanistan and Iraq, and, more recently, the financial crisis, are reminders that, despite the cold war's end two decades ago, we still live in a turbulent era. Although the mission of the Hoover Institution has not changed, rapid advances in computer technology, the concurrent increase in the speed of communication, and the evolving needs of scholars and researchers have made adapting a necessity.