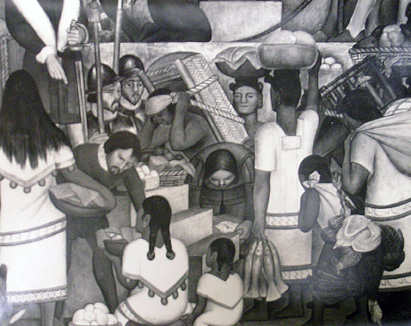 The large crowds visiting the Frida Kahlo exhibit now at the San Francisco Museum of Modern Art testify to the enduring interest in the life and works of this unusual artist, whose fame now eclipses that of her husband, Diego Rivera, the celebrated Mexican muralist.
The Hoover Institution Archives houses important materials relating to both Kahlo and Rivera, most derived from the friendship between the Mexican artists and another couple, Bertram and Ella Wolfe, who met Kahlo and Rivera in Mexico in the 1930s and remained in close contact with them for a number of years afterwards. In 1939, Bertram Wolfe published Diego Rivera: His Life and Times, the first significant study of Rivera in English, which documented Rivera's artistic career and his radical politics, as well as the sometimes stormy relationship between Kahlo and Rivera. (The book was later revised and published in 1963 as The Fabulous Life of Diego Rivera. Bertram Wolfe was a senior research fellow at Hoover from 1966 until his death in 1977.)
The extensive Bertram Wolfe papers in the archives include numerous other writings on Rivera, as well as letters between the Wolfes and Rivera and Kahlo. Frida Kahlo's correspondence with the Wolfes is by turns affectionate, teasing, and serious, with flourishes of her flair for drama and humor. At the end of one letter to Ella, Kahlo placed a lipstick imprint of a kiss next to her signature; in the same letter, she refers to Bert as "Boit" (mimicking a New York accent).
Also in the Wolfe papers is an unpublished manuscript from around 1940 by John W. Weathermax that describes Frida (or Frieda, as she sometimes spelled it), then staying in San Francisco, as "The Queen of Montgomery Street." Kahlo knew and loved San Francisco, although she disdained much else about American life.
Weathermax begins his sketch with a transcription of a phone conversation he had with Kahlo that vividly captures her playful and imperious character, as well as her slightly imperfect mastery of English:
"Come over right way. I, Frieda the First, command you!"
"But Frieda…I have already had supper."
"Eat another."
"But you made me eat two lunches."
"I shall make you eat two breakfasts, too. I am the Queen. Do you hear?
Come to Montgomery Street at once."
Click.
At the end of this visit, although having divorced in Mexico in 1939, Kahlo and Rivera remarried in San Francisco.
That trip had been prompted by Kahlo's many serious medical problems, most of which were the result of the severe injuries she suffered in a streetcar accident in Mexico City when she was eighteen. Leo Eloesser, her noted and much-loved physician, was active in humanitarian causes; Kahlo's portrait of him is included in the SFMOMA exhibit. The show also showcases many of Eloesser's photographs of Kahlo and Rivera.
Although the Leo Eloesser papers in the Hoover Institution Archives contain neither the Kahlo painting nor the photographs in the SFMOMA show, they do contain significant materials about both Rivera and Kahlo, including a 1938 Vogue article about Kahlo by Bertram Wolfe (but not among the Wolfe papers). The article, entitled "The Rise of Another Rivera," although appreciative of Kahlo's talent, reflects how much Kahlo at that time was in the shadow of her more famous husband, as contrasted to today's mass acclaim for Kahlo and relative neglect of Rivera (considered by many the finer artist—in technique, if not subject matter—of the two).
Poignantly, the Eloesser papers also contain a short diagnosis, in Eloesser's small handwriting, of Kahlo's dire medical condition in 1950, when she had only a few years yet to live (she died in 1954 at the age of forty-seven). Among the photographs are numerous depictions of Diego Rivera's murals, some taken by the noted woman photographer, Communist, and friend of the Riveras, Tina Modotti.
Diego Rivera and Frida Kahlo were very public about their leftwing politics, both participating at various times in the activities of the Mexican Communist Party. During a period in which he was disillusioned with Stalinism, Rivera played host to the exiled Russian revolutionary leader Leon Trotsky, who had been granted asylum in Mexico. Trotsky subsequently had a brief romantic liaison with Frida Kahlo that did not come to light until much later. The archives has no materials relating to that affair, but the archives' Trotsky papers do contain a copy of a 1939 letter to Kahlo in which Trotsky goes into detail about what he saw as the erratic political conduct of Diego Rivera, who had just resigned from the Trotskyist Fourth International.
The political and artistic activities of Rivera, including the controversies that ensued over the murals he painted in the United States, are also documented in the Joseph Freeman papers in the archives. A number of Freeman's letters to Bertram Wolfe, written at wide intervals during which both Freeman's and Wolfe's politics changed considerably, deal with Diego Rivera.
Oddly, Kahlo, who had been linked amorously to Trotsky, professed to be an orthodox Stalinist in the years before her death. In one diary entry, she painted a watercolor of a hammer and sickle surrounded by the names Engels, Marx, Lenin, Stalin, and Mao, with Stalin's name appearing larger than all the others. However, it has not been Kahlo's political beliefs but her depictions in art of her psychological and physical distress, as well as her specifically Mexican themes, that have drawn so many to her work.