The Hoji Shinbun Digital Collection Becomes Global
The Hoover Institution Library & Archives is excited to announce that the Hoji Shinbun Digital Collection now has global coverage. We added twenty-one titles published in China, Korea, Indonesia, Myanmar, the Philippines, Singapore, and Thailand to the overseas Japanese newspaper digital collection. These Asian papers are primarily from the 1940s. The newly-added materials shed light on the day-to-day events of the Second Sino-Japanese war (1937—1945) and Japanese occupation in Southeast Asia during WWII, often reported through the lens of Japanese propaganda. The global map helps users visualize the overseas expansion of Japanese during the Empire of Japan period.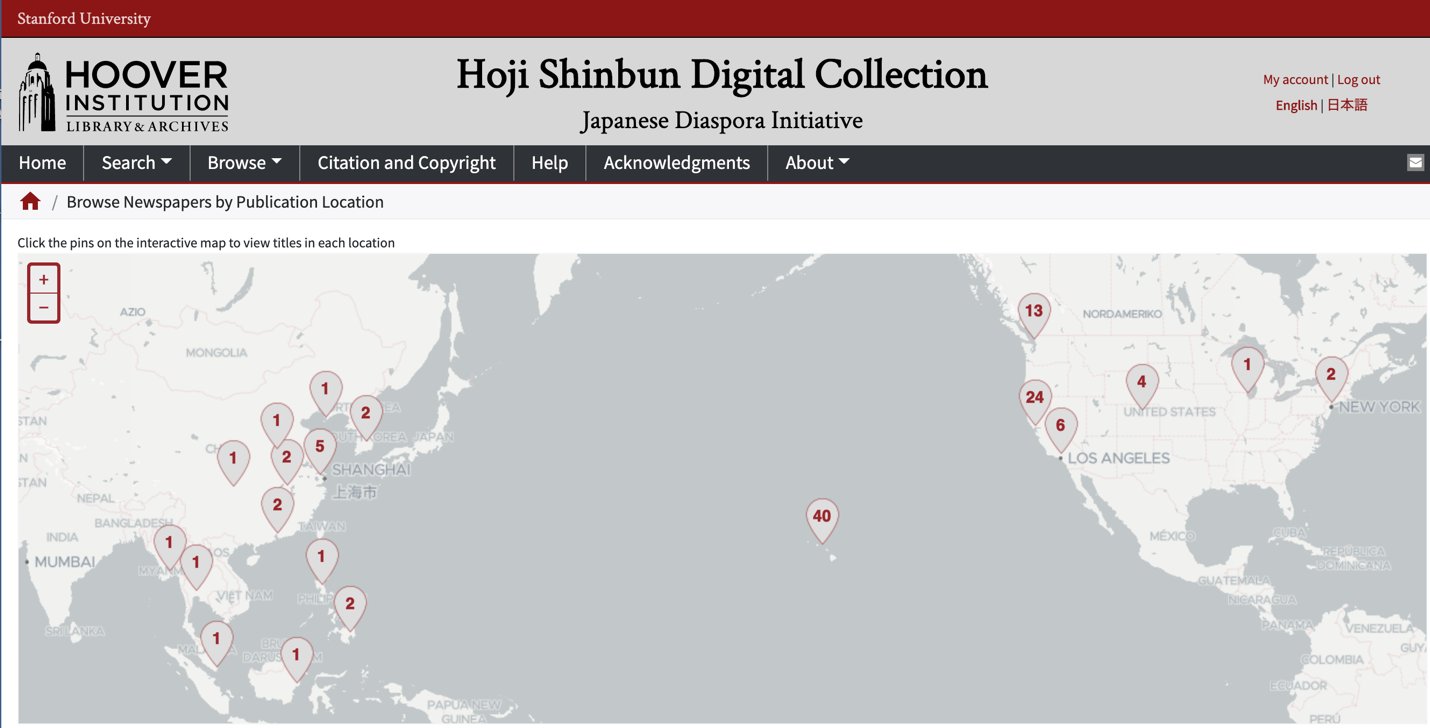 The Nippu Jiji Photo Archives Now Available on the Hoji Shinbun Digital Collection
Another resource of historical significance, the Nippu Jiji Photo Archives are also now available open access on the Hoji Shinbun Digital Collection. The Photo Archives consist of about 25,000 rare images, and are a treasure trove of Japanese history and Japanese American history in Hawai'i. They are meticulously categorized and organized by the Honolulu-based Japanese newspaper publisher, Nippu Jiji and its successor Hawaii Times.
The Photo Archives highlight the vibrant Japanese American community in Hawai'i and its strong ties with the Empire of Japan before the Japanese attack on Pearl Harbor, and its dramatic leadership and generational shift and Americanization after that.
Equally important are the Japan-sourced images. Many of these types of pictures are considered destroyed in Japan during WWII and particularly immediately before the landing of the Allied Forces in Japan. This large-scale photographic collection of Japanese politics and events, imperial family, the Second Sino-Japanese War, and Manchukuo is scarce even in Japan.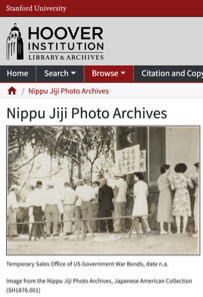 Together with Nippu Jiji newspaper articles already available on the Hoji Shinbun Digital Collection, JDI hopes that these new primary sources contribute to the future scholarship of Japanese American history and beyond. 
Digital scholarship and its ability to analyze a massive corpus of data are vital for students and scholars of the digital age. However, when it comes to historical pictures, computer image analysis is still developing, requiring substantial human intervention. To facilitate easy access to digital humanities, we also created three-tier subject fields, identifying recorded individuals and significant and symbolic objects photographed. The digital open-access was made possible through an international collaboration of the Hawaii Times Photo Archives Foundation, Densho, and the National Museum of Japanese History. Over time, the JDI plans to make the remaining collections available on the Hoji Shinbun Digital Collection as the metadata becomes ready.
The Nippu Jiji Photo Archives offers a two-way web experience in metadata creation. The community in Hawai'i is an integral part of this process. Registered users can contribute to the unidentified dates, individuals, and locations of photographs, all of which become searchable metadata. In other words, this photo archives is an evolving web-based resource, aiming to promote community-engagement.
We hope the Nippu Jiji Photo Archives offers a web-based venue for scholarly resources and community engagement to promote fresh perspectives of trans-Pacific history.
For further inquiries, please contact Kay Ueda (kueda@stanford.edu)
Kaoru "Kay" Ueda PhD
Kaoru "Kay" Ueda (B.A. Kawansei Gakuin University, MBA, University of Chicago, Ph.D., Boston University) has unique experience both in business and academic worlds.