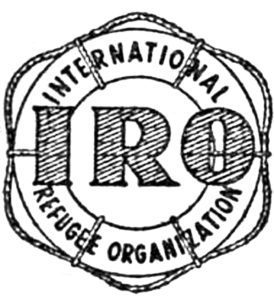 The Hoover Institution Library & Archives has acquired new materials related to William Hallam Tuck, a colleague of Herbert Hoover who worked extensively with refugees and relief organizations in Europe. This cache of materials, found in a trunk in a Swiss chateau once owned by Tuck's family, contains correspondence and notes related to Tuck's career in humanitarian aid and food relief during the world wars. The bulk of the materials relate to Tuck's work with the International Refugee Organization (IRO).
William Hallam Tuck was born on March 9, 1890, in Baltimore, Maryland, to Judge Somerville Pinkney Tuck and Emily Marshall Tuck. Tuck attended St. Paul School in Concord, New Hampshire, before going on to graduate from Princeton University in 1912. After briefly working as a chemical engineer, Tuck joined the Commission for Relief in Belgium (CRB) in 1915 before joining the British Army in 1916, where he served until 1918 with the rank of Captain Royal Artillery, B.E.F., attached to the 36th Brigade, Royal Australian Artillery.
When the U.S. entered the war, Tuck joined the U.S. Army in 1918, where he served as major in the 314th Field Artillery, 80th Division, and remained there until the end of the war. Afterwards, he resumed work with the CRB and stayed until 1922. During that time, Tuck developed a strong friendship with Herbert Hoover. He would later become heavily involved in Hoover's subsequent relief efforts, such as working with Hoover with the American Relief Administration. He was also a contributor to the fund initiated by Edgar Rickard in 1925 for the construction of the Hoover Tower at Stanford University.
After World War I, he became involved with Solway and Co. in various Belgian industrial and fiscal activities and represented this concern on the board of Allied Chemical and Dye Corporation, a U.S. based company, of which he also served as director. He married Hilda Bunge in Antwerp, Belgium, on April 20, 1920, with whom he had three children. He strongly supported Hoover during his presidential campaigns in 1928 and 1932. In 1936, he joined Hoover's Belgian American Educational Foundation, Inc. (BAEF), serving as vice president until 1966 and as comptroller from 1941 to 1950.
When war broke out in Europe in September 1939, in addition to serving in the BAEF, Tuck joined Hoover's then newly formed National Committee on Food for the Small Democracies. In 1940, he also served as representative of the Finnish Relief Fund, another Hoover relief effort. He worked heavily with the National Committee for Food for the Small Democracies from 1940 to 1941. His work with the committee was suspended when the U.S declared war against Japan and its allies.
During this time, Tuck also served with the United States Naval Reserve (USNR). In that capacity, he was heavily involved with the Military Government Training School. Following victory in Europe in May 1945 he participated in USNR committees such as the Economic Committee and the Post-Hostilities Committee. He served with the USNR until 1945, honorably discharged with the rank of Captain.
Following the end of World War II, Tuck remained active with Hoover's various relief organizations. His activities included involvement with Hoover's Food Mission of 1946-1947 and work with the International Refugee Organization, of which he would become director before resigning in 1949. Hoover also involved Tuck with the Second Hoover Commission on the Organization of the Executive Branch of the Government, where he served as executive director from 1953 to 1955. Honors Tuck received include Honorary Doctor of Philosophy degrees from the Universities of Louvain and Brussels. Prior to 1941, he also was named Commander of the following orders: the Legion of Honor of France, the Order of the Couronne of Belgium, the Order of Leopold II of Belgium, the White Rose of Finland, and the Orange Nassau of Holland. On August 28, 1966, Tuck died of a heart ailment in his summer home in Rougemont, Switzerland.
The collection is currently undergoing preservation treatment, digitization, and archival processing.  Future access to the increment to the William Hallam Tuck collection will be available in the Hoover Institution Library & Archives reading room and online. Please contact hoover-library-archives@stanford.edu for information concerning access or for information on other materials related to relief and refugees held at the Hoover Institution Library & Archives.