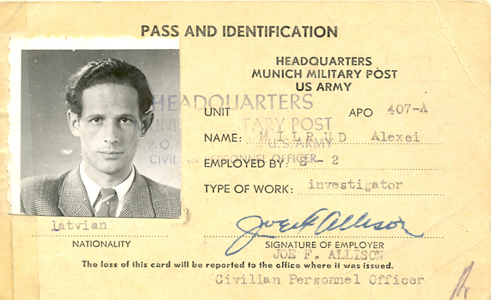 Much of Alexei Milrud's collection relates to the activities of his father, Mikhail Milrud, editor of the newspaper Segodnia in Riga, Latvia, between the two world wars. The collection includes materials on Mikhail's career and copies of his NKVD file (he was arrested by the Soviets when they incorporated Latvia), as well as materials relating to the newspaper and the history of Russian publishing in Latvia. Also included is an interview with Alexei Milrud describing life in Latvia before and during the Second World War.
After the war, Alexei and his wife, Hella-Beatrice Tomsen, worked for US military intelligence, screening displaced persons and debriefing Soviet defectors in the early 1950s. Some of that activity is reflected in the collection.
Other matters covered in the subject files are war crimes in Latvia during World War II and, the Baltic states on the road to and following their independence in 1991. Additional materials relate to an organization of Soviet defectors in Germany, TsOPE (Tsentral'noe ob"edinenie poslevoennykh emigrantov). The rich correspondence (letters to Milrud from Dmitrii Levitskii, Grigorii Klimov and others) supplements the biographical and subject files, providing additional insight into the history of Russian émigré communities and anticommunist activities.