Hoover Acquires Papers of American Aviator in China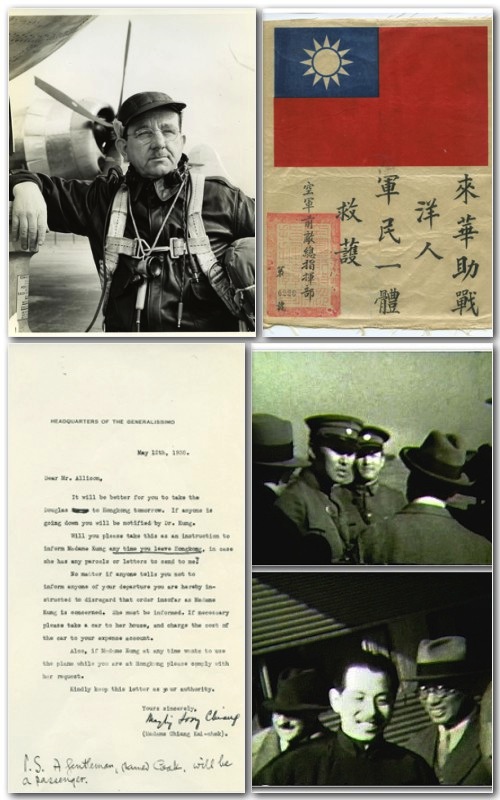 The Hoover Archives recently acquired the papers of Ernest M. "Allie" Allison (1894–1976), an American aviator who helped advance China's burgeoning aviation industry when that country faced a Japanese invasion and struggled with internal turmoil. Much of the collection documents Allison's years in China (intermittently between 1929 and 1949) when he served as chief pilot, operations manager, and vice-president-elect of the China National Aviation Corporation (CNAC) and an adviser to the Aeronautical Commission.
The correspondence file provides details of CNAC internal operations, including letters from such notable individuals as General Claire Lee Chennault, Harold Bixby, and William Langhorne Bond. Visual materials include remarkable film footage—captured by Allison and his wife, Florence—of the first flight from Hankou to Shanghai (1929), Charles and Anne Lindbergh in Nanjing (1931), T. V. Soong, Chiang Kai-shek, Zhang Xueliang, with W.H. Donald (circa 1931–32), George Bernard Shaw's arrival in Shanghai (1933), and more. Also significant are rare photographs of CNAC personnel and some taken by photojournalist H. S. "Newsreel" Wong.
On several occasions, Allison piloted Chinese Nationalist leaders, including T. V. Soong and H .H. Kung. Allison recorded his encounter with Chiang Kai-shek and his wife on the inside cover of Sian: A Coup d'Etat / A Fortnight in Sian: Extracts from a Diary, a copy that Madame Chiang personally signed.
About December 15, 1937, the General and Madame returned to Sian–the date was one year after his detention by Chang Hsueh-Liang and other Army officers in the area. I flew them in the general's private plane (Douglas 4-2) from Chungking. The Madame liked to stand behind the pilot's seat and talk to the pilot. Just before we landed at Sian I asked her what day they planned on returning. She said about Dec. 23 as I don't want to spend another Xmas in this place.
Chennault held Allison in high esteem, as evidenced in his memoirs, where he wrote, "To 'Allie' I owe my first glimpse of the kind of flying that really made me love the air. Previously all my flying had been confined to the easy conventional maneuvers. Allison gave me my first taste of acrobatics and I was hooked to flying like a Tensas River bass on a minnow-covered barb."
The papers are a generous donation from Nancy A. Wright, Allison's daughter. Wright's memories of her father are in her book Yankee on the Yangtze.