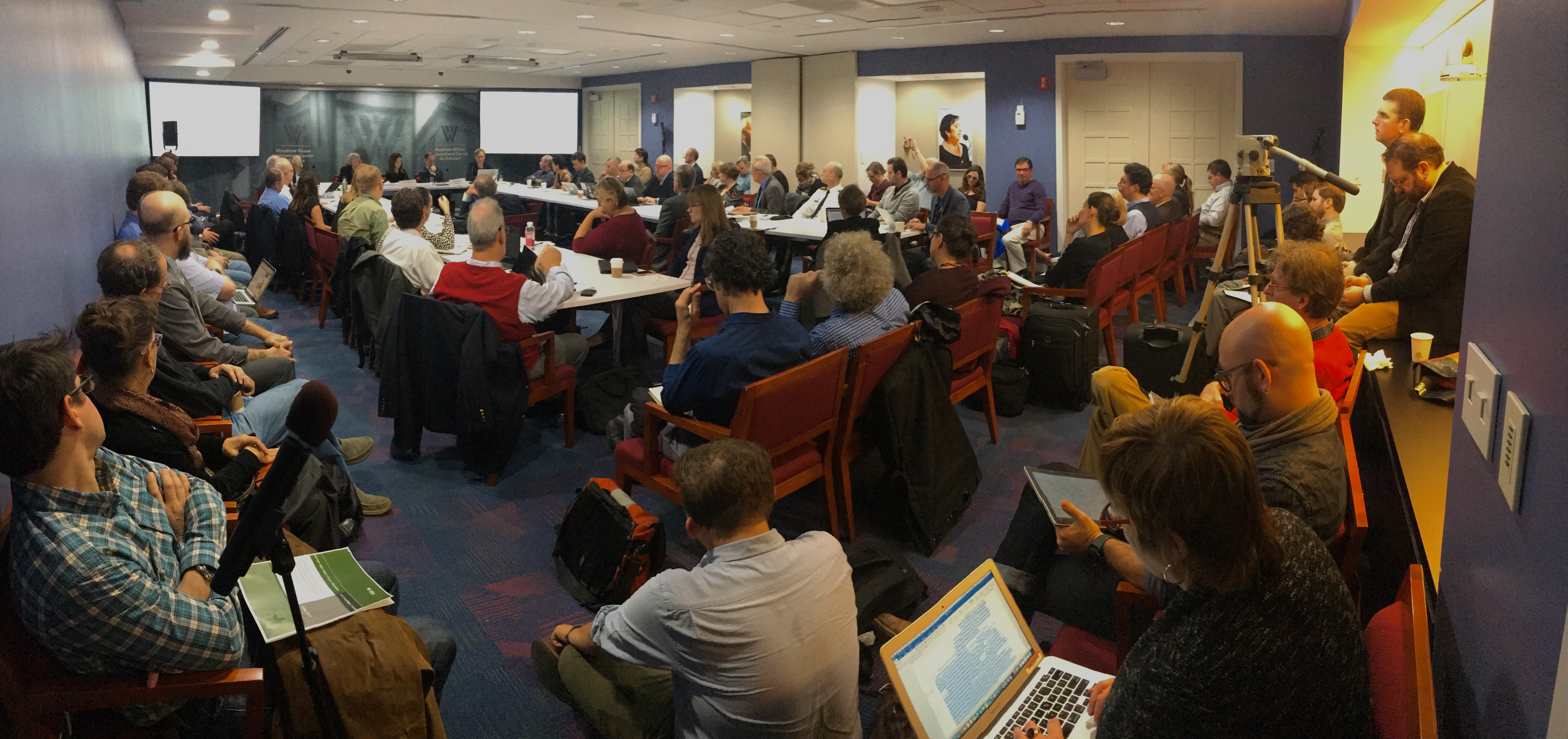 By Brandon Burke
The Cold War Communication Project (CWCP), an outgrowth of the Library of Congress Radio Preservation Task Force and the Hoover Institution Library and Archives, organized and sponsored two panels at the Woodrow Wilson Center and another at the Library of Congress November 2-3, 2017.
The panels at the Wilson Center brought academic specialists together with former journalists, editors, and administrators from radio networks such as Radio Free Europe/Radio Liberty (RFE/RL) and Voice of America (VOA) that broadcast into the former Soviet Union and Eastern Europe during the Cold War. The third panel focused on archival collections, discoverability and access to those holdings, use of said materials in the classroom, and examples of recent scholarship.

CWCP Research Director, Jane Leftwich Curry, whose papers are at Hoover, chaired both Wilson Center sessions and, in her opening remarks, noted "the Cold War was a war of words and not bullets" that was largely fought over the radio waves. "Today," she argued, "there is another a war of words using the Internet," making understanding Cold War broadcasting and its impact even more important. Finally, Dr. Curry recalled interviewing Polish citizens and elites in 2002-2004 and being told repeatedly that RFE/RL broadcasts and other Western reports were followed by communist elites who then pressed their own media to emulate Western networks so they would appear more credible.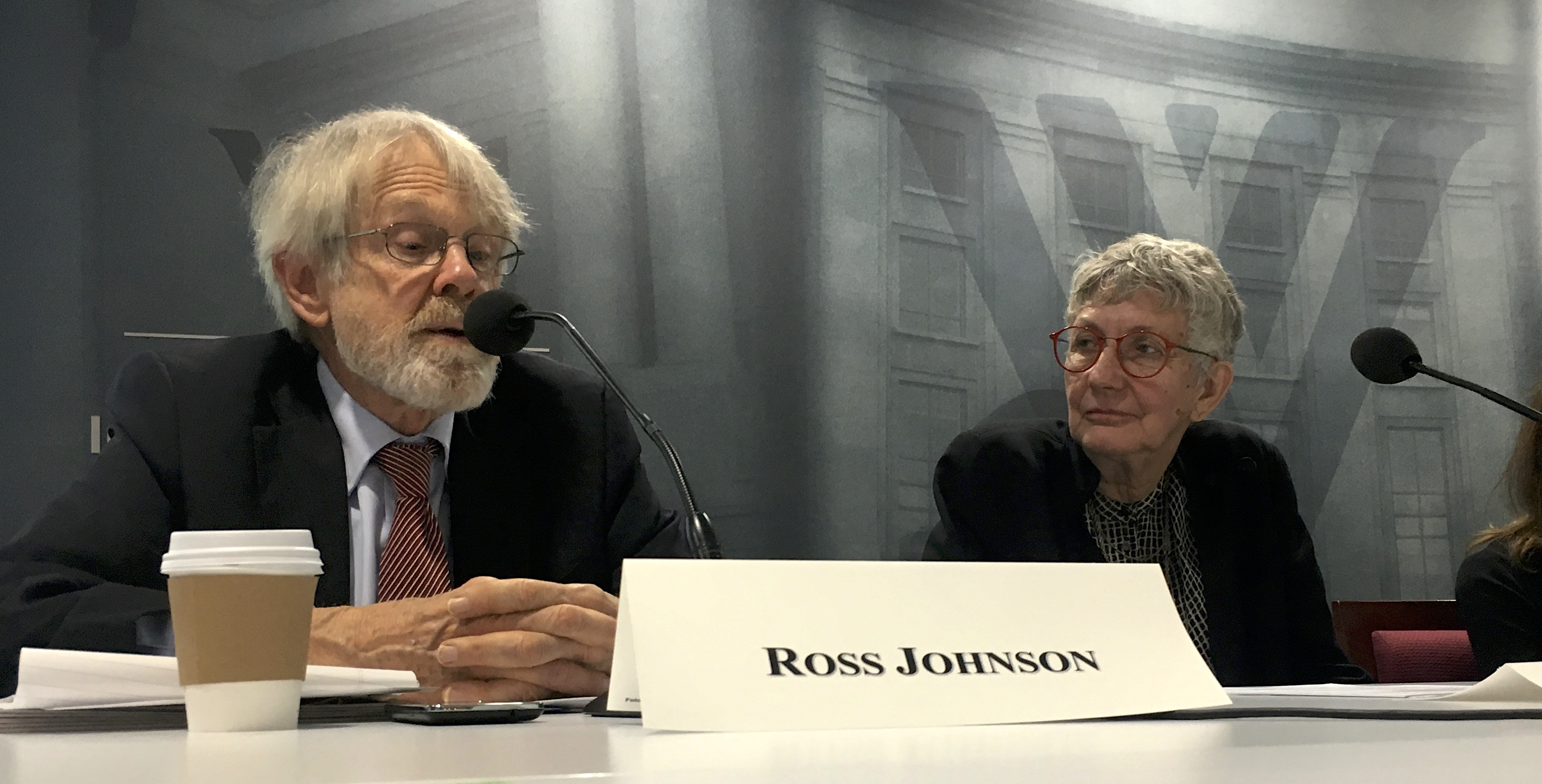 Ross Johnson, a Wilson Center fellow and Hoover Institution visiting scholar, outlined RFE/RL's purpose, organization, influence, and strategy. Dr. Johnson served multiple executive roles for RFE and RFE/RL over the years including Director of RFE, Director of the RFE/RL Research Institute, and acting president and counselor of RFE/RL. He noted that "The influence of Western broadcasts was indicated by qualitative audience research, by extensive countermeasures mounted by the Communist regimes to counter the broadcasts, and by the testimony of both regime and opposition figures at the end of the Cold War."
Journalist, Walter Wisniewski, discussed his experiences working in Moscow and Warsaw during the Cold War noting that, while journalists from the New York Times, Washington Post, and Newsweek were offered lodging in an admittedly modest compound, he and his colleagues from RFE/RL and VOA had to fend for themselves, often in the properties of sympathizers. Mark Pomar, a former journalist and editor for both RFE/RL and VOA, sought to remind attendees that RFE/RL's research and monitoring divisions played crucial roles during the Cold War—the latter by publishing analyses related to political situations within RFE/RL's broadcast range while the latter produced off-air recordings of the very state-run media RFE/RL sought to counter.
Susan Haas, of the Annenberg School for Communication at the University of Pennsylvania, provided an overview of her project: an ethnography of the Cold War newsroom. Dr. Haas interviewed over one hundred journalists about their experiences living and working in the nations they were assigned to cover—of them, seventy were employed by RFE/RL at one time or another. Westerners and language-appropriate émigré produced most of the content heard on the varying language services, she said, but quite a number of Australians, Canadian and Irish worked the central newsroom. Veteran broadcaster and former VOA Deputy Director, Alan Heil, offered a story about a woman in the Soviet Union who said that, prior to Watergate, she considered VOA Western propaganda. Watergate, she said, proved to her that VOA was capable of (and was) reporting critical news and commentary about a sitting United States President.
Karen Fishman form the Library of Congress and Daniel Rooney of the U.S. National Archives detailed relevant collections materials at their institutions—the two repositories share responsibility for the VOA collection, for example. Brandon Burke followed by outlining the materials among the Radio Free Europe/Radio Liberty collections at Hoover including the availability of digitized materials on its Digital Collections website. Martins Zvaners, RFE/RL's Deputy Director of Media and Public Affairs, followed, providing an explanation of RFE/RL's operational structure and details regarding use policies for publication. 
Stanford University lecturer, Angela Becerra Vidergar, talked about bringing her "Podcasts to Broadcasts: The Rhetoric of Radio" class to Hoover twice a year for lectures on RFE/RL by Hoover Archives staff and Yulia Konska of Dartmouth College used examples from Hoover's RFE/RL Corporate Records to argue the importance of preserving the audiovisual recordings themselves when archiving Cold War radio.
At the conclusion of the final session, Mr. Burke, who also chairs the Broadcast Archives Section (BAS) of the International Association of Sound and Audiovisual Archives (IASA), announced and distributed a draft version of Broadcasters and Collecting Institutions with Cold War-era Radio Collections, a research guide containing lists, abstracts, and contact information for publicly available Cold War-era radio research materials in the United States and Europe. The document, a co-production of BAS and the Cold War Communication Project, will be published in 2018.
Full list of participants:
Forum I:  The Many Voices of Cold War Broadcasting, 1948-1990
Moderator: Lynn Spigel (Northwestern)
Kirsten Bônker (University of Bielefeld)
Thomas Doherty (Brandeis University)
Ross Johnson (Wilson International Center for Scholars)
Jane Leftwich Curry (Santa Clara University)
Matthew Ehrlich (University of Illinois)
Walter Wisniewski (Independent Journalist)
Forum II: Lessons of Cold War Broadcasting and Regime Change
Moderator: Jim Lastra (University of Chicago)
Alan Heil (Voice of America)
Mark Pomar (US–Russia Foundation)
Peter Gross (University of Tennessee)
Michal Krzyzanowski (University of Liverpool)
Gerd Horten (Concordia University – Portland)
Susan Haas (University of Pennsylvania)
Forum III: Preservation Priorities, the Role of Scholarship, and Cold War Radio Research Going Forward
Brandon Burke (Hoover Institution Library and Archives)
Karen Fishman (Library of Congress)
David Jenemann (University of Vermont)
Yuliya Komska (Dartmouth College)
Daniel Rooney (U.S. National Archives)
Angela Becerra Vidergar (Stanford University)
Martins Zvaners (Radio Free Europe/Radio Liberty)