Jiang Lin was born in Nanjing in 1953. She joined the People's Liberation Army at the age of 14. Between 1971 and 1982, she served as a military officer at the Fourth Military Medical University (now the Air Force Medical University) in Xi'an, Shaanxi Province. In 1982, she was relocated to Beijing, where she worked at the Political Department of the People's Liberation Army General Logistics Department. Between 1986 and 1989, Jiang became a journalist for the People's Liberation Army Daily. In early June 1989, at the height of the student protest movement at Tiananmen Square, Jiang was on the spot for firsthand reporting. She witnessed how the Chinese troops forcibly cleared the square and Beijing's streets, killing hundreds of demonstrators and arresting thousands of protestors and other suspected dissidents. She was wounded during the turmoil and was subsequently sent to the hospital for medical treatment. In the aftermath of the incident, she was forced into retirement due to her sympathetic attitudes toward the protest movement.
The Jiang Lin collection includes a manuscript of Jiang's personal recollections of her career, China's internal politics, and the 1989 Tiananmen Square massacre; photographic images of her activities; and miscellaneous writings of other political dissents banned in China due to political sensitivity.
The collection is currently undergoing preservation treatment and archival processing. Future access to the Jiang Lin Collection will be available in the Hoover Institution Library & Archives reading room. Please contact hoover-library-archives@stanford.edu for information concerning access.
(Images are from the Jiang Lin Collection)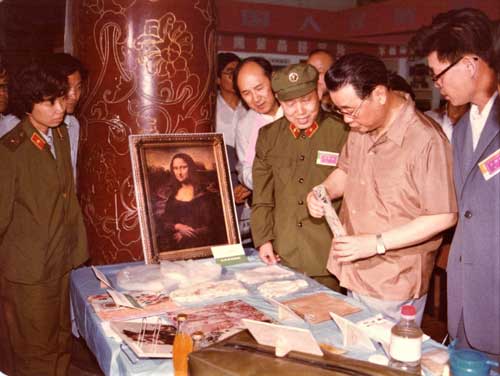 At an exhibition held at the People's Liberation Army General Logistics Department, Jiang Lin (left) joined her colleagues in receiving Premier Li Peng (second from right), ca. June 1986.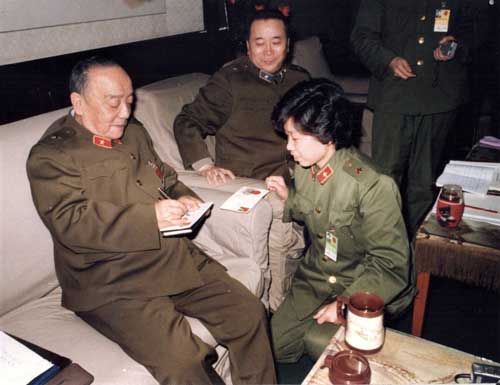 Jiang Lin (right) and Yang Shangkun (left), at the seventh National People's Congress, April 1988, when Yang was made president of the People's Republic of China.