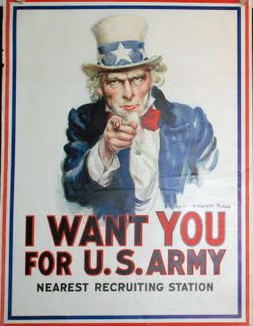 Posters from the Hoover Archives' Political Poster Collection featured in a segment of the PBS series Antiques Roadshow, which aired Monday, May 24. (The segment will air on PBS station KTEH on Thursday, May 27, at 9:00 p.m.)
When Antiques Roadshow visited the Bay Area last year, its producers contacted the Hoover Institution to learn more about the more than 100,000 posters from around the world housed in the Hoover Archives. The segment shows host Mark L. Walberg and appraiser Nicholas Lowry visiting the Hoover Institution and its huge collection of political posters and discussing the origins of the iconic images of Uncle Sam. For more about their visit, see the Hoover blog Hoover Archivists' Musings on How to Turn Eight Hours into Three Minutes over Nine Months and the winter 2010 issue of the Society of California Archivists Newsletter (page 9).
Mercury News article about the segment.
Watch the segment at
http://www.pbs.org/wgbh/roadshow/video/1418.html
(it begins at 24:08)