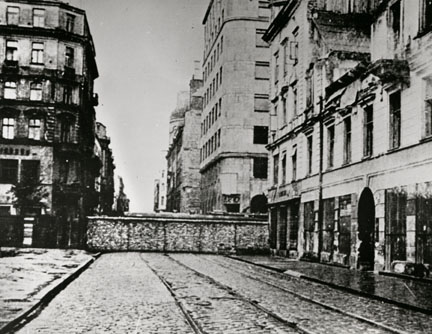 More than fifty audiotapes in the Jan Karski papers have been digitally reformatted for preservation and access by the Hoover Archives. Most are interviews of Karski, a Polish liaison officer working for the Polish underground during World War II. He witnessed Jews being herded into boxcars in the town of Izbica Lubelska, a holding point for the Belzec extermination camp, and was smuggled into the Warsaw Ghetto--"a haze of disease and death," as he later described it. Karski gave the first eyewitness accounts of the Holocaust to a generally unbelieving West.
In these interviews Karski shares his wartime stories. He talks about growing up in Poland, escaping from the Nazis, and working for the Polish underground, as well as his experiences in the ghetto, his appeals to Westerners for help, and his meeting with President Franklin D. Roosevelt. Karski's thoughts on the cold war, his dislike of the word holocaust, and his suggestions on how the Holocaust should be taught to children are among the more contemporary topics.
The interviews, which date from the 1970s to the 1990s, were broadcast on public affairs radio programs including the Larry King Show, As It Happens, and On the Mark. Although many of the recordings are in English, some are in Polish and German.
To make an appointment to listen to the recordings or to purchase copies, please click on Audiovisual Services.