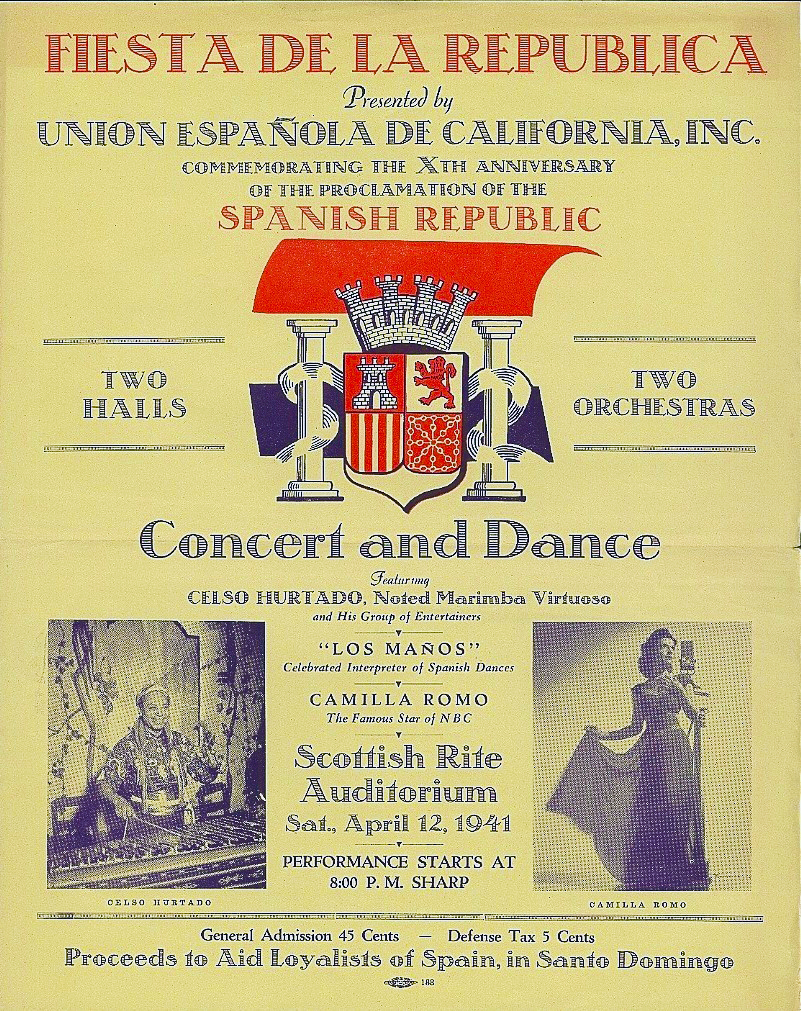 The recently acquired Javier Benedet collection contains significant materials relating to the Spanish Civil War and to fundraising efforts in Northern California on behalf of the Republican side in that conflict. The Benedet papers also provide documentation on the plight of Republican refugees in the aftermath of the Civil War and on the political life of the Spanish anti-fascist diaspora in France, Mexico, and other countries. In terms of volume, the Benedet papers now constitute the second largest collection (after the Burnett Bolloten papers) in the archives pertaining to the Spanish Civil War.
In the 1930s, Benedet was a founding member of Acción Demócrata Española, a political organization based in San Francisco and comprised largely of Spanish expatriates and immigrants. During the civil war that engulfed Spain in 1936-1939, the organization campaigned on behalf of the Spanish Republic and against the Nationalist forces headed by Francisco Franco. By means of public appeals, festivals, and concerts, Acción Demócrata Española raised money that was sent to Republican Spain in aid of children affected by the war and, when the conflict was over, on behalf of Spanish refugees in France and elsewhere. Affiliated with the Sociedades Hispanas Aliadas, Acción Demócrata Española participated in the political life of the Spanish emigration in North America, maintaining a general anti-fascist orientation amidst the often bitter divisions among Spanish Republican factions. Its fundraising activities continued into the 1970s.
As secretary of Acción Demócrata Española in San Francisco, Benedet played a key role both within the organization and as its public representative within the Hispanic community of Northern California. The papers include correspondence, minutes of meetings, and publicity materials used in the fundraising efforts of Acción Democratica Española. The collection also contains copies of the many journals and newspapers received by Benedet before, during, and after the Spanish Civil War. These materials reflect a wide spectrum of political thought on the Republican side and include anarchist, socialist, communist, and independent publications. In addition, there are numerous issues of España libre, the newspaper of the Sociedades Hispanas Confederadas in the United States and a major forum for Spanish Republican opinion after the end of the civil war. The collection also contains a number of posters relating to the Spanish Civil War and to various fiestas in Northern California organized by Acción Democratica Española. There is also an original artwork by a child depicting a scene of aerial combat during the civil war.
Benedet himself had a colorful background. Born in Spain, he moved as child with his family to Mexico, where he apprenticed as a bullfighter. While still in his twenties, he came to San Francisco, where he worked for many years as a waiter. At the end of his life, he worked as a bartender in Mill Valley. He died in 1990.
by David Jacobs