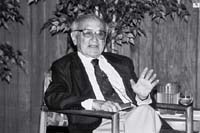 The Hoover Institution Archives has recently acquired an addition to the papers of economist Milton Friedman. A guide to the papers is now available describing both original and new materials.
The new papers document the later portion of his career, generally dating from the 1980s through 2006, although some materials carry an earlier date. The papers generally relate to economic theory, economic conditions in the United States, and governmental economic policy, as well as topics of interest to Friedman such as school vouchers, drug legalization, and tax limitations.
Friedman's correspondence displays his frequent interactions with a wide a network of academics, economists, and politicians, including Richard Nixon, Ronald Reagan, Alan Greenspan, Friedrich von Hayek, William F. Buckley, and many others.
Also included are materials and correspondence about his writings, including the prizewinning Free to Choose book and television program, a collection of his Newsweek columns, and documentation about the memoir Two Lucky People, which Friedman wrote with his wife, Rose.
The papers display Friedman's extensive correspondence, writings, speeches, collected research materials, statistics, printed materials, and photographs, as well as audio and video recordings. For more information, please view the guide to the papers, available through the Online Archive of California
Further biographical information about Milton Friedman may be found on his Hoover Institution fellow biography page.