Newly Processed Collections Now Available At Hoover Archives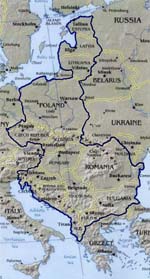 Hoover Archives has recently processed and made available the following collections:
Roland Tasho is an Albanian photographer with thirty years of experience. The collection consists of photographs that detail the socio-political climate of Albania from the 1960s to 2000. Photographs include themes of education, agriculture, industry, religion, and politics. The collection mainly focuses on the political turmoil of the 1990s from the fall of Communism, 1996 disputed elections, Albanian Unrest of 1997 ( Rebelimi i vitit 1997), demonstrations after the assassination of Albanian member of parliament Azem Hajdari, and to the Kosovo Refugee Crisis in 1999.
From the 1930s to early 1960s, Inez Richardson worked for the Hoover Institution in myriad of roles, from executive assistant, coordinator and liaison for foreign visitors to Stanford, faculty member of Radio-Television Institute, to Director of the Stanford Listening Post. In addition, Richardson was an assistant to Stanford University president Ray Lyman Wilbur and curator of the Ray Lyman Wilbur collection on Social Problems at Hoover Institution. The collection is comprised of correspondence, memoranda, reports, minutes, speeches and writings, photographs, and printed matter.
Wolność i Niezawisłość (WiN) (Freedom and Independence), an underground anti-communist organization, was established on September 2, 1945 in Warsaw, Poland. Its main goal was to fight communism and the Sovietification of Poland through political channels, with minimal military action. The collection is composed of letters, printed matter, reports, personal orders, notices, and orders of promotion, as well as a file regarding Akcja "O" (Operation "O").
For twenty-four years Vladimir Chelminski was the executive director of the Cámara de Comercio (Chamber of Commerce) in Caracas, Venezuela, and an active participant in classical liberal circles around the country. He has written prolifically about economic conditions and political developments in Venezuela. The collection is comprised of extensive materials relating to economic and political conditions in Venezuela from the 1980s onward.