Papers Of Iranian Diplomat Ardeshir Zahedi Now Available!
By Heather Hughes
The papers of Ardeshir Zahedi, Iranian statesman and the Shah's last Ambassador to the United States, are now described and open for research. The bulk of the collection is focused on Zahedi's  second appointment as Iranian Ambassador to the United States, (1973-1979), but the collection stretches as far back as  the early 1900s with the inclusion of documents from his father, Fazlollah Zahedi. Fazlollah Zahedi was a prominent general and politician who was involved in the 1953 "28 Mordad" overthrow of Mohammad Mossadegh. He then served as Prime Minister of Iran from 1953-1955.
Photographs in the collection document the turmoil of the events in August of 1953, Fazlollah's time in office, and Ardeshir's entry onto the political scene. In 1958, Ardeshir married Shahnaz Pahlavi, the Shah's first daughter. Beautiful black and white photographs showcase the glamor of the wedding and elite fashion of the time. Although the marriage between Ardeshir and Shahnaz did not last, he continued to have close relations with the Shah, as is evidenced by his letters to the Shah and the many photographs of the Pahlavi family found in the collection.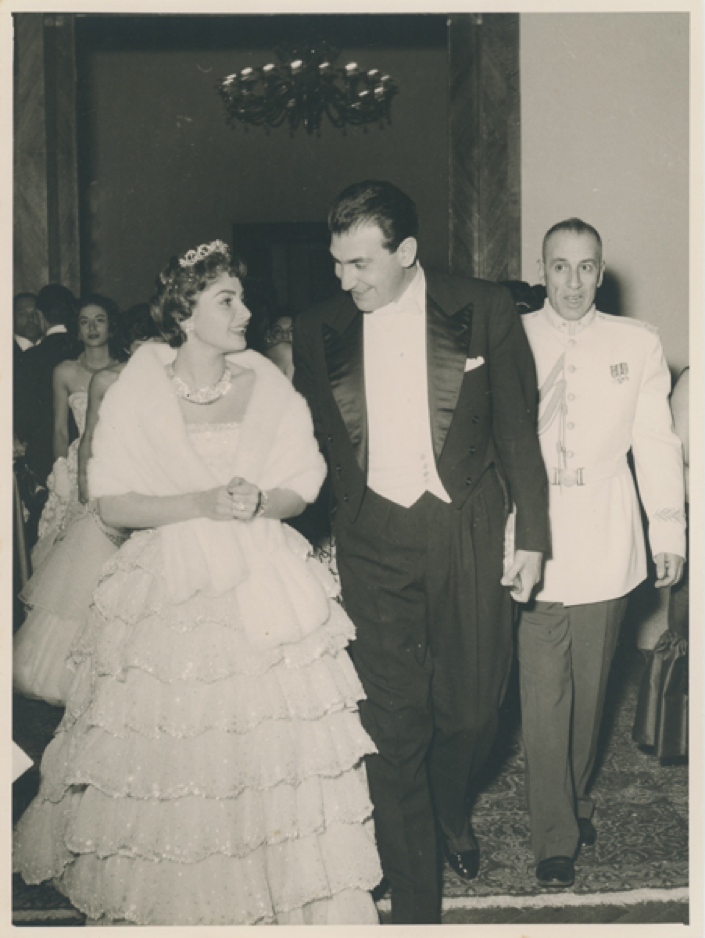 Ardeshir Zahedi served as Iranian Ambassador to the United States (1960-1962) and to the United Kingdom (1962-1966), but it is his post as Foreign Minister (1966-1971) and his second term as Ambassador to the United States (1973-1979) that are most represented in the papers. His second term constitutes the majority of the papers, and extensive correspondences show a  wide range of political contacts and ever-busy schedule.
It wasn't all work though, as the photographs of the many parties Zahedi hosted at the embassy attest to. While Ardeshir's tenure as Ambassador oversaw a time of close U.S.-Iran relations and Mohammad Reza Pahlavi seemed to be at the height of power, documents in the collection reveal a less rosy picture: weapon sales, anti-Shah protests in the United States, and the Cold War lense through which many Americans saw Iranian dissidents can be read in the material.
The Ardeshir Zahedi papers offer valuable insight into Pahlavi-era politics, Iranian foreign relations, particularly with the United States, and diplomatic history. They also allow one to become acquainted with a remarkable personality who exerted considerable influence as Ambassador and trusted advisor to the Shah. While today the Iranian embassy in Washington D.C. lies closed, better times in the embassy are not forgotten.